These one-bowl vegan pumpkin chocolate chip muffins are a quintessential recipe for fall. Naturally sweetened with maple syrup, these muffins are great for a healthyish snack on-the-go!
This post was originally published October 2018; updated September 2023.
These vegan pumpkin chocolate chip muffins are the healthier baked good you need to make this fall season. As a plant-based dietitian, I enjoy all the love that pumpkin gets in the fall – it's a great source of vitamins A and C. I always like to keep our freezer stocked with some vegan muffins because I love having them around for a quick healthy snack before the gym after work or paired with my morning smoothie. Plus, they are toddler approved!
You'll use about 1/2 a can of pumpkin for this chocolate chip pumpkin muffin recipe, so use the rest to whip up a pumpkin spice smoothie or healthy pumpkin oatmeal. If you aren't in the mood for pumpkin – you'll love my banana oat chocolate chips muffins!
Ingredients You'll Need
All Purpose Flour: you can also use half all purpose flour and half whole wheat flour. Using only all purpose flour makes for fluffy muffins.
Canned Pumpkin: make sure to buy plain canned pumpkin puree and not pumpkin pie filling which is already sweetened. Libby's pure pumpkin in my favorite brand of canned pumpkin – it has the best pumpkin flavor. Of course, you can also use a homemade pumpkin puree if you have it.
Pumpkin Pie Spice: we love using this spice blend in all kinds of fall baking recipes. It is a combination of cinnamon, nutmeg, cloves, ginger, and allspice. If you don't have any, you can make your own using this recipe.
Ground Flaxseeds: you'll need a flax egg for an egg replacer in this vegan pumpkin muffin recipe. It acts like a binding agent to help the muffins have better structure so don't skip it!
Pure Maple Syrup: instead of regular white sugar or brown sugar, these muffins are sweetened with maple syrup for a healthy pumpkin muffin that is still delicious.
Vegan Chocolate Chips: most brands of chocolate chips contain dairy, so you'll want to look for one that is labelled vegan or double check the ingredient label. I like these dairy-free chocolate chips from Enjoy Life.
How to Make Vegan Pumpkin Chocolate Chip Muffins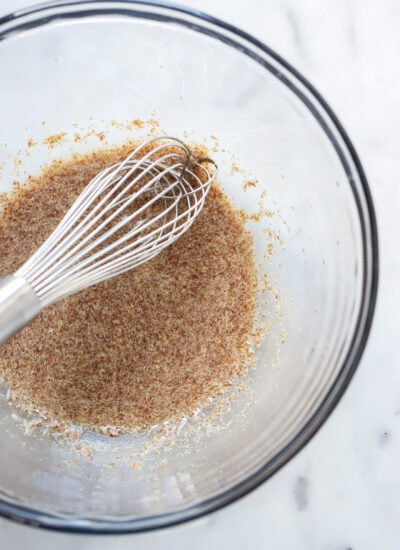 Step One: Make a flax egg by mixing together the ground flaxseed and water in a bowl and letting it sit until a gel forms.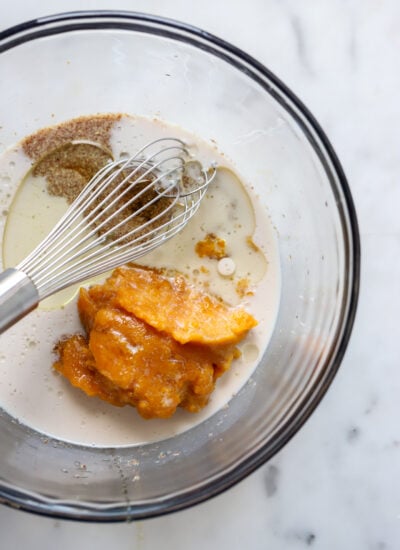 Step Two: To the large bowl with the flax egg, add the rest of the pumpkin muffin wet ingredients (canned pumpkin, maple syrup, oil, and milk). Whisk to combine. Stir in the dry ingredients (flour, baking powder, baking soda, pumpkin pie spice, and salt).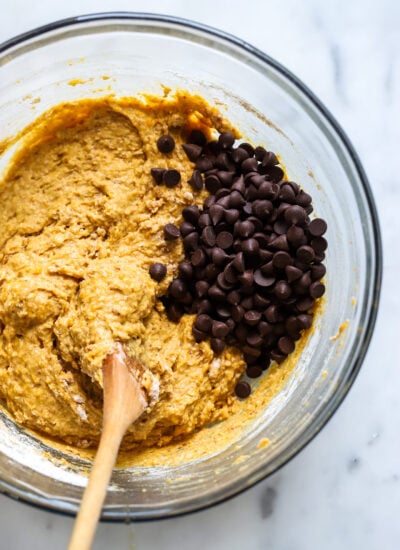 Step Three: Stir in the chocolate chips and then transfer the pumpkin muffin batter to a muffin tin lined with paper liners or sprayed with cooking spray.
Step Four: Bake muffins at 350 degrees Fahrenheit for 18-20 minutes or until a toothpick inserted into the top comes out clean.
Recipe Notes:
Measuring Flour: When measuring the flour, make sure to spoon the flour into the measuring cup rather than scooping it out of the bag with the measuring cup. When you scoop with the measuring cup, you can pack in more flour per scoop which can lead to dry/crumbly muffins.
Flax Egg: You can usually find ground flaxseeds in the baking aisle but I've seen it in the bulk bins too before. It is important to purchase ground flax as the whole seeds will not for a gel like the ground seeds do when mixed with water. The purpose of the ground flax seeds is to replace the egg that is normally used in traditional muffin recipes.
Don't Overmix: Mix the wet and dry ingredients together just until there are no dry flour bits. Over-mixing can develop the gluten and create dense muffins.
FAQs
Can I add anything else to these pumpkin muffins?
Sure! Nuts and seeds are great additions to these chocolate chip pumpkin muffins – I like walnuts, pecans, or pumpkin seeds. You can also add dried cranberries if you'd like. If you can find vegan white chocolate chips, they are a fun swap for the semi-sweet chocolate chips I used.
Can you freeze pumpkin muffins?
Yes- these vegan pumpkin spice muffins are freezer friendly. Allow muffins to cool to room temperature before transferring to an airtight container or large ziplock bag for the freezer. Muffins can be stored in the freezer for up to 3 months.
Can I make these gluten free?
Although I haven't tested it yet – most recipes work well using a high quality 1:1 gluten-free flour. You just want to avoid using almond flour or coconut flour as these likely won't work.
Health Benefits of Pumpkin
Like most other orange veggies (ie. sweet potato and carrots), pumpkin is chock full of beta carotene which is a powerful antioxidant that is converted to vitamin A in the body. Vitamin A is essential for eye health. In fact, vitamin A deficiency can cause night blindness. Vitamin A can also support immune function – especially important with flu and cold season starting!  
Pumpkin is also a good source of vitamins C and E (both powerful antioxidants which help prevent cell damage and support the immune system) as well as riboflavin (important for energy production, fat metabolism, and more). Since pumpkin is packed with all these good-for-you nutrients, it gives you all the more reason to use pumpkin more often in recipes this fall!
More Delicious Pumpkin Recipes You'll Love
Did you love this recipe? Make sure to leave a ⭐️ rating and tag #dietitiandebbie on instagram!
Vegan Pumpkin Chocolate Chip Muffins
These one-bowl vegan pumpkin chocolate chip muffins are a quintessential recipe for fall. Naturally sweetened with maple syrup, these muffins are great for a healthyish snack on-the-go!
Prevent your screen from going dark
Instructions
Preheat the oven to 350 degrees Fahrenheit. Line muffin tin with paper liners or grease well with oil.

In a large mixing bowl, whisk together the ground flax and water. Let sit for 5 minutes or until flax forms a gel. 

Add pumpkin, maple syrup, oil, and milk to bowl with the flax and stir well. 

Add the flour, baking soda, pumpkin pie spice, and salt to bowl and stir just until mixed. 

Stir in chocolate chips. 

Divide dough evenly between 12 muffin cups. Bake for 18-20 minutes or until toothpick inserted into muffin comes out clean. 

Allow to cool 5-10 minutes before removing from muffin tin and placing on rack to cool completely.
Notes
Store these muffins in an airtight container on the counter for up to 3 days. These muffins do freeze well so you can prep them ahead and freeze in an airtight container or ziplock. Just reheat 30 seconds in the microwave when ready to eat. 
Nutrition
Serving: 1Muffin | Calories: 160kcal | Carbohydrates: 25g | Protein: 3g | Fat: 6g | Saturated Fat: 1g | Polyunsaturated Fat: 5g | Sodium: 211mg | Fiber: 2.5g | Sugar: 10g
Reader Interactions