This tomato and cucumber salad is perfect for summer. Cucumber, tomatoes, and red onions are tossed together in a light, lemony, herb-packed dressing. It's quick and easy, and it goes with just about anything.
Quick & Easy Tomato Cucumber Salad
It's almost summertime, and everyone is out and about celebrating the warm weather with garden parties and backyard BBQs. I am so excited to introduce you to this tomato and cucumber salad because it is one of those crowd-pleasers you can take anywhere. Fancy soiree? Tomato and cucumber salad. Casual lawn party? Tomato and cucumber and salad. Graduation celebration? Tomato and cucumber salad! You get the picture. It's the perfect side dish for a meaty main, a seafood dish, or a [insert yummy entree here].
This beautifully simple, refreshing dish is made with halved cherry tomatoes, sliced cucumber, and sliced red onion, all tossed together with a refreshing dressing of olive oil, lemon juice, fresh dill, and fresh parsley. The best part (aside from being absolutely delicious) is that it all comes together in minutes.
Why You'll Love This Summer Salad Recipe
This is a mainstay recipe in my household during the summer months. Here are some of my favorite things about this light and refreshing side salad:
Quick and easy. This recipe only takes about 10 minutes to put it all together. So, if you are looking for a quick and easy side dish that will wow any set of taste buds it encounters, this is your solution.
Fresh. Bright. Perfect for summer. This is the ideal summer salad. Whether you are having a backyard BBQ or an elegant garden party, this colorful, lemony, herbaceous salad will fit in wonderfully.
It goes with anything. This is a go-to recipe for me because, although it is wonderfully flavorful, it is not overpowering. This makes it easy to pair with an almost endless number of mains and side dishes.
What You'll Need
This tomato cucumber salad is loaded with fresh, simple ingredients. Here's what you will need. Don't forget to scroll to the recipe card below for exact measurements.
English Cucumber – You can use traditional garden cucumbers instead; just be sure to peel them.
Cherry Tomatoes – I like multi-colored heirloom cherry tomatoes, but any cherry tomato will do.
Red Onion
Fresh Parsley & Dill
Lemon Juice – I highly suggest using freshly squeezed lemon juice. The flavor is just so much brighter than the bottled versions.
Extra Virgin Olive Oil
Salt & Pepper
How to Make Tomato Cucumber Salad
Tomato and cucumber salad is fast and easy to put together.
Combine the veggies in a mixing bowl.
Make the dressing. Whisk together the parsley, dill, lemon juice, olive oil, sea salt, and ground black pepper.
Dress the salad. Drizzle the olive oil mixture over the vegetables. Toss to coat, and serve. That's it!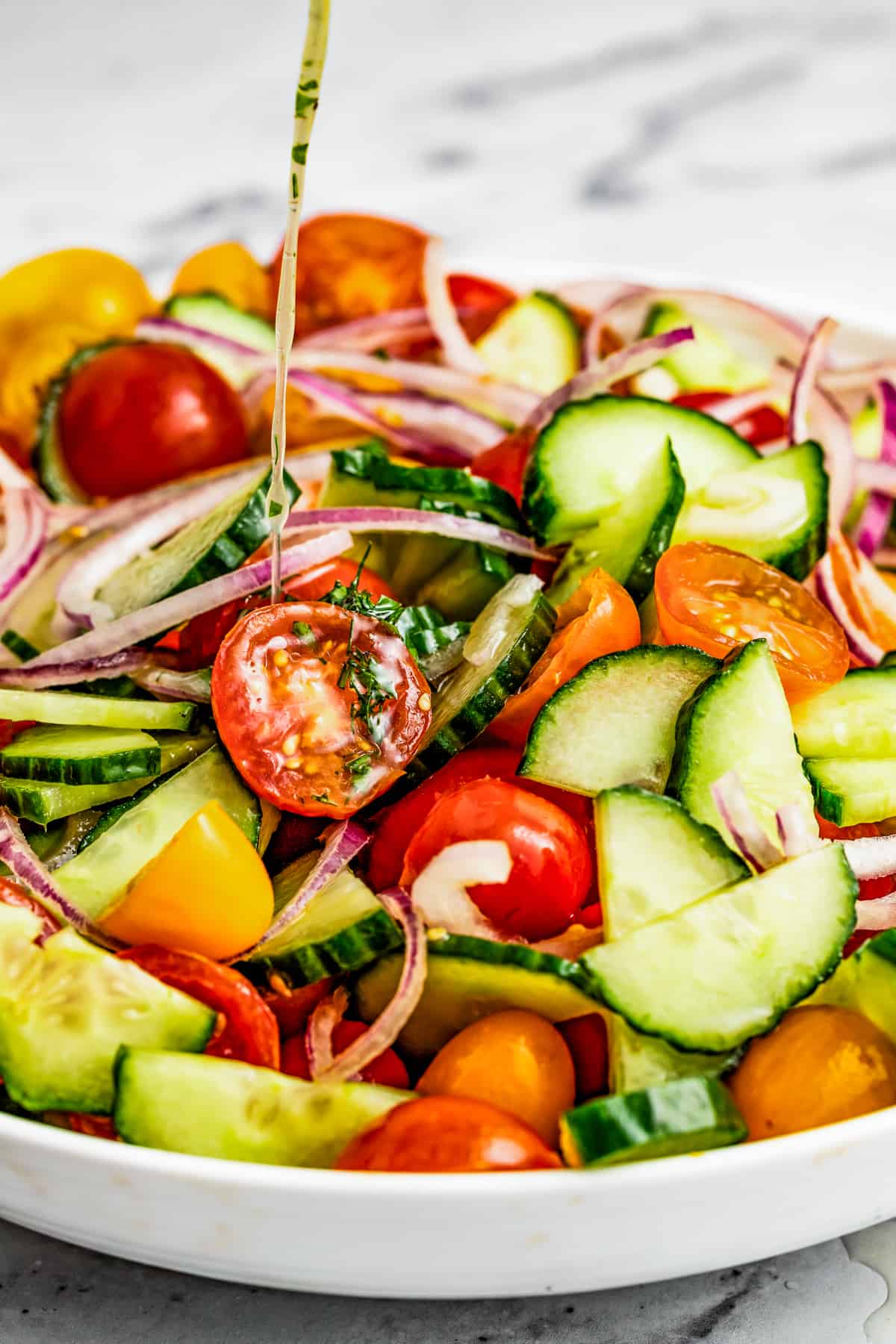 Tips & Variations
Ready to make the best summer-ready salad you've ever tasted? Here are a few simple tips to start you off in the right direction. I even included some fun ideas that will help you make it your own.
Thin slices. When slicing the onion, make sure you slice it as thinly as possible. If you put large chunks of onion in the salad, they will overwhelm the whole dish.
Salt your cucumber slices. If you know that this salad will be sitting for a bit before serving, try salting your cucumber slices before tossing everything together. Just put the cucumber slices in a colander, toss them with 1/2 teaspoon salt, and let them sit for 30 minutes. They will release a lot of the water that they would otherwise release into the salad. Taking this step will help prevent the salad from getting soggy.
Try a different dressing. A simple dressing of olive oil, lemon, and herbs is a wonderful choice here but if you are feeling a bit more adventurous, try my Homemade Italian Salad Dressing, this Light and Creamy Avocado-Lime Salad Dressing, or my Dijon Balsamic Dressing.
Add other veggies. Tomatoes and cucumbers are great, but if you are looking to change things up a bit, try adding sliced radishes, carrots, or even roasted (cooled) bell peppers.
Add cheese. I find that adding a little cheese to this salad not only gives it a fun, new feel flavor-wise, but also makes it feel a lot heartier and more filling. My favorites are feta, goat cheese, and halved mozzarella balls. Yum!
Add avocado. Cubed or sliced. This is another great way to bulk up this salad.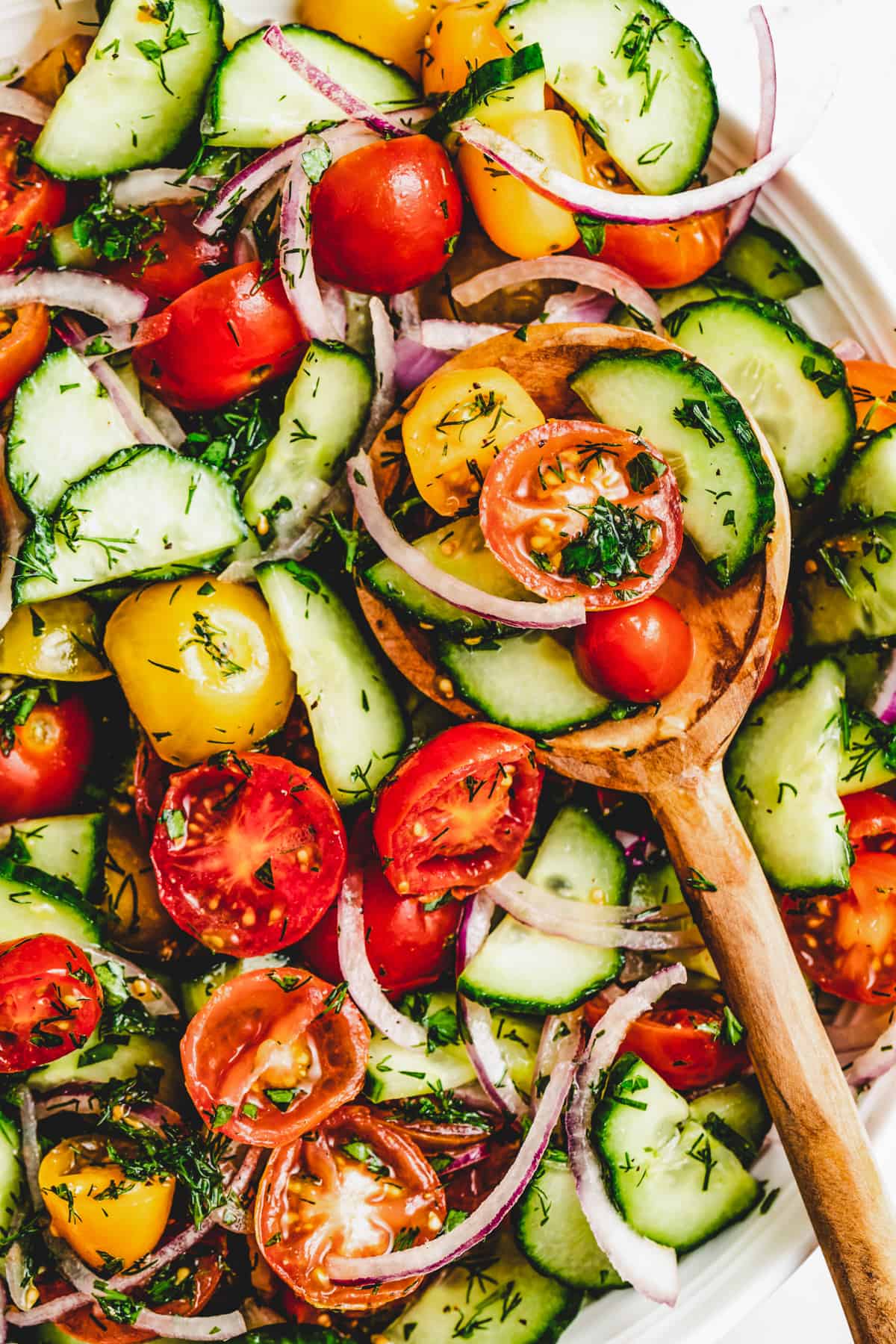 What Goes With This Healthy Salad Recipe?
While this salad is delightful on its own, it is best served as part of a larger meal. Here are some of my favorite things to serve it with.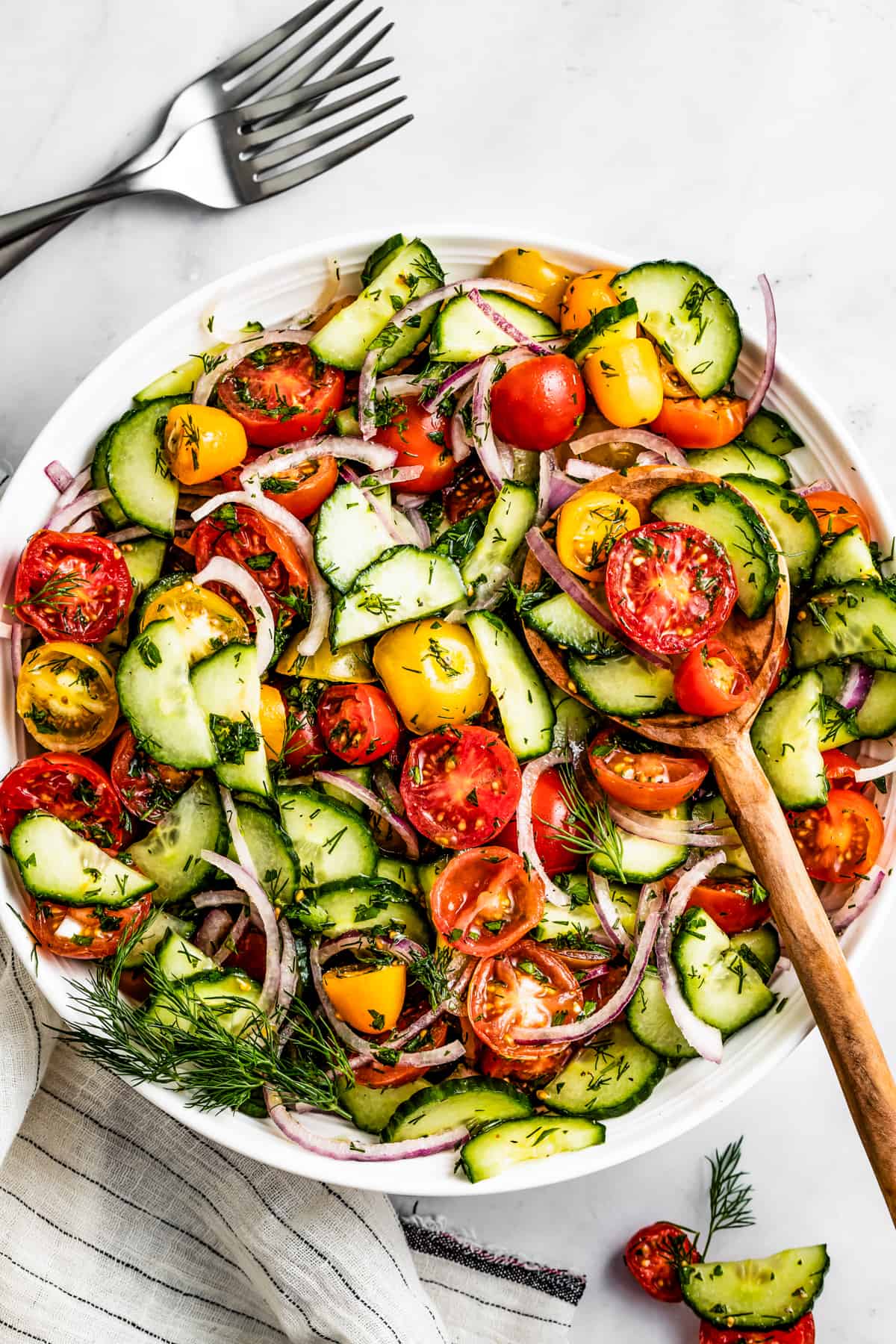 More Side Salad Recipes
The proper salad really can bring a meal together. I have loved this cucumber tomato onion salad, but there are many other fun options. Here are some recipes for you to try:
ENJOY!
Combine the cucumber slices, tomatoes, and red onions in a mixing bowl. Set aside.

In a separate bowl, whisk together the parsley, dill, lemon juice, olive oil, salt, and pepper.

Drizzle the olive oil dressing over the vegetables and gently toss to coat.

Serve.
Cucumbers: I almost always use English cucumbers for salads because of the fewer seeds, but you can also use a couple of garden cucumbers for this salad.
Tomatoes: Colorful cherry tomatoes are delicious, and they look beautiful, too, but you can also use chopped heirloom tomatoes or red grape tomatoes.
Red Onions: Slice the red onion as thinly as possible. Large chunks of onion will overwhelm the whole dish.
If you want to change it up a bit, add crumbled feta or goat cheese, sliced radishes, carrots, or sliced bell peppers.
Storing Leftovers: Seal the salad in an airtight container and store it in the refrigerator for up to 3 days. The flavor of the red onion tends to seep into the rest of the ingredients as the salad sits, so I suggest eating it sooner rather than later (unless you're a huge fan of onions).
Calories: 136 kcal | Carbohydrates: 14 g | Protein: 3 g | Fat: 9 g | Saturated Fat: 1 g | Polyunsaturated Fat: 1 g | Monounsaturated Fat: 7 g | Sodium: 411 mg | Potassium: 529 mg | Fiber: 3 g | Sugar: 6 g | Vitamin A: 1265 IU | Vitamin C: 64 mg | Calcium: 49 mg | Iron: 2 mg | Net Carbs: 11 g
Nutritional info is an estimate and provided as courtesy. Values may vary according to the ingredients and tools used. Please use your preferred nutritional calculator for more detailed info.