This Tex-Mex chicken salad is a healthy salad recipe you can make tonight! It's made with juicy margarita-marinated grilled chicken on a bed of crisp lettuce, ripe tomatoes, and crunchy red onions with avocado, sweet corn, and black beans. Don't forget the creamy avocado dressing!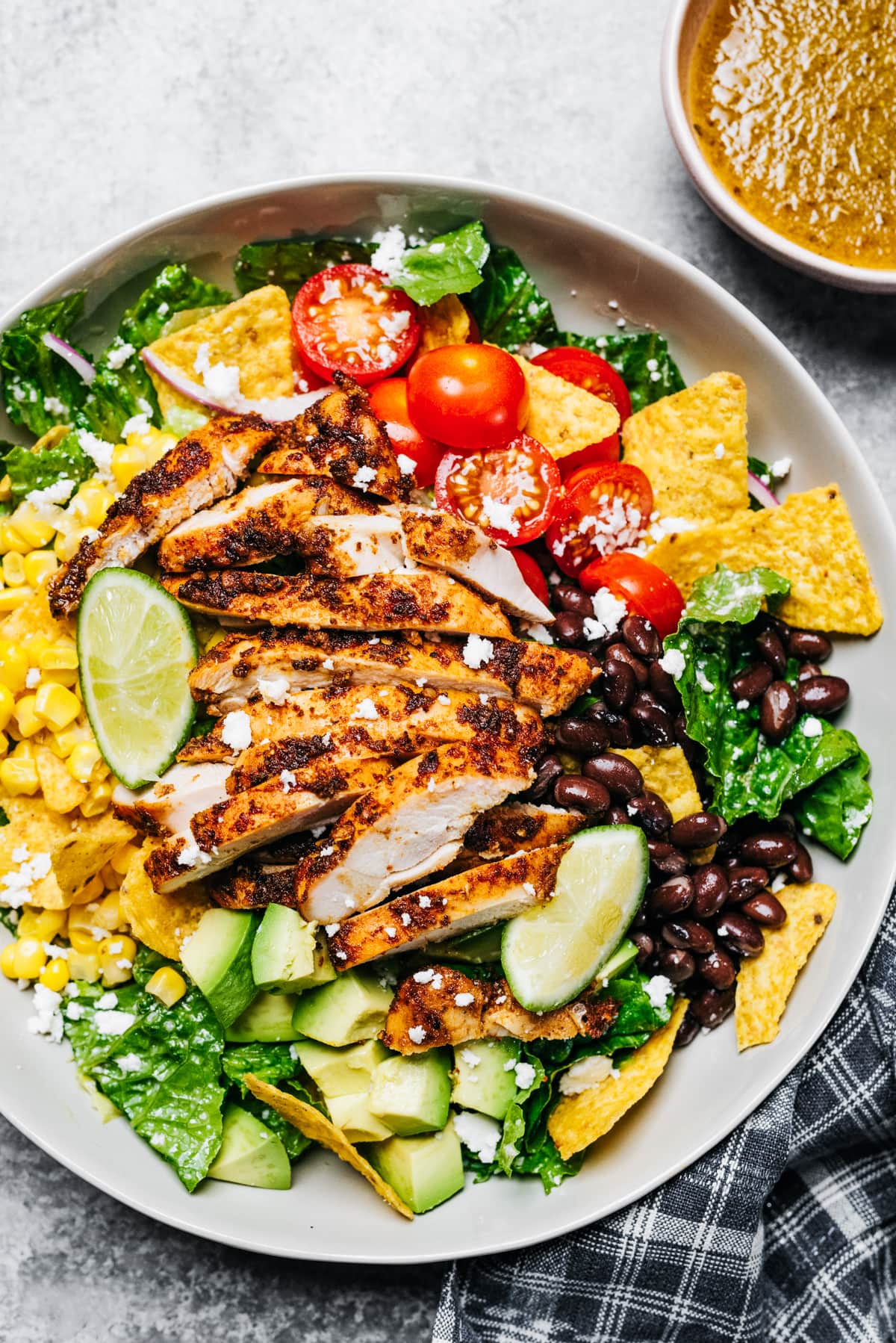 Healthy Tex Mex Chicken Salad
This take on a Tex Mex Chicken Salad is a bit like a Santa Fe salad or Southwest chicken salad. It's seriously love at first bite! The chicken is marinated for hours in a simple but flavor-packed margarita marinade before you grill it. The result is the juiciest, most flavorful chicken strips ever. It's hard to resist gobbling them down before you even assemble the salad!
We'll serve it over a bed of crispy iceberg lettuce with ripe tomatoes, crunchy red onions, and buttery avocado rounded out with corn, black beans, and avocado dressing. You're going to go nuts for the zesty, spicy, creamy Tex Mex flavor combinations in this easy salad recipe. Every minute that chicken spends marinating in the fridge is totally worth it!
Why You'll Love This Tex Mex Chicken Salad Recipe
Fresh and easy ingredients. You don't need any fancy or complicated ingredients to make this tasty and healthy Tex Mex salad. Just a few fresh veggies here, a slice or two of ultra-tender chicken breast there. Easy peasy.
Margarita marinade. This isn't just any grilled chicken, it's margarita grilled chicken, and it is DELICIOUS. So tender, so juicy. It's inspired by a variation that I had at Chili's once. My homemade margarita marinade is easy to make with a package of margarita mix and fresh lime juice.
Meal-in-one. This Tex Mex chicken salad has it all. Plenty of veggies, juicy marinated chicken, and loads of zesty Southwestern flavor wrapped up in one healthy bowlful. It's satisfying to serve as is for lunch or a light dinner, or you can round out a meal with your favorite sides.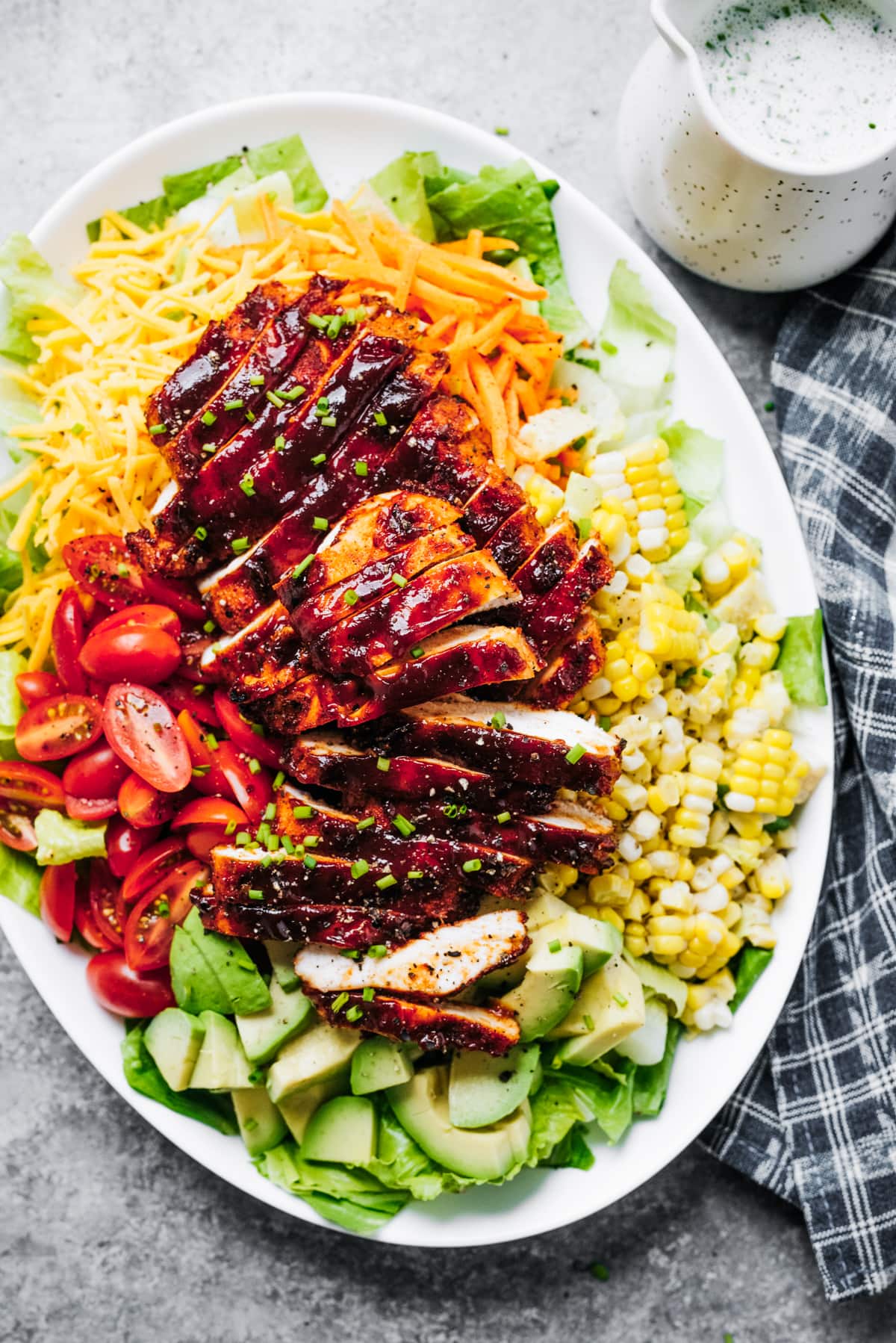 How to Make a Tex Mex Chicken Salad
We'll walk through how to make the BEST grilled chicken salad loaded with Tex Mex flavor, starting with some notes on the ingredients you'll need. Be sure to scroll to the recipe card below the post for the full ingredient amounts and recipe instructions.
Salad Ingredients
Chicken: Skinless, boneless chicken breasts, cut in half. You can also use chicken thighs, they'll just take a bit longer to cook.
Marinade: You'll make a quick Tex Mex chicken marinade from margarita mix, lime juice (freshly squeezed is a must), olive oil, salt, pepper, and garlic powder.
Lettuce: I make this salad with crisp iceberg lettuce, but you can use any leafy green that you have on hand. Romaine, arugula, butter lettuce, spinach, or even a spring mix are all good options.
Sweet Corn and Black Beans: You can use canned corn and beans for extra convenience, just be sure to rinse and drain them well beforehand. I also love to make this salad when I have leftover grilled corn on the cob.
Tomatoes and Onion: Diced onion and tomatoes compliment the Tex Mex flavors and add some fresh veggies to the mix. You can use red onion or yellow onion. Green onions would also work.
Avocado: Creamy avocado is full of healthy fats and tastes great on this Mexican-style chicken salad.
Garnishes: Garnish this salad with tortilla chips, shredded cheese, chopped cilantro, or any other toppings you'd like. See further in the post for more add-ons and variation ideas.
Dressing: I toss everything together with my creamy avocado lime dressing. It's light and fresh and super easy to make.
Directions
Marinate the chicken. Combine the margarita mix and marinade ingredients in a large Ziploc bag. Add the chicken and toss to coat. Afterward, let the chicken marinate in the fridge for a few hours.
Grill the chicken. Grill your chicken using your method of choice. I use a grill pan on the stovetop to cook the chicken for about 6 minutes per side until cooked through. This chicken is also great on the outdoor grill during the summertime (follow the grilling directions for my grilled blackened chicken). 
Assemble the salad. Begin by adding your chopped lettuce to a large salad bowl. Next, layer on the corn kernels, rinsed and drained black beans, tomatoes, red onion, and avocado. 
Add the chicken and dressing. Finally, slice up the grilled chicken and add this to the salad. Top the whole thing with a generous drizzle of avocado dressing, or your dressing of choice.
Tips for Success
A homemade Tex Mex chicken salad is just about foolproof. That being said, I noticed the following while testing this recipe:
Let the chicken marinate. This takes a bit of planning ahead, but it makes all the difference! The chicken needs about 2-8 hours to marinate in the margarita mixture and really soak up all those flavors. Not only that, marinating is key for ultra-tender chicken.
Use what you have. There's no wrong way to make a salad. If you're missing an ingredient, swap it out for whatever you have on hand to customize this Tex Mex chicken salad however you'd like. See below for some ideas.
Cooking times will vary. Depending on the thickeness of your chicken pieces, the exact grilling times may be different from the times that are given. Use my directions as a guideline, but make sure to check your chicken for doneness (see below).
Can I Bake the Chicken Instead?
Yes! If you'd prefer to bake your Tex Mex chicken for this salad, bake the marinated chicken for about 20-30 minutes at 400ºF until cooked through. Exact baking times will depend on the size and thickness of your chicken breasts. Refer to the directions in my oven-baked chicken breasts recipe for details.
How Can I Tell When Chicken Is Done? 
The easiest way to tell if the chicken breasts are done cooking is to take the temperature using an instant-read thermometer. According to USDA guidelines, chicken is cooked when the internal temperature reaches 165ºF.
Salad Variations and Add-Ons
It's your salad, and you can dress this Tex Mex chicken salad up or down however you'd like.
Different protein. In place of marinaded chicken, top this salad with steak, or another protein like salmon or grilled shrimp.
Vegetarian. To make a vegetarian Tex Mex salad, skip the chicken, or try marinating tofu instead. You can also top this salad with meaty fried mushrooms, tempeh, lentils, or chopped up chickpea patties.
Different marinade. If you'd prefer another grilled chicken marinade, try my beer marinade or make juicy cilantro lime chicken. You can even skip the marinade and top your salad with crispy fried chicken instead. 
Grains. In place of or in addition to lettuce, assemble this salad on a bed of quinoa or bulgur wheat, or try coconut lime cauliflower rice for a low-carb version.
Cheese. Crumble over fresh Mexican cotija cheese or feta, or add shredded Asiago, mild Monterey Jack, Pepper Jack cheese, or a shredded Mexican cheese blend.
Different dressing. Other good dressing options are Catalina dressing or Ranch dressing. Or, you can take a look at my favorite homemade salad dressings for more ideas. 
More veggies. Bulk up the vegetables with whatever's in season. Add on sliced cucumber, shredded carrot, or shredded cabbage. You can also add sauteed or roasted bell peppers, grilled zucchini, or grilled eggplant to the mix. 
More add-ons. Crumble on cooked crispy bacon, or try diced mango for some contrasting sweetness. You can also try adding pomegranate seeds, craisins, croutons, pumpkin seeds, or pepitas. Anything goes!
What to Serve with a Tex Mex Chicken Salad
We love making this salad for an easy light meal or healthy lunch during the week. You can't beat those zesty flavors! Of course, there are plenty of ways to turn this chicken salad into a more hearty meal. Try these serving suggestions:
How to Make Ahead and Store
Fridge. It's best to enjoy this salad soon after it's made. Do your best to store leftover ingredients separate from the dressing. Keep leftover salad covered in the fridge for 1-2 days. The refrigerated avocado dressing will stay fresh for up to 1 week.
Make ahead. To get a headstart on this salad, you can meal prep the chicken ahead of time. Marinate and grill the chicken as directed, and store it airtight in the fridge for up to 3-4 days. Slice it and add it to your salad whenever you're ready. You can also make the dressing in advance and store it airtight in the fridge.
Freeze. While I don't recommend freezing the salad ingredients, you can absolutely freeze any leftover margarita chicken breast. Store the cooked and cooled chicken airtight and freeze it for up to 3 months. Thaw the chicken in the fridge overnight before adding it to your next Tex Mex salad.
ENJOY!
More Easy Salad Recipes
In a large freezer bag or Ziploc bag, combine the margarita mix, lime juice, olive oil, salt, pepper, and garlic powder; stir until well combined and add the chicken cutlets. Seal the bag and refrigerate for 2 hours and up to 8 hours.

Coat a grill pan with cooking spray or vegetable oil and set it over medium-high heat.

Remove the chicken from the ziploc bag and discard the marinade.

Transfer the chicken cutlets to the hot grill pan and cook for 5 minutes; flip and cook for 5 to 7 more minutes or until done. Remove it from the grill pan and let it rest on a cutting board for 5 to 8 minutes.

Meanwhile, in a large salad bowl, arrange the chopped lettuce and toss it with the corn, black beans, tomatoes, onions, and avocado.

Slice the chicken into strips and add it on top of the salad.

Drizzle the salad with creamy avocado lime dressing (or your dressing of choice) and serve.
Marinate for Flavor: Allow the chicken to marinate in the margarita mix for 2 to 8 hours for enhanced taste and tenderness.
Get Creative: Don't have all the ingredients? No worries! Swap with what's available to personalize your Tex Mex chicken salad.
Watch the Clock: Cooking times can differ due to the size and thickness of the chicken. Follow the given guidelines, but use an instant-read meat thermometer to check for doneness and remove the chicken from the grill pan when its internal temperature registers between 160˚F and 165˚F. Let it rest for at least 5 minutes before cutting into it.
Calories: 530 kcal | Carbohydrates: 41 g | Protein: 35 g | Fat: 38 g | Saturated Fat: 6 g | Polyunsaturated Fat: 5 g | Monounsaturated Fat: 26 g | Trans Fat: 0.02 g | Cholesterol: 73 mg | Sodium: 576 mg | Potassium: 1362 mg | Fiber: 14 g | Sugar: 10 g | Vitamin A: 872 IU | Vitamin C: 22 mg | Calcium: 84 mg | Iron: 4 mg | Net Carbs: 27 g
Nutritional info is an estimate and provided as courtesy. Values may vary according to the ingredients and tools used. Please use your preferred nutritional calculator for more detailed info.