The juiciest stuffed flank steak recipe packed with spinach, tangy sun-dried tomatoes, and creamy feta cheese!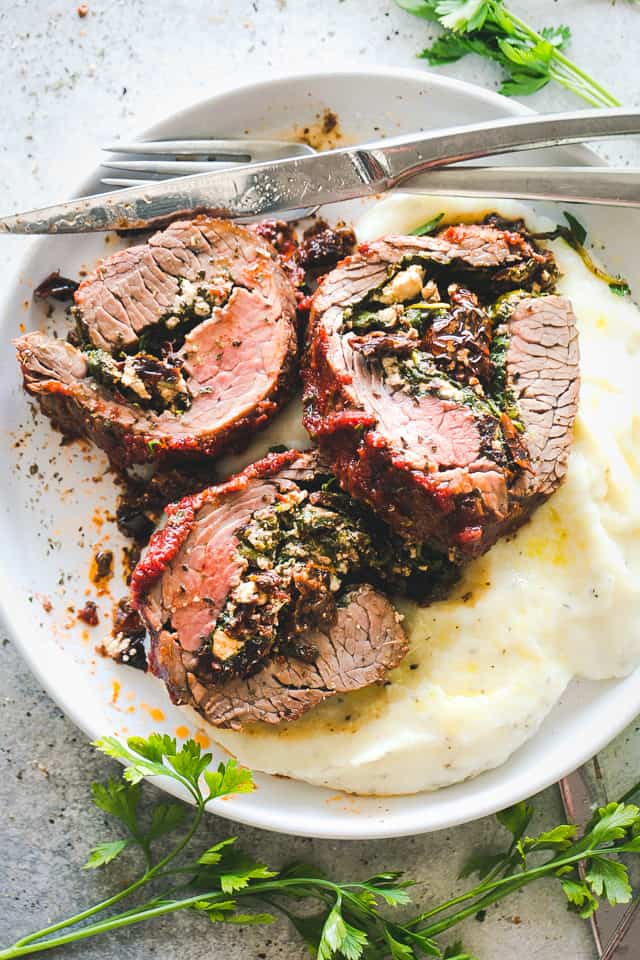 Say hello to simple, delicious, and easy to make Stuffed Flank Steak, a.k.a. Beef Roulade, packed with a creamy combination of fresh spinach, sun-dried tomatoes, and salty feta cheese.
Why You'll Love Stuffed Flank Steak
Budget-friendly. Flank steaks are relatively affordable than other cuts of steak, making this recipe a gift for your taste buds and your grocery bill. A gourmet meal without the gourmet price tag.
Flavor-packed. Stuffing a flank steak full of Mediterranean-inspired flavor takes a little more work than your average oven-grilled steak, but it's so worth it.
Versatile. This is a show-stopper of a meal that's right at home on a holiday table and easy enough to make for family dinner.
Ingredients for Stuffed Flank Steak
Flank Steak: Flank steak is a tougher cut of beef from just below the sirloin, and you can find it in most grocery stores.
Baby Spinach: Or regular spinach, chopped up.
Feta Cheese: You can also use goat cheese.
Sun-dried Tomatoes: I love the kind that comes jarred in olive oil.
Fresh Garlic
Seasonings: Dried or fresh basil, plus salt and pepper to taste.
Tomato Sauce: Choose a jar of your favorite tomato pasta sauce or marinara sauce.
Olive Oil: To help the steak sear in the oven, but you can also use your favorite cooking oil.
Parsley: Freshly chopped, for garnish.
How to Make Stuffed Flank Steak
Butterfly the steak: Place your hand on top of the steak. With your other hand, use a sharp knife to carefully cut horizontally into the steak, stopping about 1" before you cut all the way through. Next, open the steak up like a book. You should have two matching sides, like a butterfly.
Combine the filling ingredients. Combine and mix the spinach, chopped sun-dried tomatoes, and crumbled feta cheese in a bowl.
Cover the steak. Spread a bit of tomato sauce over your butterflied steak. After, take your prepared filling and evenly distribute it over the top.
Roll. Place the steak on a cutting board and roll the meat up tightly around the filling. Use a few ties of kitchen twine to secure the roll. Finally, brush the outside of the steak with olive oil and season with salt and pepper.
Oven. To cook it in the oven, bake the stuffed flank steak at 400ºF for 35 to 40 minutes or until the internal temperature reaches a cooked 130ºF. Let the steak rest for about 10 minutes before you remove the twine.
Or Grill. To grill it, heat your grill to 450ºF with the lid closed. Place the stuffed flank steak on the grill and cook for 10 minutes per side. Let the stuffed steak rest for 10 minutes, then slice and serve.
Recipe Tips And Variations
Use a sharp knife. Make sure that your knife is nice and sharp to make butterflying your steak easier and cleaner.
If needed, pound the steak thinner. If your steak is thicker after butterflying it, use a meat mallet to pound it to about ½" thickness. Do not pound it too thin, or it might tear.
Marinate the steak. If you have extra time, marinate your flank steak for maximum tenderness and flavor. Try the spicy marinade from my churrasco steak recipe or borrow the spice rub that I use for my grilled flank steak.
Make Ahead: Once you stuff, roll, and tie the beef, you can refrigerate it for up to 8 hours.
Add nuts. Add crushed walnuts to the filling for more crunch and texture.
Add prosciutto. Before adding the spinach and feta filling, layer over thinly sliced prosciutto or bacon.
Serving Suggestions
Deliciously juicy stuffed flank steak calls for my favorite side of fluffy mashed potatoes! You can also pair it with crispy smashed potatoes or mashed sweet potatoes. Add this La Scala chopped salad or a fresh tomato and cucumber salad to the menu. Enjoy garlic breadsticks or a side of slow cooker bread, too.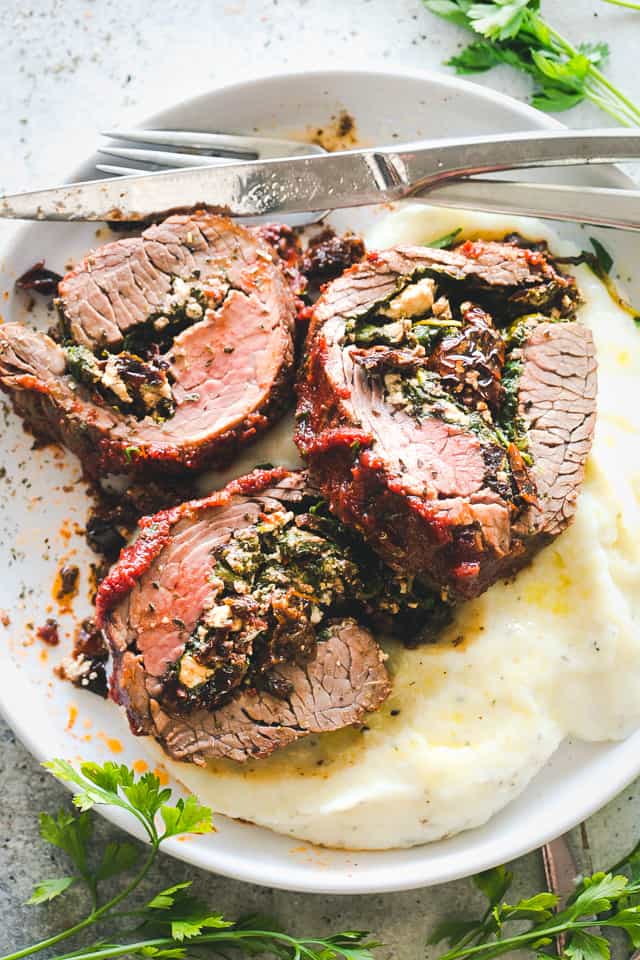 Storing and Reheating Leftovers
Fridge. Store any leftover steak airtight in the refrigerator for 3 to 4 days. You can reheat them in the oven or the microwave.
Freezer. Wrap individual stuffed flank steak slices in plastic wrap and place them into a freezer bag. Freeze the pinwheels for up to 6 months. Defrost them overnight in the fridge before reheating.
Easy Steak Dinner Ideas
Preheat oven to 400˚F.

Using a sharp knife, butterfly the steak by placing your hand on top of the meat and cutting horizontally into the steak until just about 1 inch before you would cut the meat into 2 separate pieces. Open up the steak like a book, pound it to a 1/2-inch thickness, and set it aside.

In a mixing bowl, combine chopped spinach, cheese, sun-dried tomatoes, garlic, basil, and fresh ground pepper; mix until well incorporated.

Spread 1/3 cup of tomato sauce over the steak and top it with the prepared spinach mixture.

Tightly roll up the flank steak and secure it with kitchen twine. Brush the entire steak with olive oil and season with salt and pepper.

Spread the rest of the tomato sauce over the top and around the edges of the steak.

Transfer to a baking dish and bake for 35 to 40 minutes or until the steak's internal temperature registers at 130˚F.

Remove from oven and transfer the steak to a cutting board. Let it rest for 10 minutes before removing the kitchen twine.

Remove kitchen twine and slice the stuffed steak into 1/4 inch rounds.

Spoon tomato sauce from the baking dish over the rounds, top with fresh parsley, and serve.
Sharp Knife: Ensuring your knife is sharp will help you butterfly the steak more easily and neatly.
Pound It, if necessary, after butterflying; if the steak is still thick, gently pound it to about half-an-inch thickness using a meat mallet. Be careful not to pound it excessively, as it might rip.
Prep in Advance: You can prepare the beef and keep it in the fridge for up to 8 hours before cooking.
Use a Meat Thermometer to check for doneness.
Add Nuts: Mix in some crushed walnuts into the filling for added crunch.
Layer with Prosciutto or Bacon: Place thinly sliced prosciutto or bacon on the steak before adding the spinach and feta filling for an extra layer of flavor.
Grilling option: If you'd like to make this on the grill, preheat your grill to 450˚F with the lid closed. Transfer the stuffed steak to the grill and cook for 10 minutes per side or until the steak's internal temperature reaches 130˚F. Remove from grill and let rest for 10 minutes before cutting.
To Freeze: Cut the cooked and cooled steak into pinwheels and wrap each pinwheel in plastic wrap. Transfer them to freezer bags and freeze for up to 6 months.
Serving: 5 ounces | Calories: 349 kcal | Carbohydrates: 8 g | Protein: 38 g | Fat: 17 g | Saturated Fat: 7 g | Cholesterol: 112 mg | Sodium: 705 mg | Potassium: 1081 mg | Fiber: 2 g | Sugar: 3 g | Vitamin A: 1985 IU | Vitamin C: 26.7 mg | Calcium: 187 mg | Iron: 4 mg
Nutritional info is an estimate and provided as courtesy. Values may vary according to the ingredients and tools used. Please use your preferred nutritional calculator for more detailed info.