Spring is finally here which means salads are back baby! You're going to love this delicious 4 ingredient strawberry balsamic dressing. It's perfect for drizzling over a fresh salad with spring greens, berries, and almonds.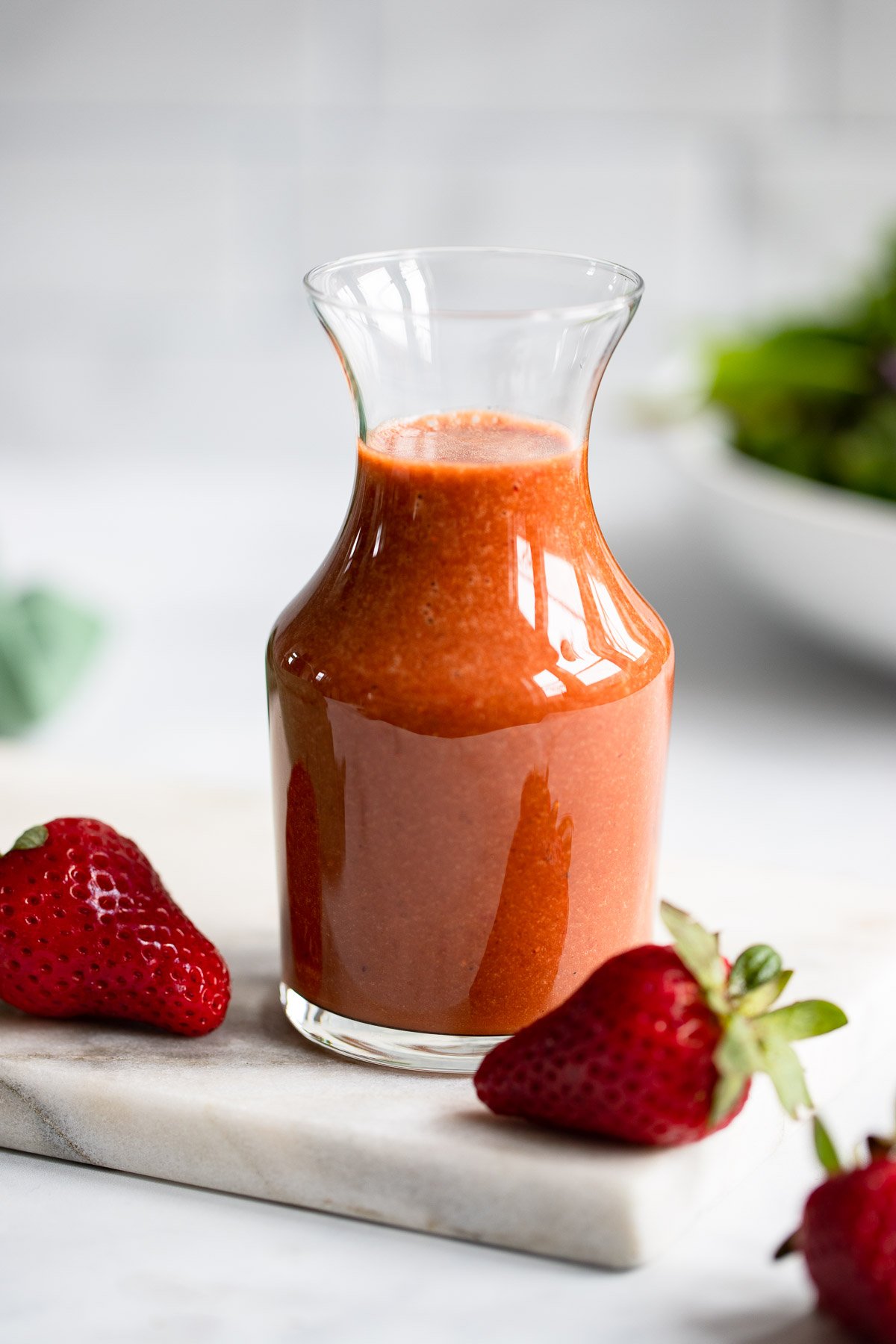 Even though the warm weather hasn't yet arrived with the first day of spring, I'm still celebrating the new season anyway with some fresh recipes. (Strawberry season is just around the corner. Yay!) This strawberry balsamic dressing will give any plain old salad tons of delicious flavor and zing. Homemade dressings are so easy to make and often pack more flavor than the ones from the grocery store. I hope you give this one a try!
While we're talking salads, why not use this new salad dressing on one of these delicious salad recipes: beet and quinoa salad with arugula, blueberry summer kale salad, strawberry spinach salad.
Why You'll Love this Recipe
Homemade dressing tastes so much fresher than store-bought and are so simple to make. Just 5 minutes and made with simple ingredients!
Salad doesn't have to be boring when you make a yummy dressing like this strawberry balsamic one. The sweet strawberries and tangy balsamic are the perfect combination for a good vinaigrette.
This simple dressing recipe is vegan, gluten free, egg free, and dairy free.
Ingredients You'll Need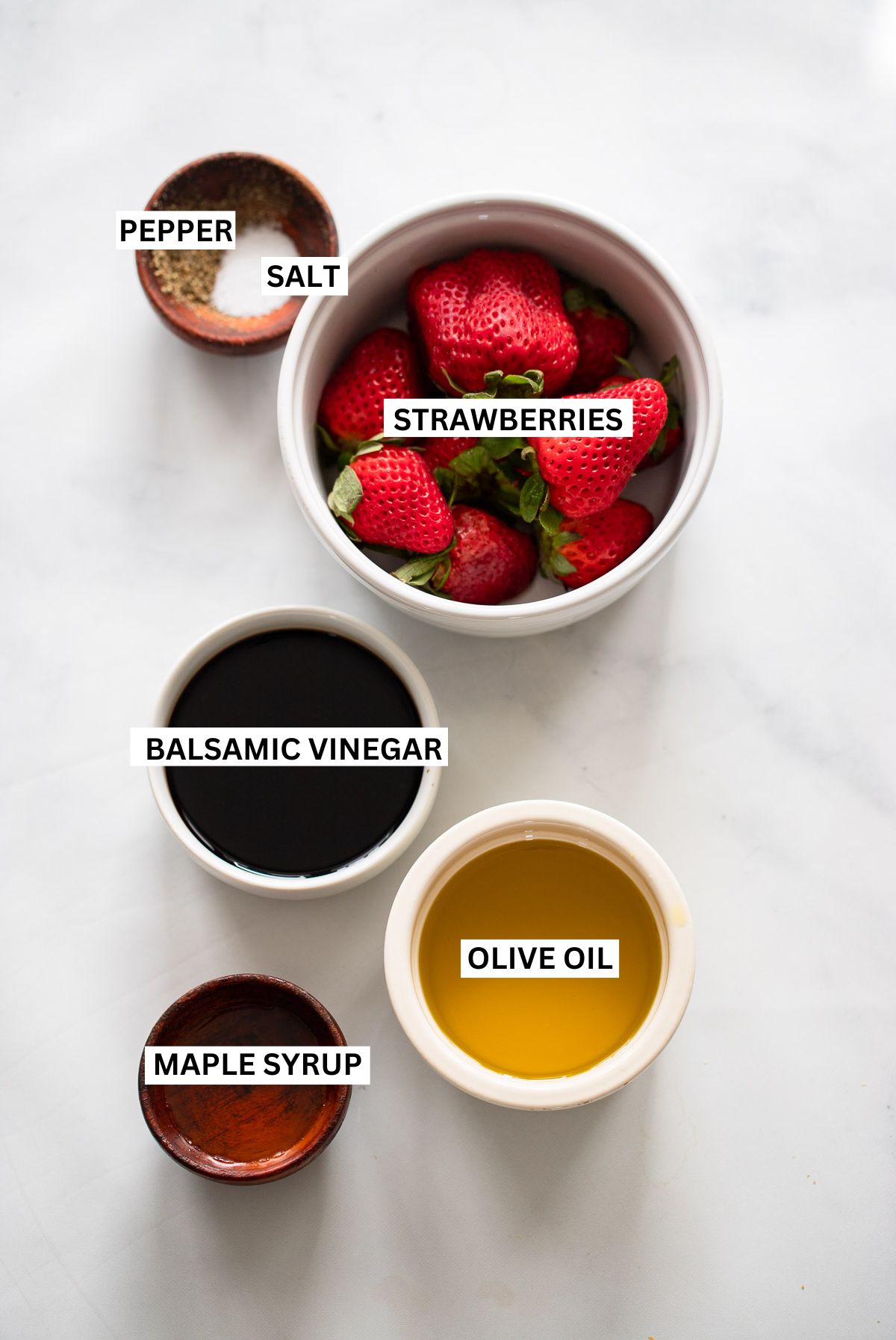 Strawberries: I have found that this dressing has the best flavor when using fresh strawberries. However, you can use frozen recipes if that is all that you have. Some recipes call for strawberry jam, but I thought this dressing was better with fresh or frozen strawberries.
Olive Oil: use a good quality extra virgin olive oil if you have it, but any olive oil will do. You can also switch it up and use a different high quality oil like: avocado oil, walnut oil, or flaxseed oil.
Balsamic Vinegar: use any balsamic vinegar that you have on hand. The higher quality the better for a simple dressing like this one. Avoid using balsamic glaze though since it is too sweet for this recipe. You can use white balsamic vinegar if you have it – the color of this dressing will be even brighter.
Maple Syrup: Adds a little extra sweetness to balance out some of the tartness from the balsamic vinegar.
Step by Step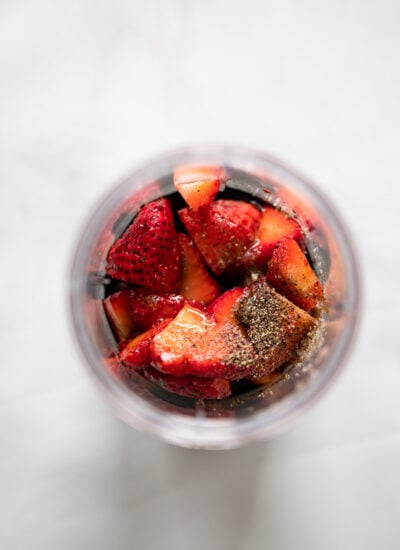 STEP ONE: Add the strawberries, balsamic vinegar, maple syrup, salt, and pepper to a blender cup or small food processor. Blend until smooth.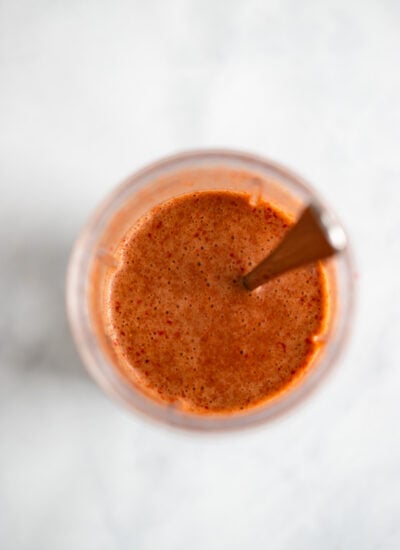 STEP TWO: Add the olive oil and pulse a few times until mixed.
Expert Tips
Quality ingredients make a difference: Since there are only 4 ingredients in this dressing – every ingredient counts! If you can, try to use sweet & ripe strawberries and a good quality extra virgin olive oil and an aged balsamic vinegar.
Sweeten to taste: Depending on your preference for sweetness as well as the sweetness of the strawberries, adjust the maple syrup added. I usually start with 1/2 tablespoon first and then taste the dressing before I add the full tablespoon.
Add more tang: Like a tangier salad dressing? Feel free to add 1/2 to 1 teaspoon of Dijon mustard as well.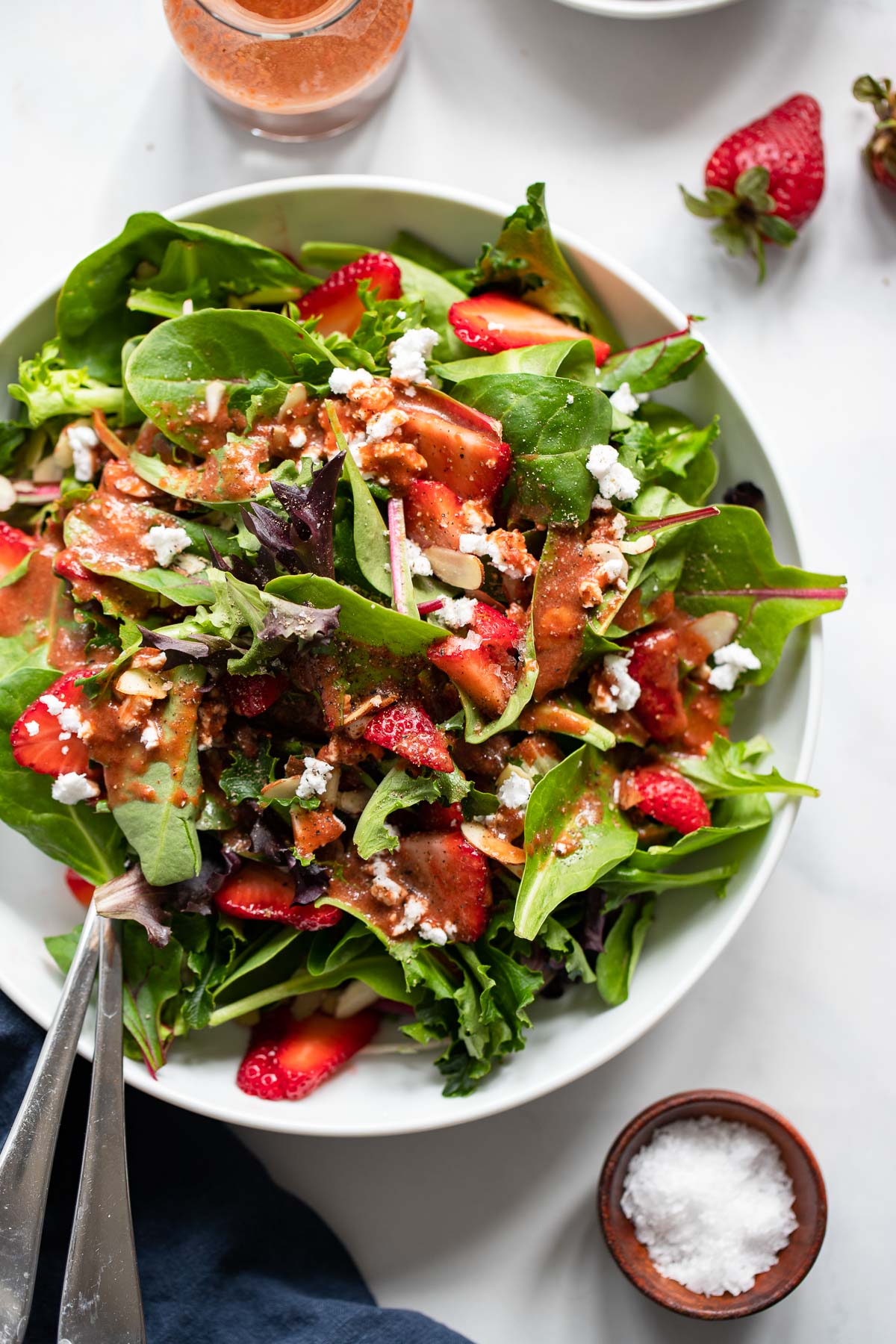 Storage
Refrigerator: Store your homemade strawberry dressing in the refrigerator in an air-tight container. I like to keep mine in a glass jar with a tight fitting lid. This salad dressing will keep well for up to 2 weeks. If it separates while in the fridge, just give it a good shake before using to mix all the ingredients again.
Serving Suggestions
My favorite way to serve this strawberry balsamic vinaigrette is with a good salad like the one above with spring mix, vegan feta cheese (or goat cheese), almonds, and fresh fruit. It's the perfect summer salad dressing! Here are a few other delicious ways to use it:
Recipe FAQs
Is balsamic vinaigrette a healthy choice?
Yes! Balsamic vinaigrette is a great choice for adding to salads and other recipes. When made with an oil high in monounsaturated fats like olive oil, it can offer many heart healthy benefits. Also, using a vinaigrette with oil on salads can help you better absorb the fat soluble antioxidants in the vegetables.
What's the difference between balsamic vinegar and balsamic vinaigrette?
Balsamic vinegar is a rich, dark vinegar with a slightly sweet flavor. While a balsamic vinaigrette is made from balsamic vinegar, oil, spices, salt, and pepper and is most often used as a salad dressing.
What are the best oils for salad dressing?
Although olive oil is my go-to oil for salad dressings, you can also use a variety of other kitchen oils like: avocado oil, walnut oil, flaxseed oil, sunflower oil, or peanut oil.
More Delicious Recipes for Spring
Did you love this recipe? Make sure to leave a ⭐️ rating and tag #dietitiandebbie on instagram!
Strawberry Balsamic Dressing
Spring is finally here which means salads are back baby! You're going to love this delicious 4 ingredient strawberry balsamic dressing. It's perfect for drizzling over a fresh salad with spring greens, berries, and almonds. 
Prevent your screen from going dark
Nutrition
Serving: 1serving | Calories: 96kcal | Carbohydrates: 4g | Protein: 0.2g | Fat: 9g | Saturated Fat: 1g | Polyunsaturated Fat: 1g | Monounsaturated Fat: 7g | Sodium: 75mg | Potassium: 40mg | Fiber: 0.4g | Sugar: 3g | Vitamin A: 3IU | Vitamin C: 11mg | Calcium: 7mg | Iron: 0.2mg
Reader Interactions