Sakara Life is a meal delivery service with chef-designed recipes, organic ingredients, and plant-based meals. Here is my honest Sakara Life review and if it's worth it. Does Sakara Life deliver tasty, healthy meals? Or is it another diet scam? Are the meals tasty?
This post is not sponsored, but you can use the code XOGINAH for 20% off meals and clean boutique products!
For today's post, I wanted to share my review of Sakara Life now that I've had the chance to try it! TBH, I lurked Sakara for yearrrrssss. I debated trying their meal delivery and every time I went to order, I got sticker shock and x'ed it out. I just couldn't justify the cost, especially when I know how to make many of these things myself. However, life is a little different right now. Things have been so crazy with juggling my workload while somehow teaching Liv and managing her school assignments and online classes, all of the regular household to-dos, and keeping P entertained and from injuring herself. It's a circus around here, as I'm sure many of you can relate.
I've been eating a lot of chocolate chips out of the bag. I've had a lot more wine and a lot fewer veggies. (Thank goodness for Daily Harvest because they've been the most convenient method for me to scarf down a daytime meal lately.) I tried to do more meal prepping for a bit but on the days I got busy and didn't have time to cook or prep anything, I felt discouraged.
I decided to treat myself to convenience and some healthy, delicious eats, so I figured I'd give Sakara Life a try after all this time!
And you guys, I looooooved it. I'm so excited to share my thoughts below. (Heads up that this isn't sponsored and my box wasn't gifted; I just finally decided to go for it.)
What is Sakara Life?
Sakara Life is a plant-based organic meal delivery service, founded by Danielle Duboise and Whitney Tingle. The meals and products are based on cutting-edge nutrition, all ingredients are sourced from trusted suppliers and organic farms and are chef-crafted from maximum deliciousness. They believe in the 9 pillars of nutrition: no calorie counting, plant protein, eat your water (optimal hydration from foods), greens, good fats, eat the rainbow, nutrient density, sulfur-rich vegetables, and body intelligence. You can choose to get a single week of meals (2-day, 3-day, or 5-day) or a subscription.
All recipes are also gluten-free, in addition to being vegan. They're packed with antioxidants, super fresh, and taste delicious. You can browse the meal programs on their site, and they also have a lifestyle shop, which includes various supplements, metabolism powder, bars, tonics, teas, and snacks to purchase. You'll have access to over 40 different meal delivery services that are available through their marketplace and nutrition programs.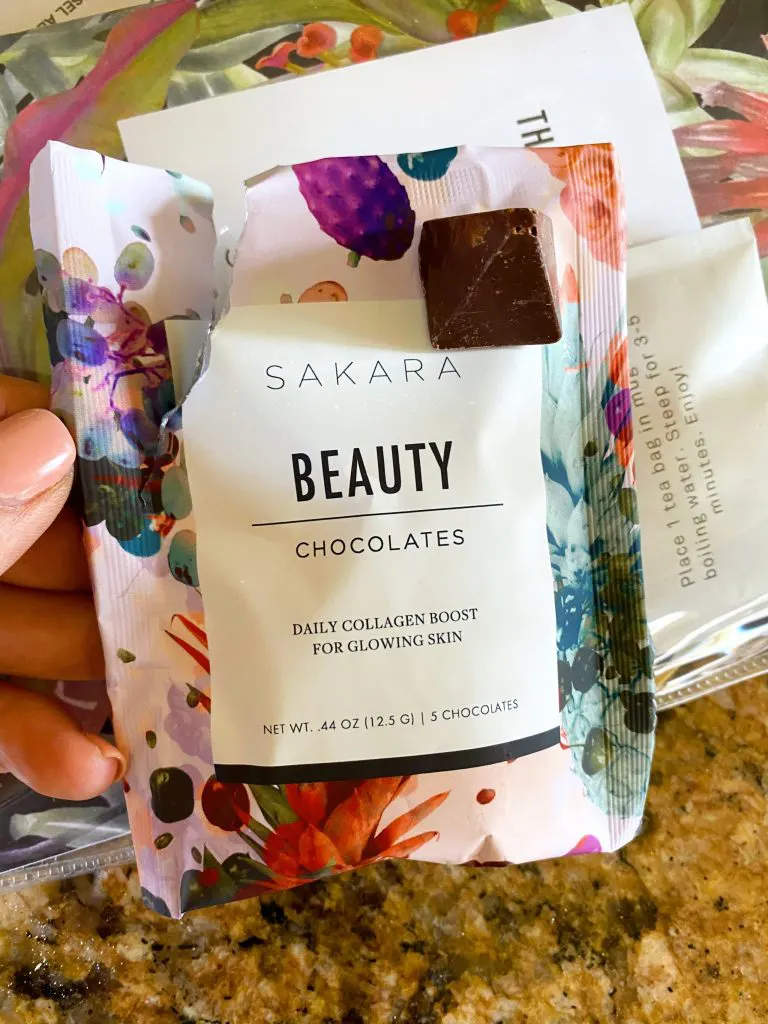 How Are Sakara Life's Meals Delivered?
When I received the box, I was pleasantly surprised by the packaging. It didn't seem excessive and everything in the package was recyclable. They also gave me a couple of bonus goodies to try, including a detox bar (cashew-based bar with spirulina and plant-based protein), detox tea (a decaf rose tea), and "beauty chocolates" <— little chocolate pyramids. There was also a piece of Palo Santo to burn while I set my intentions. (The founders are from Sedona, AZ, which is one of my favorite places in the world and the hippie vibe is right up my alley.)
I couldn't wait to try it out, and the shipment perfectly arrived on a weekend while the Pilot was working. Instead of scrambling for lunch, I could make the girls their usual staples (egg and cheese sandwich for Liv, turkey, and cheese for P, with veggies and hummus, and fruit), and my lunch was waiting for me.
I was instantly impressed by the quality of the food, the flavor profiles, and the serving sizes.
Here's what I enjoyed in my shipment:
A pumpkin parfait with granola, coconut yoga, raspberries, and cranberries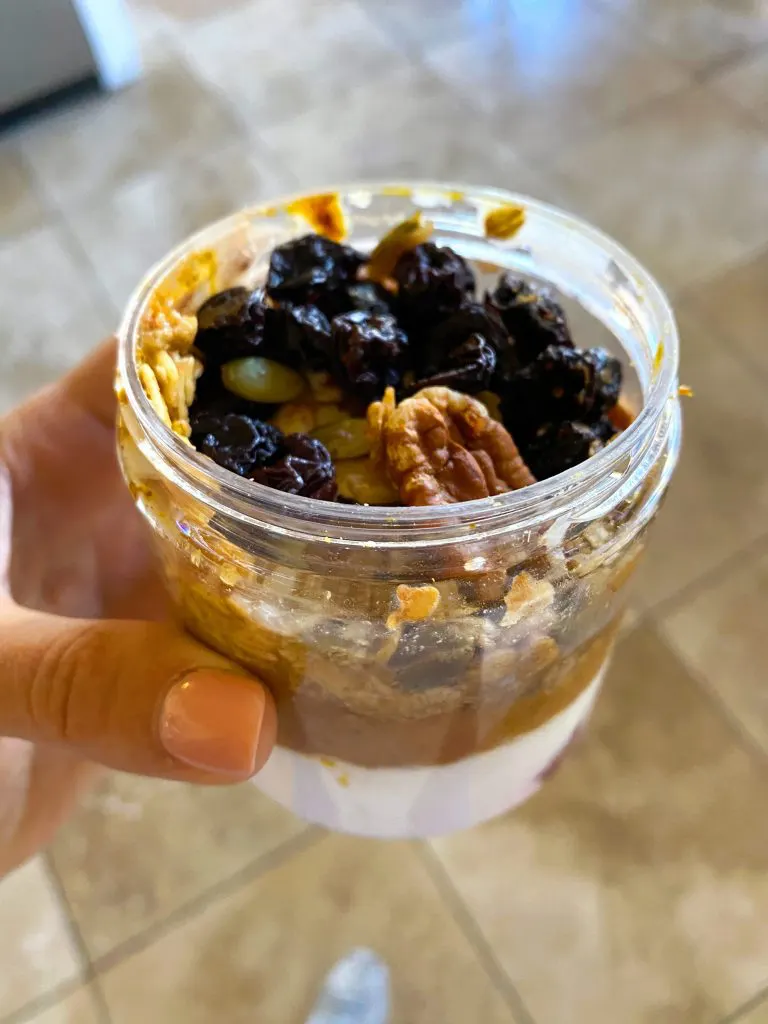 A giant salad with quinoa, beans, tons of veggies, and a cashew-based creamy dressing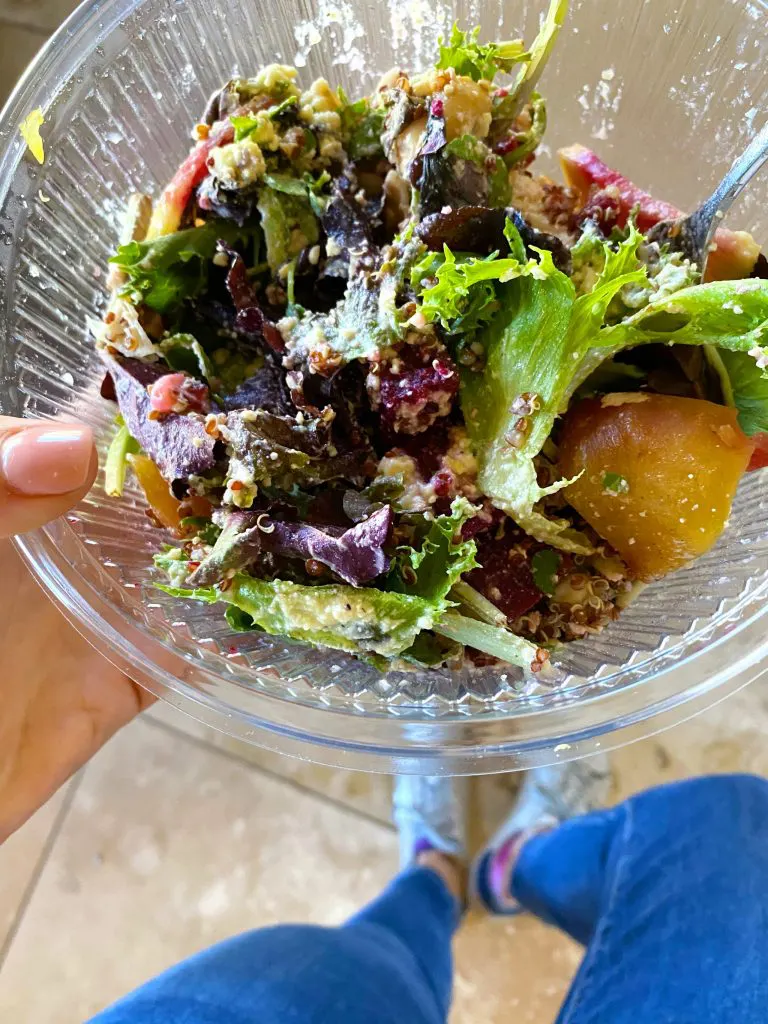 A banana protein bread with macerated berries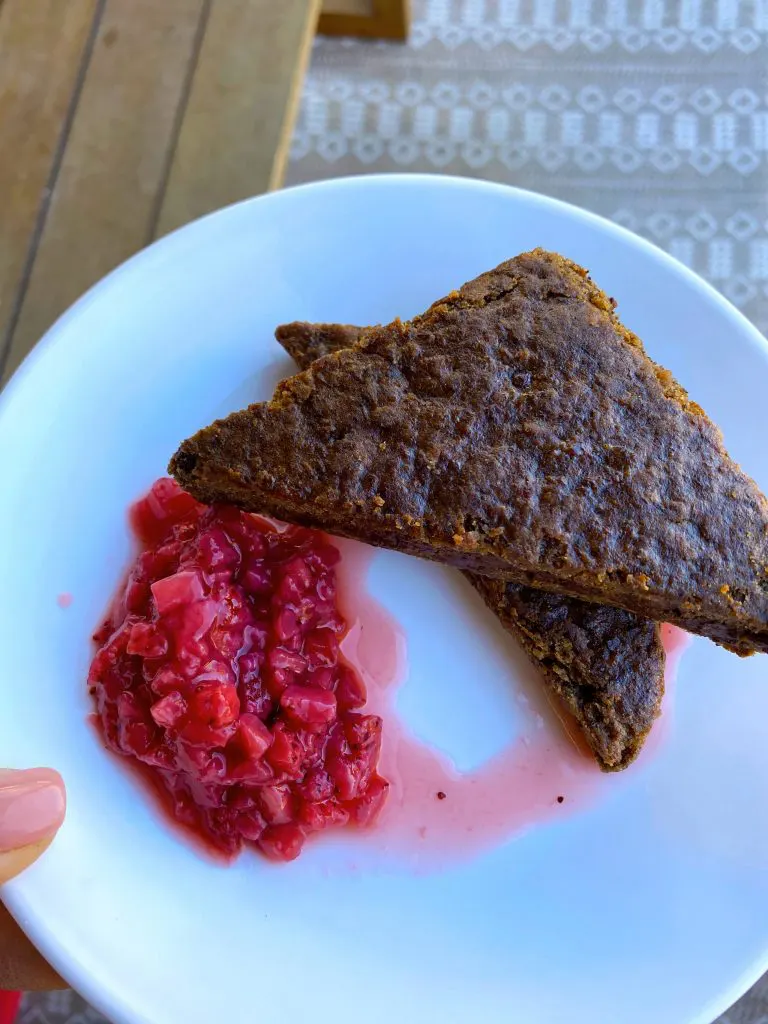 and a kimchi and soba noodle salad bowl with a delicious Asian-style sauce
Pros:
– The menu options and focus on clean ingredients. I loved everything on the menu! I feel like it was different than the things I usually make and was a great nudge to get more whole-food options, like veggies, leafy greens, and salads during the day. The weekly menus constantly change.
– No dairy, gluten, soy, or animal-based products in any of their meals. I feel like this is a dream for vegan friends or those who try to avoid dairy and gluten, like myself. Their dairy-free recipes also focus on gut health, with a mix of probiotics and probiotics in their meals.
– The food quality. Everything is organic and fresh, and they also use superfood-rich ingredients I don't always have on hand, like rhodiola, or spirulina.
– Commitment to sustainability and mission. Everything in the shipment was recyclable, including the ice packs.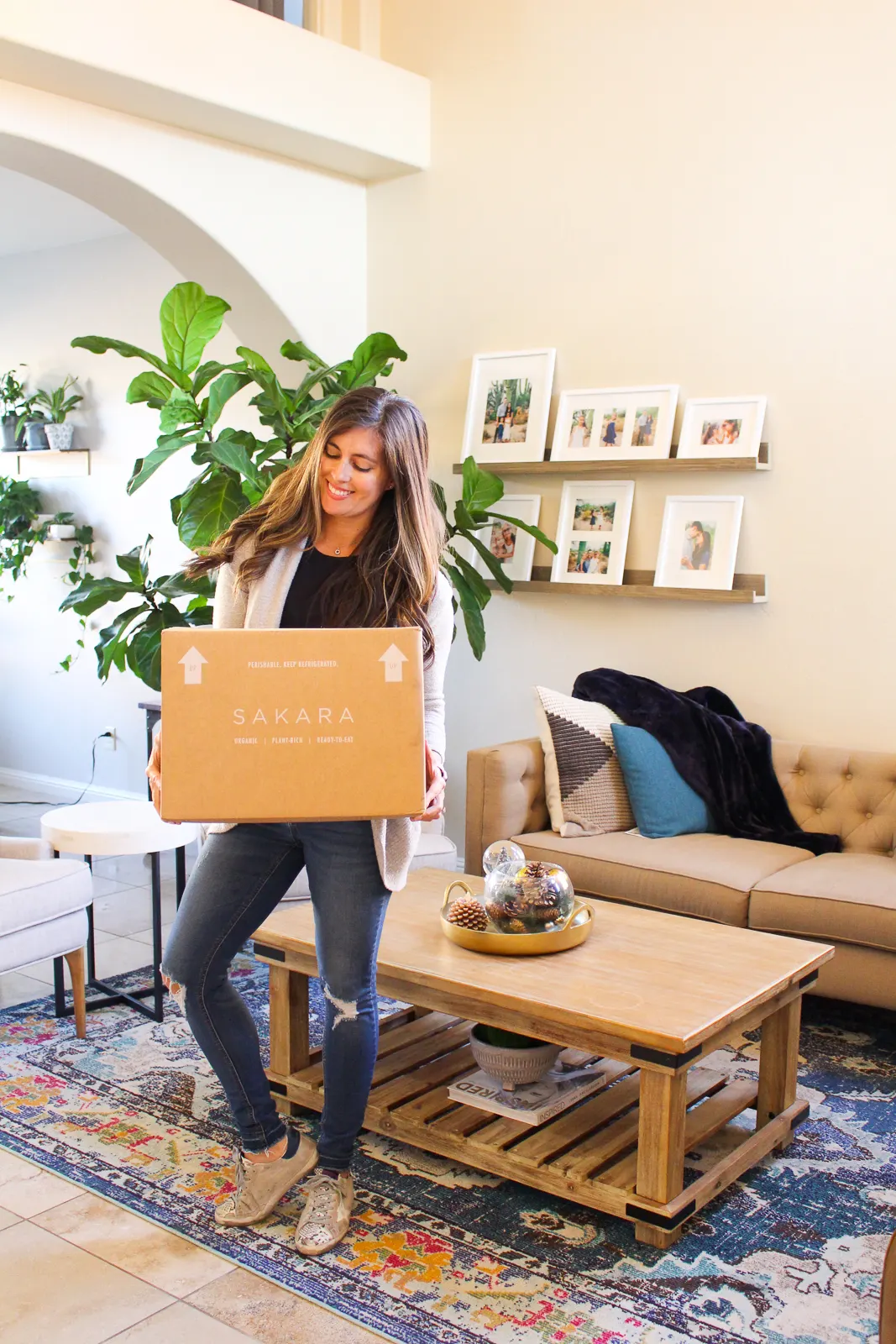 – New recipe inspiration! Even though I won't be doing this weekly, I'll absolutely use what I ate as meal inspiration. I already made two pumpkin parfaits to enjoy this week for breakfast, inspired by my Sakara meal.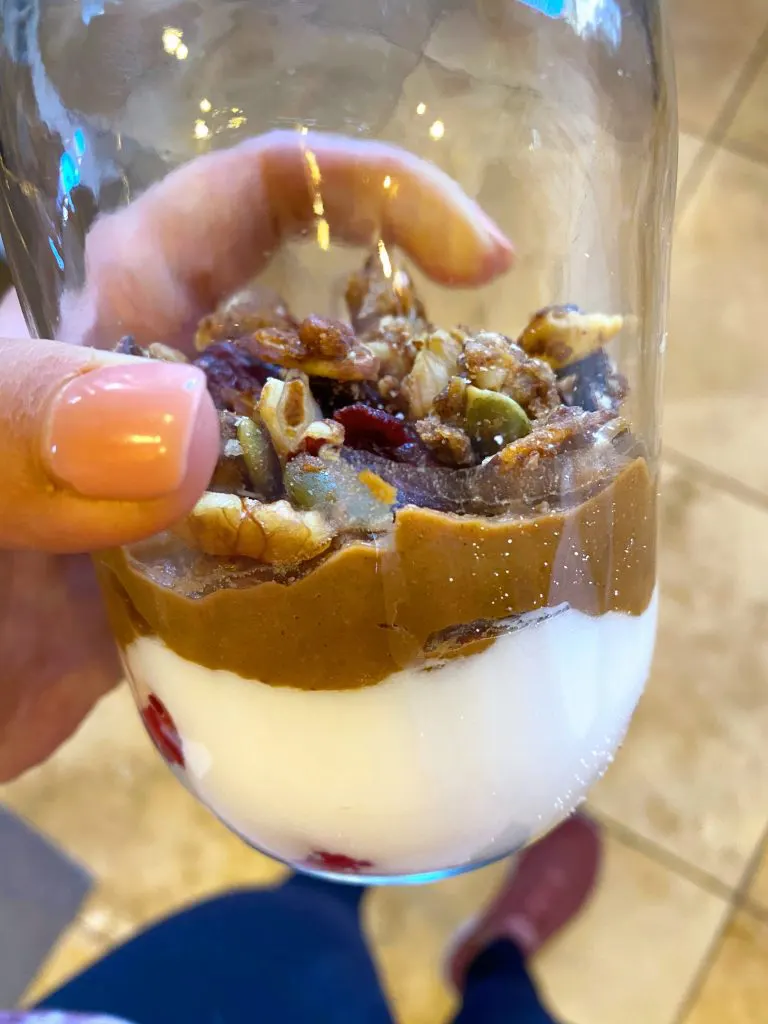 Here's what I did:
– Put a few raspberries in the bottom of each jar and top with a serving of vanilla Cocoyo yogurt
– Made a pumpkin protein puree with about 1 cup pumpkin puree, 1/2 scoop of Turvani protein powder, 1 teaspoon pumpkin pie spice, a splash of vanilla, a pinch of sea salt, and enough almond milk to thin it out
– Added the pumpkin puree to the top of each parfait and topped with Paleo granola and a few dried cranberries
Cons:
– It's a lot of salads, which could be a pro or a con. I LOVE salads for lunch but don't always make the time to steam or chop ingredients. Having it in a bowl ready to go felt like such an amazing treat. I also feel like this was way better than most restaurant salads in Tucson.
– Some of the breakfast options are very small. I LOVE the little muffins and little cakes but usually need to pair the breakfasts with some type of protein, like scrambled eggs or some chicken sausage.
– The "detox" and "beauty chocolate" type verbiage. These health buzzwords feel a little cringe-y sometimes (like this protein bar is helping me detox? Really??), but I get that it is part of their brand. It didn't bother me too much but I could see how some might be turned off by some of the product names.
Calories In Sakara Meals
Are you a calorie counter?
Ever wonder how many calories are in a Sakara meal?
It's honestly a great question, but one that doesn't have an easy answer. Why? Because it depends on your needs, your goals, and even your lifestyle. It also depends on the size of the meal you're eating, because we know that some people like to snack between meals and others like to eat big breakfasts and small lunches. You can alter your program however you want to eat for breakfasts, lunches, and dinners
Sakara's signature nutrition program is all about eating healthy foods. With nutrient-dense fresh ingredients and a registered dietitian on staff, Sakara meals are sure to help you feel your best. But if I had to give you an answer? I'd say that there is no one-size-fits-all when it comes to calories. Their nutrition programs are designed for each individual who walks through our doors—and since no two people are alike, no two nutrition programs will be alike either.
Is Sakara Life Worth It?
Sakara Life is pricey. I would compare the cost per serving to a healthy takeout meal in NYC. They use high-quality organic ingredients and superfoods, and I'm sure the packaging adds a significant amount to the base cost. We spend a large portion of our income on travel each year, which is something that we haven't been doing nearly as much. (Usually, I would have taken the kids to Disney at least twice since this all happened.) We also haven't been going on weekly date nights – I think we've gone on two in the last 8 months – or live theatre, which is another expense that we enjoy as a regular part of our budget.
Fitness-wise, I'm not spending nearly as much. My Orangetheory membership is frozen, I haven't been to the gym since early March, and I'm not indulging in weekly Pure Barre classes or frequent hot yoga. A lot of our expenses are down, so for now, it's been worth the cost to me. I've been so sick of cooking that whenever I receive a meal, it feels like a true gift. When I received this shipment, it felt like such a special treat to enjoy nourishing foods that I didn't have to make. 🙂 While I won't be getting it weekly or anything like that, I can absolutely see myself doing this as a little treat or something to look forward to.
Sakara Life Deals
The quality of the food is incredible and as a non-vegan who's a huge fan of plant-based diet foods, I really enjoyed my first shipment. It's quickly become my favorite meal delivery program. If you'd like to try it out, use the code XOGINAH for 20% off here!
So tell me, friends: have you tried a meal delivery service that you love? What's something you've done to make things a bit more convenient for yourself lately?
xo
Gina