These Pumpkin Pie Cinnamon Rolls are a pure indulgence, bursting with a luscious pumpkin filling and topped with a dreamy pumpkin spice cream cheese frosting! They are so easy to make and are ready in 30 minutes, thanks to refrigerated crescent dough.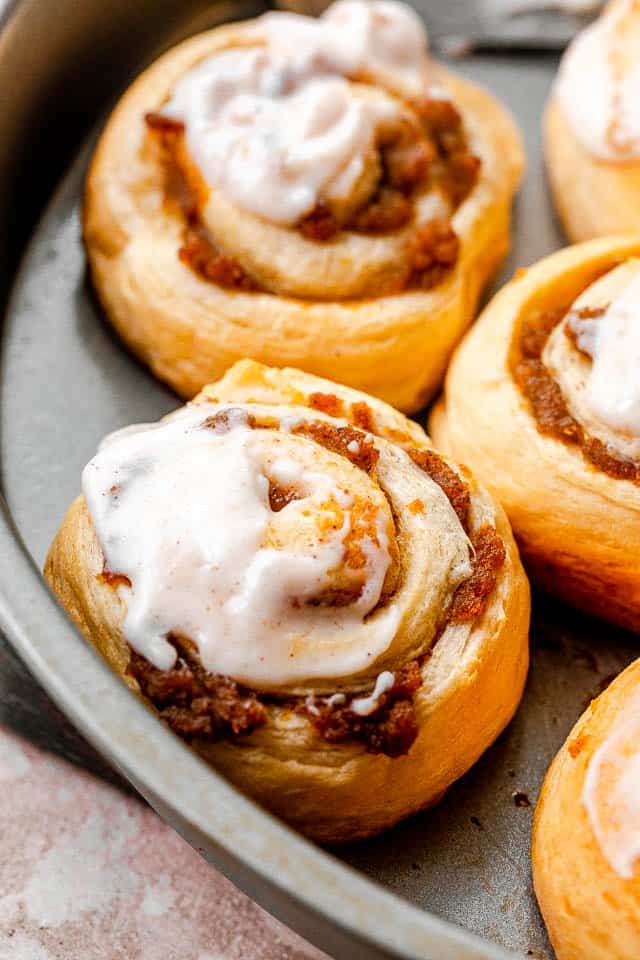 We always look forward to these soft, warm, and sweet pumpkin cinnamon rolls, packed with pumpkin puree and pumpkin pie spice, which are perfectly complemented by a rich cream cheese frosting. They exude that Fall vibe and make a fantastic addition to Fall brunches or as a Thanksgiving dessert treat.
Why You Should Make This Pumpkin Rolls Recipe
Easy: Using store-bought dough, prep is 10 minutes, and they're ready in 30 minutes.
Seasonal Treat: Pumpkin-packed and perfect for Fall and Thanksgiving.
Frosting: The pumpkin spiced cream cheese frosting is the most delicious partner.
Ideal for Special Events: Perfect for Fall brunches and festive moments.
Ingredients For Pumpkin Cinnamon Rolls
Pillsbury Crescent Rounds: Separate and unroll the rounds into 16 pieces. You can also use another brand of refrigerated dough.
Melted Butter: To brush each piece of dough, giving the rolls a rich flavor and a golden-brown finish.
Pumpkin Puree: This filling gives the rolls their pumpkin taste.
Milk: Mixed with the pumpkin puree to create a smoother filling consistency.
Light Brown Sugar: Adds sweetness to the pumpkin filling.
Ground Cinnamon & Ground Nutmeg: Spices that will enhance the flavor of the pumpkin filling.
Cream Cheese: Soften the cream cheese before using.
Powdered Sugar: To sweeten and thicken the frosting.
Pumpkin Pie Spice: Adds flavor.
Vanilla Extract: For flavor.
How to Make Pumpkin Pie Cinnamon Rolls
Prep: Preheat the oven to 375°F. Grease two 8-inch baking pans with cooking spray and set aside.
Dough: Detach the dough into 16 individual sections. Brush each one with the melted butter.
Preparing the Filling: Combine the pumpkin puree, milk, brown sugar, cinnamon, and nutmeg. Spread this pumpkin mixture over each piece. Roll them up and seal. Place the rolled pieces in the pans, leaving a gap of about an inch between each.
Baking: Bake for around 16 to 18 minutes or until golden brown on top.
Frosting Prep: Cream the cream cheese with a mixer until smooth. Add the powdered sugar, mixing continuously. Blend in the pumpkin pie spice and vanilla extract for added flavor.
Finishing Touch: Remove the rolls from the oven and glaze them with the prepared frosting while they're still warm. Serve immediately and enjoy!
Recipe Tips
Milk: For a creamy filling, use 2% milk or higher.
Dough: Try to find Pillsbury Crescent rounds. If those are not available, use Original Crescent Rolls.
Don't Overbake: Remove the pumpkin cinnamon rolls from the oven when the tops are golden brown.
Cream Cheese: Make sure to soften the cream cheese before using so it blends more easily.
Serve Immediately: These sweet cinnamon rolls are best served warm. 
Adjust Frosting Consistency: The frosting is smooth and creamy, but you can make it thicker by adding more powdered sugar.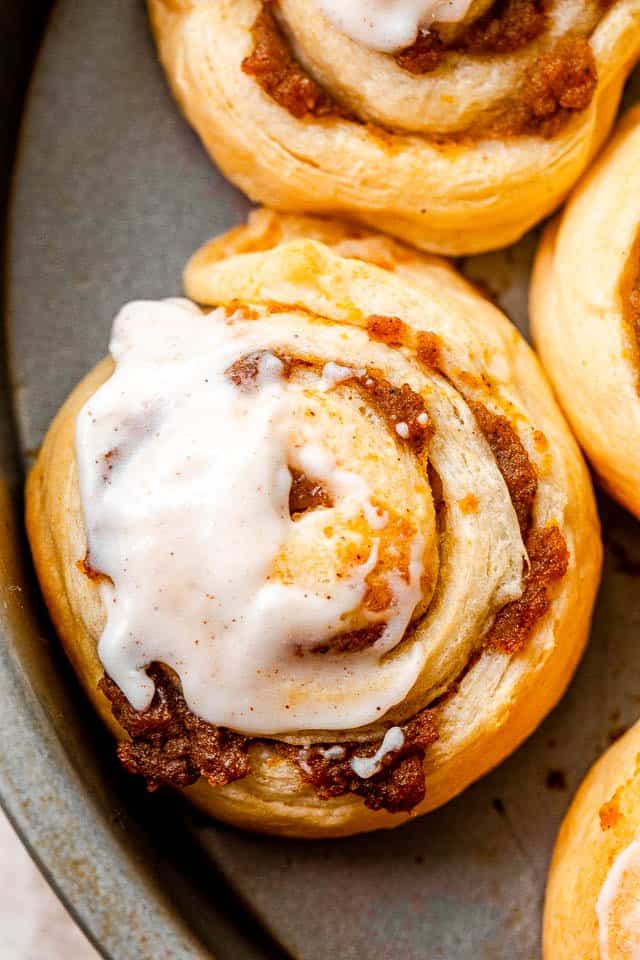 How to Store
Store your leftover pumpkin cinnamon rolls in an airtight container at room temperature for up to 3 days.
Reheat them in the microwave, if desired, in 10-second intervals until warm.
More Pumpkin Recipes
ENJOY!
Preheat the oven to 375°F and lightly grease two 8×8-inch pans with non-stick cooking spray; set aside.

Separate and unroll the dough into individual sections. You should have 16 pieces. Brush each piece of dough with the melted butter.

In a small bowl, whisk together the pumpkin puree, milk, brown sugar, cinnamon, and nutmeg.

Evenly divide the pumpkin filling and spread it over each piece of rolled-out dough. Carefully roll up each piece of dough, lightly pinching the seams together. Arrange the rolls 1 inch apart in the prepared cake pans.

Bake for 16 to 18 minutes, or until tops are golden brown.

Meanwhile, place the cream cheese in your mixer's bowl and cream for 1 to 2 minutes or until smooth. Gradually add in the powdered sugar and continue to beat until creamy and smooth. Add in the pumpkin pie spice and the vanilla and mix until thoroughly combined.

Remove the pans from the oven and immediately brush each roll with the cream cheese frosting. Serve.
Milk: Opt for milk with a fat content of 2% or more for the most creamy outcome.
Preferred Dough: Search for Pillsbury Crescent Rounds, which are often available on Instacart or at Target. If you can't locate them, the Original Crescent Rolls will suffice.
Don't Overbake: Pull the rolls out of the oven as soon as they sport a golden hue on top.
Cream Cheese Tip: Pull the cream cheese out of the fridge and let it sit on the countertop until softened, about 30 minutes for cubed cream cheese or up to an hour for a whole block. Softened cream cheese allows for a more even and creamy blend without any lumps.
Serving Suggestion: Dive into these cinnamon rolls while they're fresh and warm for the ultimate experience.
Frosting Flexibility: The frosting is a perfect consistency; however, you can achieve a thicker consistency by introducing more powdered sugar.
Storing Instructions: Safely store any leftover pumpkin cinnamon rolls in a sealed container at room temperature. They'll stay fresh for 2 to 3 days.
Serving: 1 Roll | Calories: 204 kcal | Carbohydrates: 27 g | Protein: 2 g | Fat: 11 g | Saturated Fat: 5 g | Polyunsaturated Fat: 2 g | Monounsaturated Fat: 2 g | Trans Fat: 0.1 g | Cholesterol: 13 mg | Sodium: 264 mg | Potassium: 33 mg | Fiber: 0.2 g | Sugar: 18 g | Vitamin A: 1354 IU | Vitamin C: 0.3 mg | Calcium: 14 mg | Iron: 1 mg
Nutritional info is an estimate and provided as courtesy. Values may vary according to the ingredients and tools used. Please use your preferred nutritional calculator for more detailed info.