Level up your overnight oats with protein powder! Protein oatmeal is a satisfying way to make your morning bowlful healthier, loaded with nutritious oats, chia seeds, and your favorite toppings.
For another high-protein breakfast, try my rainbow protein smoothie bowl recipe!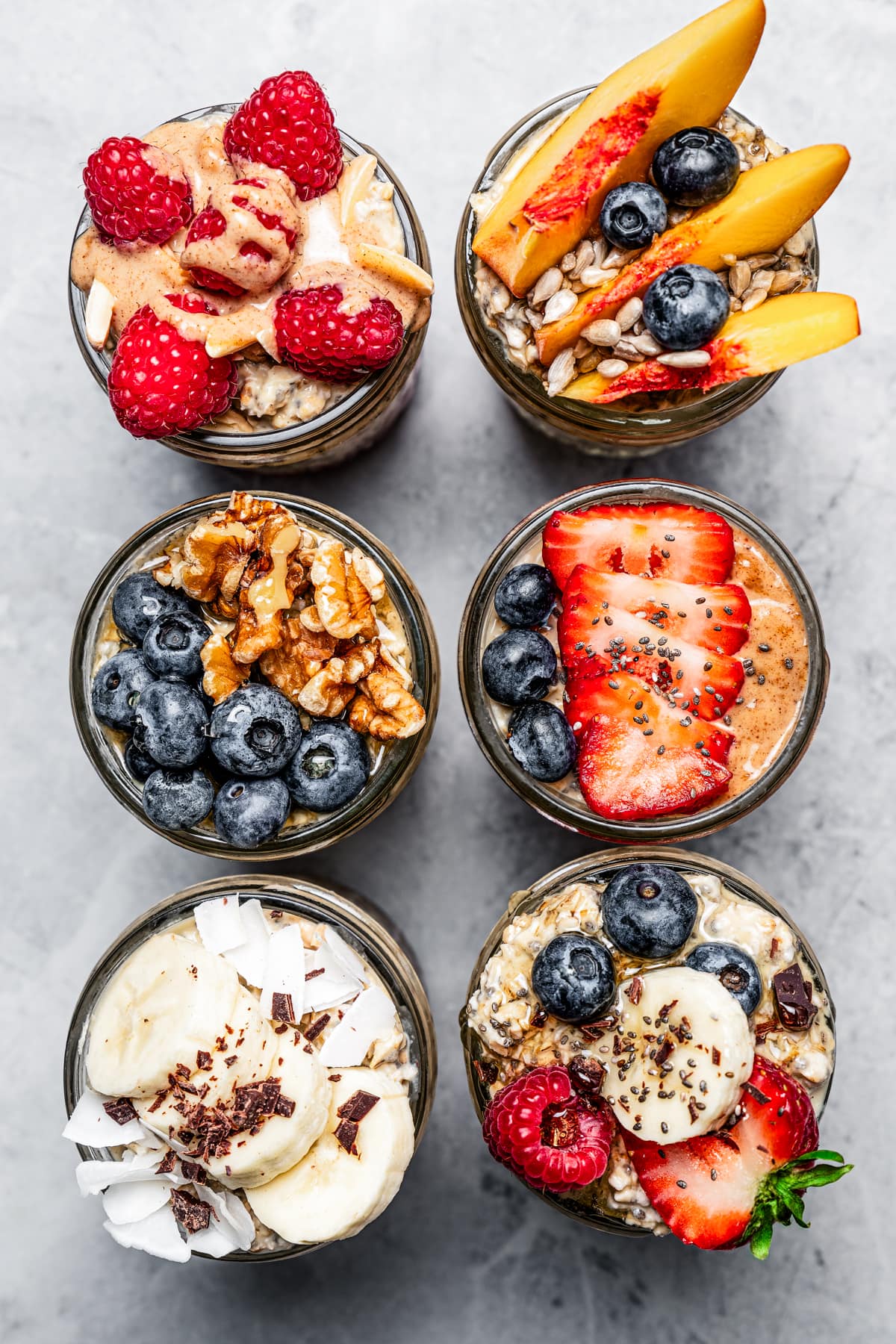 Healthy High Protein Oatmeal
Overnight oats are one of my favorite make-ahead breakfast recipes. There's something about wholesome, hearty oats that always hits the spot and keeps me fueled at least until lunch. However, there's an easy way to "bulk" up overnight oats so that they're even healthier and more filling: enter, protein powder. This recipe for protein overnight oats is a delicious, balanced breakfast that you can have ready for the fridge in a snap. I make my overnight oatmeal with milk and chia seeds in mason jars and then load it up with fresh fruit and other quick toppings like nuts and chocolate shavings. It's good to go all week long!
Why You'll Love This Protein Oatmeal Recipe
Easy meal prep. High-protein overnight oats are a wholesome and tasty breakfast that's quick and easy. Seriously, you'll have your oats ready for the fridge in 5 minutes.
They're Good for you. Oats are high in fiber and other nutrients, and protein powder kicks your basic oatmeal into high gear. 
Customizable. Customize your overnight oats with fresh fruit, nuts, seeds, and more healthy ingredients and add-ins.
Are Oats Good For You?
Oats are a humble grain with loads of health benefits. Not only are oats considered a gluten-free grain, but according to Healthline, eating oats can help with everything from weight loss to heart disease. This is because oats are filled with protein, fiber, and essential amino acids, along with vitamins, minerals, and antioxidants—basically, a whole lot of good-for-you nutrients. Not to mention, oats and oatmeal are known for keeping people feeling fuller for longer.
Adding Protein Powder to Oatmeal
Protein powder isn't just for gym buffs – it's one of my favorite ingredients in oatmeal! It's an easy addition that adds flavor plus a hefty boost of protein. Just one scoop of whey protein contains 20-30 grams of protein. Plus, if you're vegan, avoiding eggs, or dairy-free, there are plenty of plant-based protein powders out there, too. Using protein powder in oatmeal is a great way to make your morning bowl healthier.
Ingredients For Protein Oatmeal
You only need 4 ingredients to make a filling bowl of protein overnight oats. Be sure to scroll down to the recipe card for a full ingredient list and detailed instructions.
Oats: You'll need one cup of old-fashioned rolled oats as they hold up the best after soaking overnight.
Protein Powder: Vanilla protein powder or any flavor you'd like. Chocolate is another good option!
Chia Seeds: Chia seeds are an excellent source of omega-3 fatty acids. If you don't have chia seeds, you can substitute ground flax seeds instead.
Milk: You'll need whole or 2% milk or your favorite plant-based alternative (almond milk, oat milk, coconut milk, or soy milk).
What Are the Best Oats for Overnight Oatmeal?
Old-fashioned oats, or rolled oats, are the best choice for overnight oats. Rolled oats are sturdy, high in fiber, and especially nutritious. They offer the best hearty texture after a night in the fridge. Avoid quick oats, as they'll become too soggy. Likewise, steel-cut oats won't soften enough just by soaking in milk.
How to Make Protein Oatmeal
This recipe makes enough for 2 portions of protein powder oatmeal, enough to fill two jars for an easy make-ahead breakfast. Feel free to double or even triple the recipe as needed.
Combine the ingredients. First, add oats to two bowls or jars (whichever you're using). Add protein powder, chia seeds, and stir in the milk.
Refrigerate overnight. Next, cover the oatmeal and pop it into the fridge overnight or for a minimum of 4 hours.
Add toppings. Take the oats out of the fridge, stir, and add a drizzle of milk. Serve the oatmeal topped with berries, bananas, and other fresh and healthy toppings.
Can I Make Warm Protein Oatmeal Instead?
Yes! If you'd prefer warm oatmeal in the morning, you can make protein oatmeal on the stovetop or in the microwave. I recommend sticking with rolled oats when using the stovetop method; however, if you're using the microwave, you can make your oatmeal with quick oats. Check out my post on how to make oatmeal for more tips on making the perfect bowl of warm oats.
Stovetop
Combine the oats with protein powder and chia seeds in a bowl.
Heat the milk in a saucepan over medium heat until it boils. Then, lower the heat and stir in the dry ingredients.
Simmer the oatmeal until softened and most of the milk is absorbed. Don't forget to stir.
Take the pan off the heat and let the oatmeal rest, covered, so that it becomes thick and fluffy. Afterward, serve with fresh berries, a drizzle of honey, or any of your preferred toppings.
Microwave
Mix together the oats, protein powder, and chia seeds in a microwave-safe bowl. Afterward, stir in the milk.
Microwave the oatmeal in 1-minute intervals, stirring in between until the texture is thick and creamy. Once most of the liquid is absorbed, cover and let the oatmeal rest. 
Tips for Protein Oatmeal
Avoid quick oats when making overnight oats. Quick oats become soggy after soaking in milk for long periods of time.
Add a sweetener. Some protein powders include sweeteners already. However, if you'd like to flavor your oatmeal further, feel free to stir in your choice of honey, maple syrup, brown sugar, or another sweetener.
Enhance the flavor. Add a pinch of sea salt to boost the flavors of the oatmeal.
For best results, let your oats sit and soak in the fridge overnight. You also don't have to enjoy them right away – overnight oats can be refrigerated for 3 to 5 days.
Stir the oats before serving. Give your overnight oats a stir after you take them out of the fridge, as some of the liquid may have settled.
Common Questions
What other ways can I add protein to oats?
If you aren't a fan of protein powder, stir in yogurt or cottage cheese instead. Your overnight oats will still pack a generous punch of protein.
Are overnight oats a good source of protein?
On their own, oats are a good source of protein compared to other cereal grains. There are 8 grams of protein in one half-cup of oats! Add protein powder to the mix, and you have a delicious ultra-high-protein breakfast.
Is this recipe healthier made with milk or water?
Milk is a good source of calcium, vitamin D, healthy fats as well as protein, making it the perfect match for protein oats! Milk has more nutritional benefits than water, however, feel free to use water if you'd like.
Toppings and Add-Ins
I love loading up my mason jars of oats with slices of my favorite seasonal fruit. The possibilities are endless when it comes to toppings for overnight oats! Here are some ideas:
Fresh fruit. Top with fresh or frozen strawberries, blueberries, or raspberries. Other options are sliced apples, bananas, and peaches.
Coconut. Sprinkle on some shredded or shaved coconut. You can use toasted or untoasted.
Nut butter. Make an easy variation of peanut butter overnight oats by adding a couple of spoonfuls of peanut butter or your choice of nut or seed butter, like almond butter or sunflower seed butter. 
Yogurt. For even more protein, stir in your choice of plain or flavored yogurt. You could also use cottage cheese.
Veggies. Yes, you can add vegetables to protein overnight oats! Try shredded zucchini or carrots – make sure to press out any excess moisture using paper towels – canned pumpkin, or even cauliflower rice. In this case, you may like to add a sweetener, like honey.
Oatmeal Flavor Variations
Cinnamon and vanilla. Make your oats with vanilla protein powder and cinnamon. For extra texture and crunch, top with dried cranberries and chopped walnuts.
Chocolate. Stir in chocolate protein powder and cacao powder, and top with cacao nibs. Afterward, drizzle over peanut butter for a chocolate and peanut butter twist!
Tropical. Top with shaved coconut, diced (and drained) canned pineapple, and chopped mango.
Banana nut. Stir in ground cinnamon and top your oats with banana slices and chopped pecans.
How to Store Leftover Oatmeal
Fridge. Return any leftover overnight oats to the fridge, but leave off the toppings. Oatmeal can be refrigerated in airtight containers for up to 5 days. Perfect for meal prep!
Freezer. To freeze overnight oats, store your prepared oatmeal in a freezer-safe container and freeze for up to 6 months. Thaw the oats in the fridge overnight before serving.
More High Protein Breakfast Ideas
Divide up the rolled oats, protein powder, and chia seeds into two bowls or two jars. Stir in the milk.

Cover with the lids and refrigerate for at least 4 hours or overnight.

Remove from the fridge; stir, and add more milk if needed.

Garnish with your favorite toppings like berries, banana slices, coconut shavings, etc., and enjoy.
Oats: Use a cup of old-fashioned rolled oats, not quick oats.
Chia Seeds: Rich in omega-3 fatty acids, chia seeds are a top pick. If not available, ground flax seeds are a great substitute.
Milk: Use either whole or 2% milk. You can also use plant-based alternatives like almond, oat, coconut, or soy milk.
Sweeten as Needed: Some protein powders are already sweetened, but you can add honey, maple syrup, or other sweeteners for extra flavor.
Flavor Boost: A pinch of sea salt can flavor the oatmeal.
Soak: For the best texture, refrigerate the oats overnight. They'll keep well for 3 to 5 days in the fridge.
Stir Until Smooth: Stir your oats well after taking them out of the fridge to redistribute any settled liquid.
Calories: 401 kcal | Carbohydrates: 41 g | Protein: 35 g | Fat: 12 g | Saturated Fat: 5 g | Polyunsaturated Fat: 3 g | Monounsaturated Fat: 2 g | Trans Fat: 0.01 g | Cholesterol: 67 mg | Sodium: 113 mg | Potassium: 527 mg | Fiber: 6 g | Sugar: 11 g | Vitamin A: 372 IU | Vitamin C: 0.1 mg | Calcium: 372 mg | Iron: 4 mg | Net Carbs: 35 g
Nutritional info is an estimate and provided as courtesy. Values may vary according to the ingredients and tools used. Please use your preferred nutritional calculator for more detailed info.