Transformation of the Day: Patrice lost 189.5 pounds. Her goals were to be healthier and feel more comfortable in her skin. She credits her trainer's support and nutritional guidance as being key to her success. 
Social Media:
Instagram: @lovin_meeeeee
TikTok: @zariii444
Facebook: Patrice Goodall 
What was your motivation? What inspired you to keep going, even when you wanted to give up?
My motivation on this journey was simply to be healthier and feel comfortable in my skin. I hated being big and pretending like I was comfortable with it. I remember hating trying on clothes or going shopping because, most of the time, I couldn't fit the clothes in the stores. That was my motivation when I started. 
Now, my motivation is to be fit so I can play with my daughter. She really keeps me going. Also, I love it whenever I can fit smaller size clothes. It's like a great accomplishment, and  
How did you change your eating habits?
What changed in my diet was my MACROS. I was able to get a meal plan from my trainer, Kory Phillips (I AM The King Of Fitness) who is the Owner Of Lovelybodies Gyms And Shake Sum Cafe Nutrition Company. I'm also a distributor for Shake Sum Cafe. He teaches us about MACROS, the specifics of it, and how it's necessary to track macros to accomplish your weight loss goals and get your body to look how you want it. 
What is your workout routine?
I work out every day with Lovelybodies Virtual. I do Step N Sweat With The King at 8:10 am, BootyBlasst with STACKED By Ny at 9 am, group strength training with The King at 7 pm, and Step N Sweat with The King at 9 pm to end of the day. M-Th And Step N Sweat with The King on weekends. All of the workouts are usually 45 minutes to an hour long.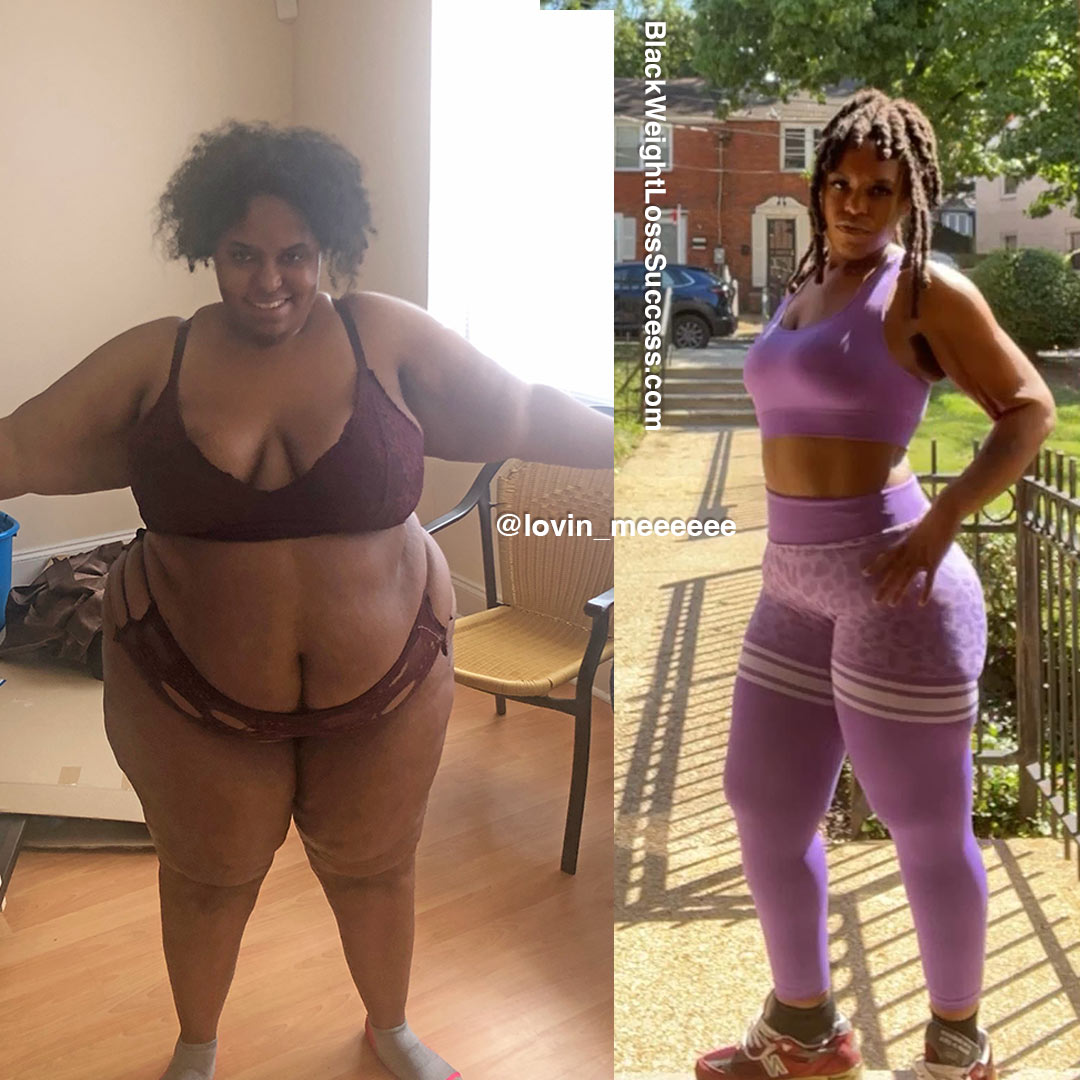 How often did you work out?
I work out every day. When I first started, I used to do maybe 2 hours a day. Now it's 4-5 hours a day. Lol
What was your starting weight?
My starting weight overall was 358 pounds. I was able to get to 278 before training with my trainer. I had got pregnant, and after I had my daughter I was 326 lbs. After that I started with my trainer and his nutrition company consistently in August 2022.
What is your current weight?
My current weight is 168.5 pounds.
What is your height?
I am 5'2″.
When did you start your journey? How long did your transformation take?
This will be a little lengthy. I first started my journey in 2019 with no guidance. I was trying to do my trainer's workouts that I saw him have the celebrities do on the machines. Lol. I was able to get to 278 lbs, but by the time I got there, it was My 2021. It took me two years to do it with no guidance, no training, and no Shake Sum. 
Fast forward to August 2022, I was 326 lbs when I started training with Kory and using Shake Sum Cafe products consistently with his guidance. Today I weigh 168.5 lbs.
Is weight loss surgery part of your journey?
No, my weight loss journey has been all-natural-Just working out with Kory Phillips and taking Shake Sun Cafe Products.
What is the biggest lesson you've learned so far?
The BIGGEST lessons I have learned: First and foremost, you NEED Shake Sun Cafe to help you accomplish your fitness goals. Lol, I also learned that if you truly want to change your body and health, get some guidance. Get a trainer who not only knows what workouts to do but also a trainer that KNOWS Nutrition!! That is the biggest part of this journey that Kory talks about this all the time. He also preaches PROTEIN, PROTEIN, PROTEIN!! That's basically saying protein is a requirement in this journey to keep your skin tight and toned. Your body NEEDS it!
What advice do you have for women who want to lose weight?
I want all women to know you are CAPABLE!!! You Got This!! You can do this Naturally. You don't have to have surgery to get the body you want. It is possible, Im living proof.