With thousands of recipes to choose from in the Healthy Mummy App, it's a hard task to come up with just 10!!
But luckily – with The Healthy Mummy – the recipes are are DELISH and can help shift tummy fat – plus you can get results like Hannah Pech has below!
For me, foods to beat tummy fat need to have a few things in common. They need to contain LOTS of vegetables to keep our digestive system working great.
They need to have a nice source of protein and contain low GI complex carbohydrates to help us stay fuller for longer, they need to have prebiotic or probiotic foods to help our gut health, and they need to be low in stuff that will promote tummy fat like sugar or refined carbohydrates.
Healthy Mummy Nutritionist Cheree Sheldon Reveals her Top Ten Recipes to beat Tummy Fat!
Hope you enjoy my top 10!
1. Sesame salmon and rice bowl (320 calories)
Bursting to the brim with veggies that support detox, brown rice to boost fibre and the omega 3 in salmon can help fat reduction!
Get the Recipe on the Healthy Mummy App
2. Belly Blasting Bliss Balls (98 calories)
An ideal snack to help you beat tummy fat, as they are high in fibre and rich in antioxidants that will support better digestion.
Ingredients
1/4 cup mixed nuts
1/2 cup medjoool dates, fresh
2 tbsp dried cranberries
2 &1/2 tbsp almond butter
2 tbsp organic hemp seeds
2 tbsp flaxseed meal
2 tsp coconut oil
2 tbsp coconut flour
Method
Place all the ingredients into a food processor and blitz until well combined. Add a little more coconut flour if the mixture is too moist after blitzing.
Roll the mix into 12 balls and store in an airtight container in the fridge for up to a week or freeze for up to 3 months.
One ball is one serve.
3. Warm Chicken Salad, Beetroot and Pine nuts (289 calories)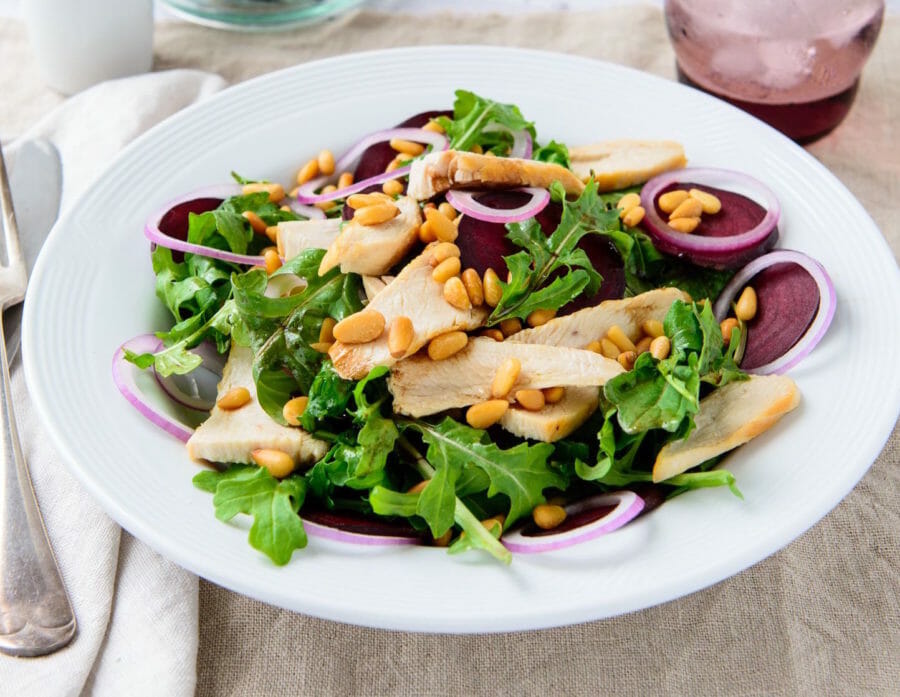 Beetroot is a star for reducing fat as it supports liver detoxification. Chicken will help you stay fuller for longer.
Get the Recipe in the Healthy Mummy App
4.Turmeric Egg and Bacon Wrap (294 calories)
Based on a wholemeal wrap, this delicious breakfast has the addition of anti-inflammatory turmeric.
Get this recipe from the Healthy Mummy App
5. Corn and Quinoa Fritters (238 calories)
Whole-grains like quinoa help stabilize blood sugars, are a good source of fibre and help you feel fuller for longer.
Ingredients
1 tbsp quinoa, uncooked
2 tbsp water
2 free-range eggs
1/3 cup corn kernels, fresh or tinned
1 tsp fresh coriander
1/2 cup baby spinach
1 tsp lemon juice
1/2 tsp extra virgin olive oil
salt & pepper
Method
If preparing this recipe for only 1 or 2 serves it is probably easiest to prepare a larger batch of quinoa and then freeze any leftovers, rather than trying to just simmer 1 or 2 tablespoons of quinoa.
Preheat oven to 180C.
Rinse and drain the quinoa then combine in a saucepan with the water. Bring to the boil then cover and reduce heat to low. Simmer for 10 minutes. Remove from heat, keep covered and allow to rest for 10  minutes.
Whisk eggs with a tablespoon per serve of cooked quinoa (freeze any leftovers if you've made more than required, to use in another recipe), corn, coriander leaves and salt and pepper.
Divide mixture into 2 (per serve) muffin tin holes lightly sprayed with cooking oil spray.
Bake for 20 minutes until the egg has set.
Serve with a simple salad of baby spinach dressed with lemon juice and olive oil.
6. Hummus Vegetable Bowl (300 calories)
A high fibre recipe to help improve gut health. The addition of pumpkin seeds will help improve insulin resistance.
Get the Recipe in the Healthy Mummy App
7.Tofu and Vegetable Stir Fry (283 calories)
A mostly plant-based diet is one of the best ways to beat tummy fat. Tofu help you feel fuller for longer, is a low calorie, low fat protein that supports a healthy weight.
Ingredients
1 tsp coconut oil
1 clove garlic, crushed
1 tsp fresh ginger, minced
1/4 red capsicum, sliced
1/2 cup snow peas
1/2 head bok choy, chopped
firm tofu
2 tsp soy sauce, salt reduced
1 tsp honey
1/4 cup bean sprouts
Method
Heat oil in a wok or frying pan over medium high. Add garlic and ginger and stir fry for 30 seconds.
Add capsicum, snow peas and bak choy and stir fry for 2 minutes.
Slice tofu and add to wok/pan with soy sauce and honey and stir fry for a further 2 minutes or until vegetables are tender. Add bean sprouts and toss to combine.
Serve immediately
8.Banana and Oat Breakfast Muffins (305 calories)
Oats are a fantastic ingredient to help weight loss. They reduce blood cholesterol and balance blood sugars. Combined with the pumpkin seeds this recipe is a great way to start the day.
Get the Recipe in the Healthy Mummy App
9.Korean Beef with Noodles Kimchi (304 calories)
Lean beef and lots of brassica ingredients help support good digestion but the real winner for this dish is the kimchi. This fermented cabbage dish is full of probiotic bacteria which help balance your gut microbiome and this can lead to a healthier weight. Another delicious beef stir fry recipe!
Get the Recipe in the Healthy Mummy App
10. Curried Cauliflower Parcel (257)
Cauliflower is a member of the brassica family of vegetables that support liver detoxification. Moving hormones and toxins through our body can be exhausting for the liver and it stores excess as fat. If we support it functioning better, it might mean a reduction in fat stores!
Get the Recipe on the Challenge App recipe hub
Beat the Bloat with the Tummy Smoothie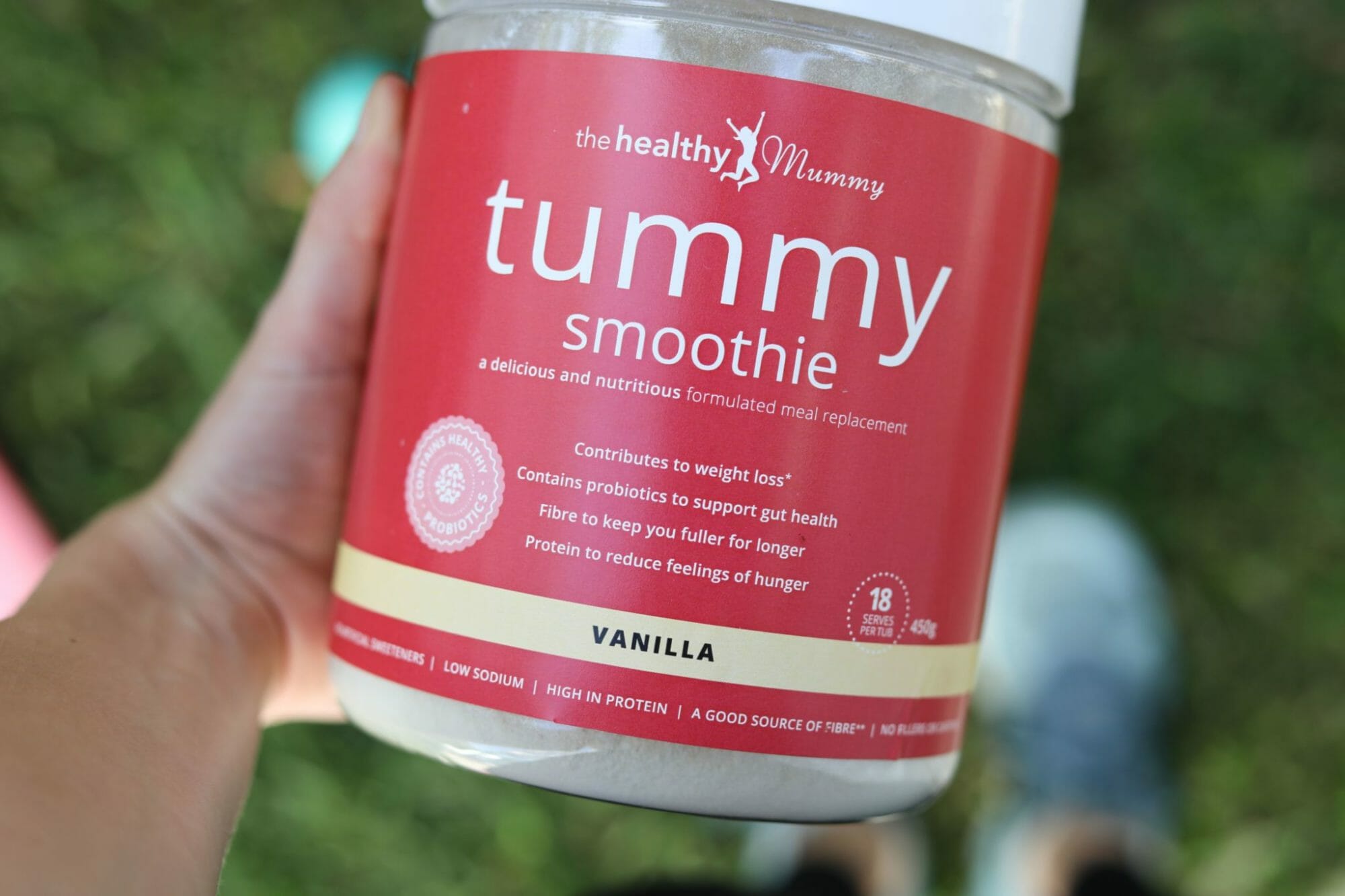 Our breakthrough Tummy Smoothie contains our unique Healthy Mummy Tummy Complex
It is scientifically designed for gut health, digestion, stomach and weight loss. It will aid with digestion and bloating and it tastes DELICIOUS. It is also high in fibre and protein and will help you feel fuller for longer!
This smoothie is also free from artificial sweeteners, fillers and caffeine. Check it out here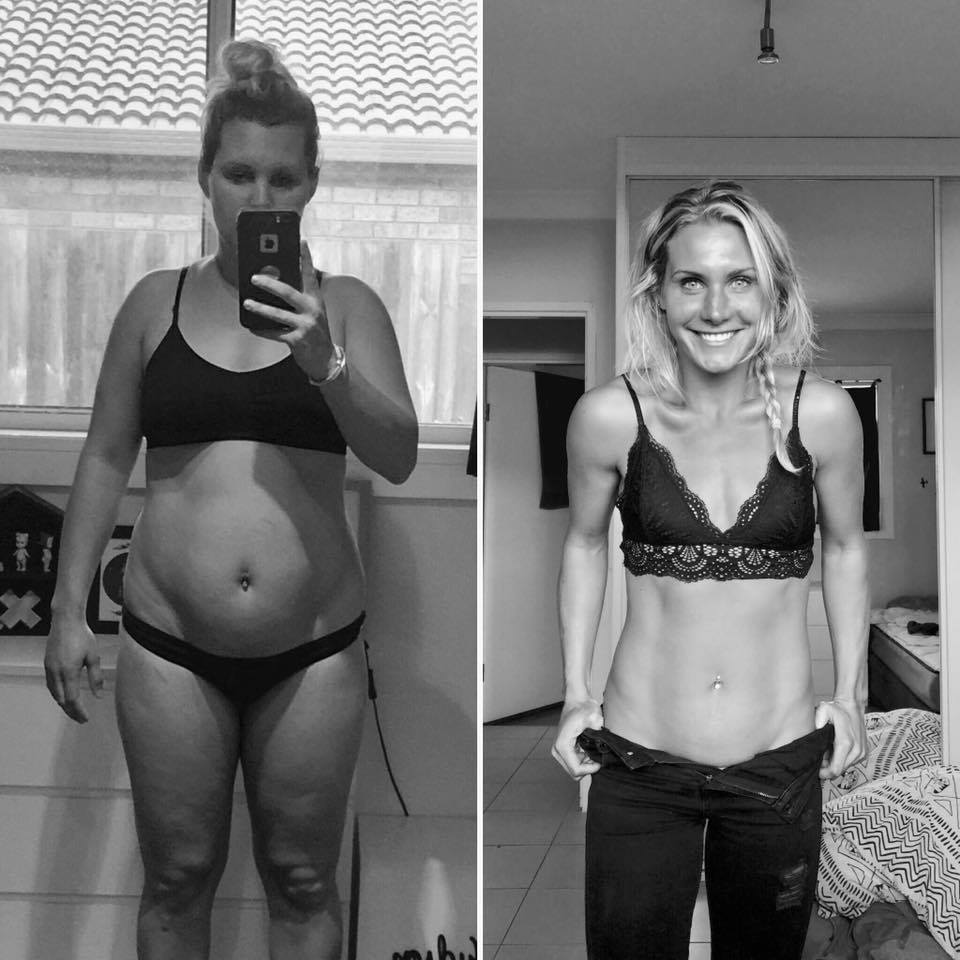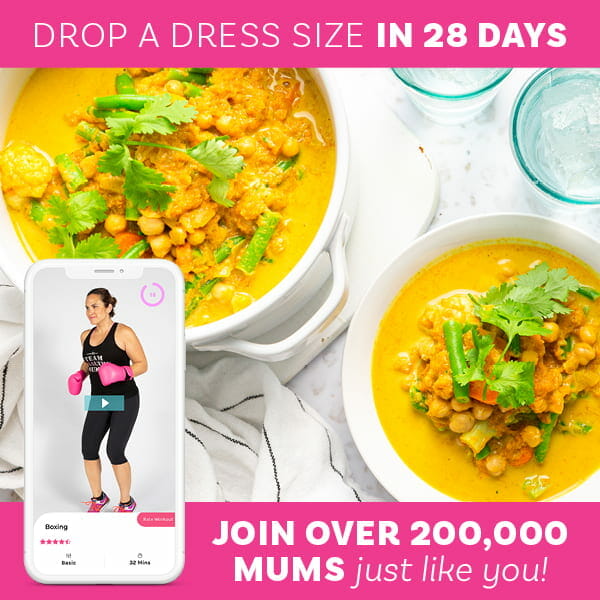 Ready to Drop a Dress Size in 28 Days?
No lock-in contracts, cancel anytime.