Sharing the details on my work from home office setup, plus my experience with using a walking pad.
Hellooooo! How are ya and how's the morning going so far? We're back into real life after our little trip and it felt good to have a few days of normalcy. I'm so sick of restaurant and takeout food, I tell ya. It's also amazing to have coffee at home – Starbucks will never be the same to me.
This morning I have an exciting podcast interview and am unpacking, and re-packing. 🙂 I'd love to hear what you're up to!
For today's post, I wanted to share my little work from home setup, plus my experience using a walking pad. It's helped me dramatically increase my steps and activity level during longer work days, and I'm so pumped with this update to the office!
My WFH (work from home) setup
My lil office space:
I have enough room in here to meditate, work, stroll, or get in a quick workout (like Sculpt Society).
Here are some of the things I have in the office:
– My beloved Peloton bike! Perfect for cardio workouts or shaking my legs out
– My PEMF Go Mat. I use this for meditation every morning, or when I feel like I need a recharge or Zen moment. My full PEMF Go Mat review post is here, and if you'd like one for yourself, here is the link! My code is FITNESSISTA15 for 15% off
– A standard desk. I like having this for shorter work sessions or when I need to speak/present, like live recordings, course recordings, and more formal Zoom calls. The desk and chair are from World Market but both sold out, since they're years old.
– Triangle shelf (similar here) filled with photos and the girls' artwork.
– On the opposite wall (unpictured), I also have this book shelf, which has some of my fitness and nutrition resources and the Pilot's military coins/flags/thingies.
– New walking pad and electric standing desk. I picked lower-cost options because they had good reviews and I've been impressed so far!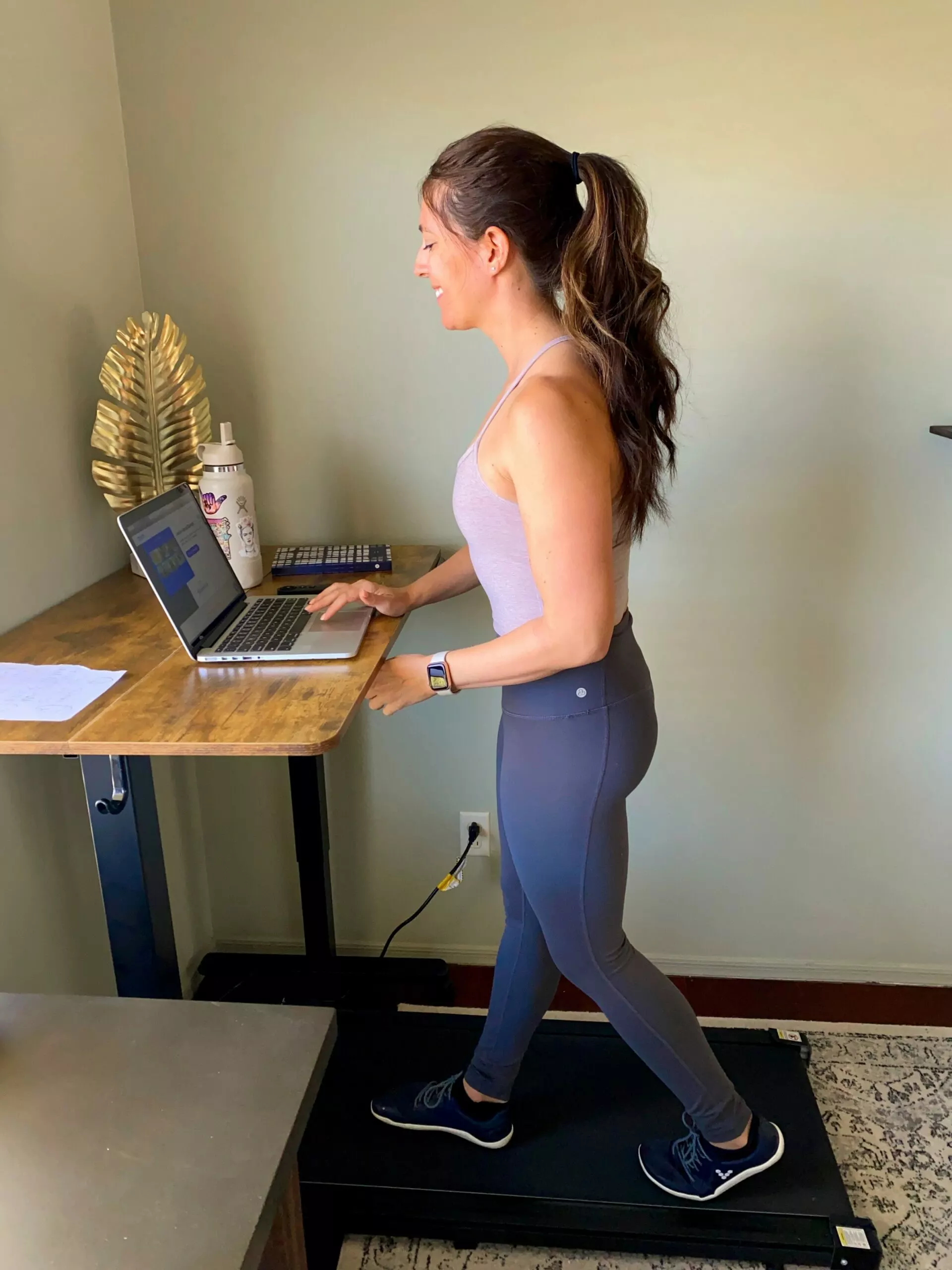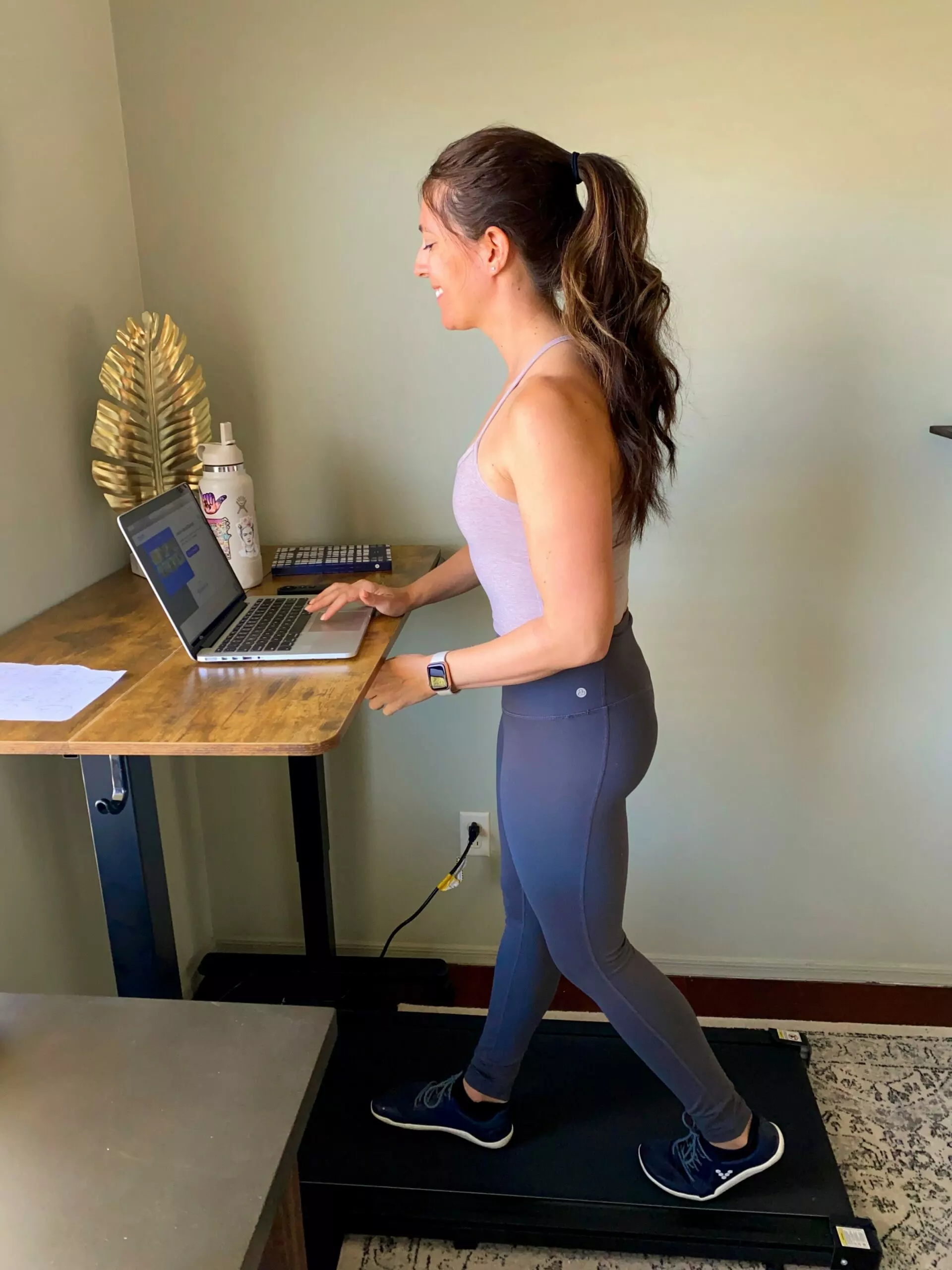 TBH, I started to dread time in the office because it usually meant that I'd be sitting for hours. I'm sure many of you can relate, but when I sit for hours, I feel horrible afterwards. My muscles are creaky and my energy level plummets to the ground.
Once I'm "in the zone," it's easy for me to get into a time warp and work nonstop, but for longer tasks, I definitely have to force myself to do it. Having the walking pad has made a WORLD of difference. I don't feel daunted by large tasks (like watching multiple videos in a row) because I have the chance to move while I'm doing it. I've also noticed that my afternoon energy is much better when I'm slowly strolling instead of sitting for a long time.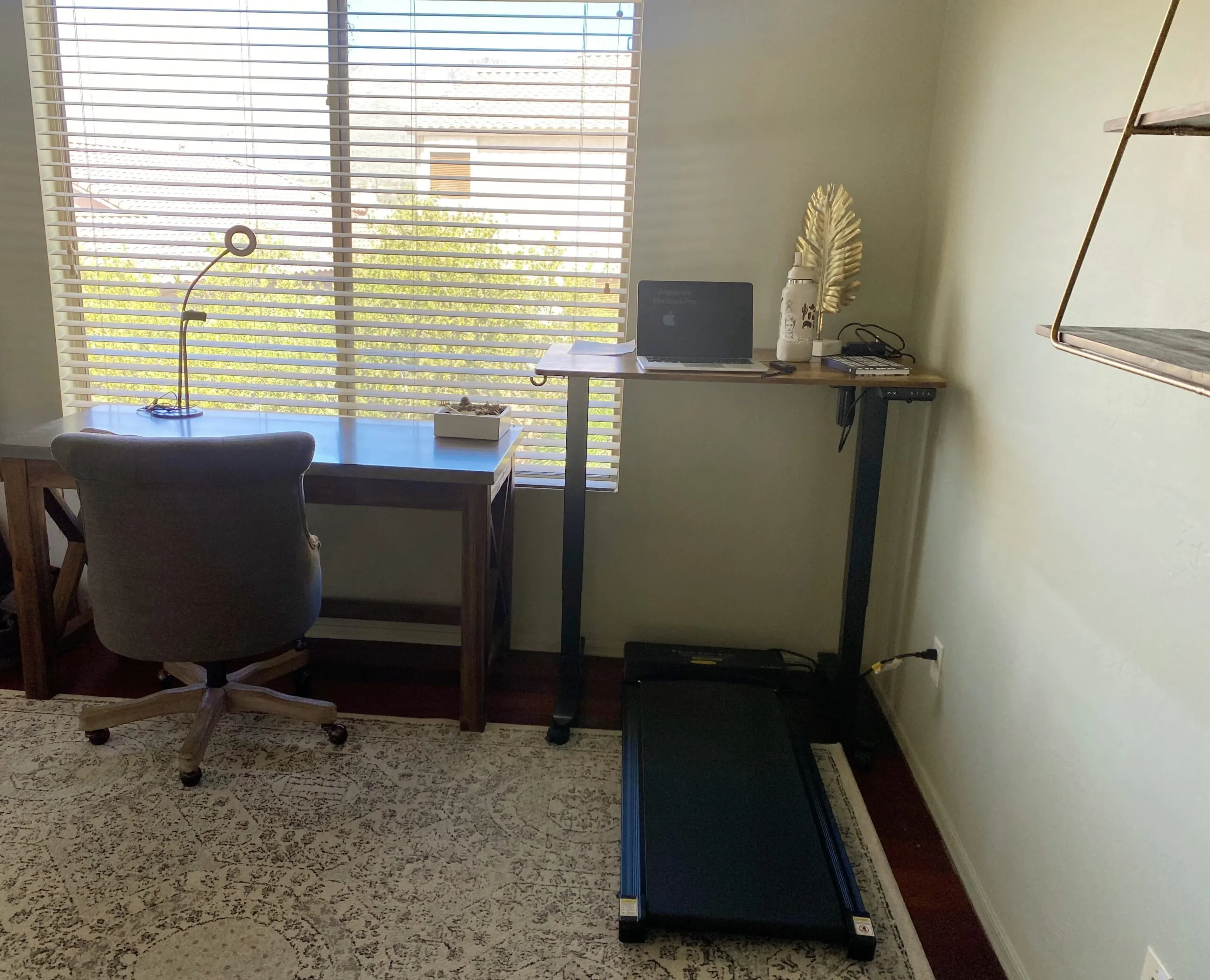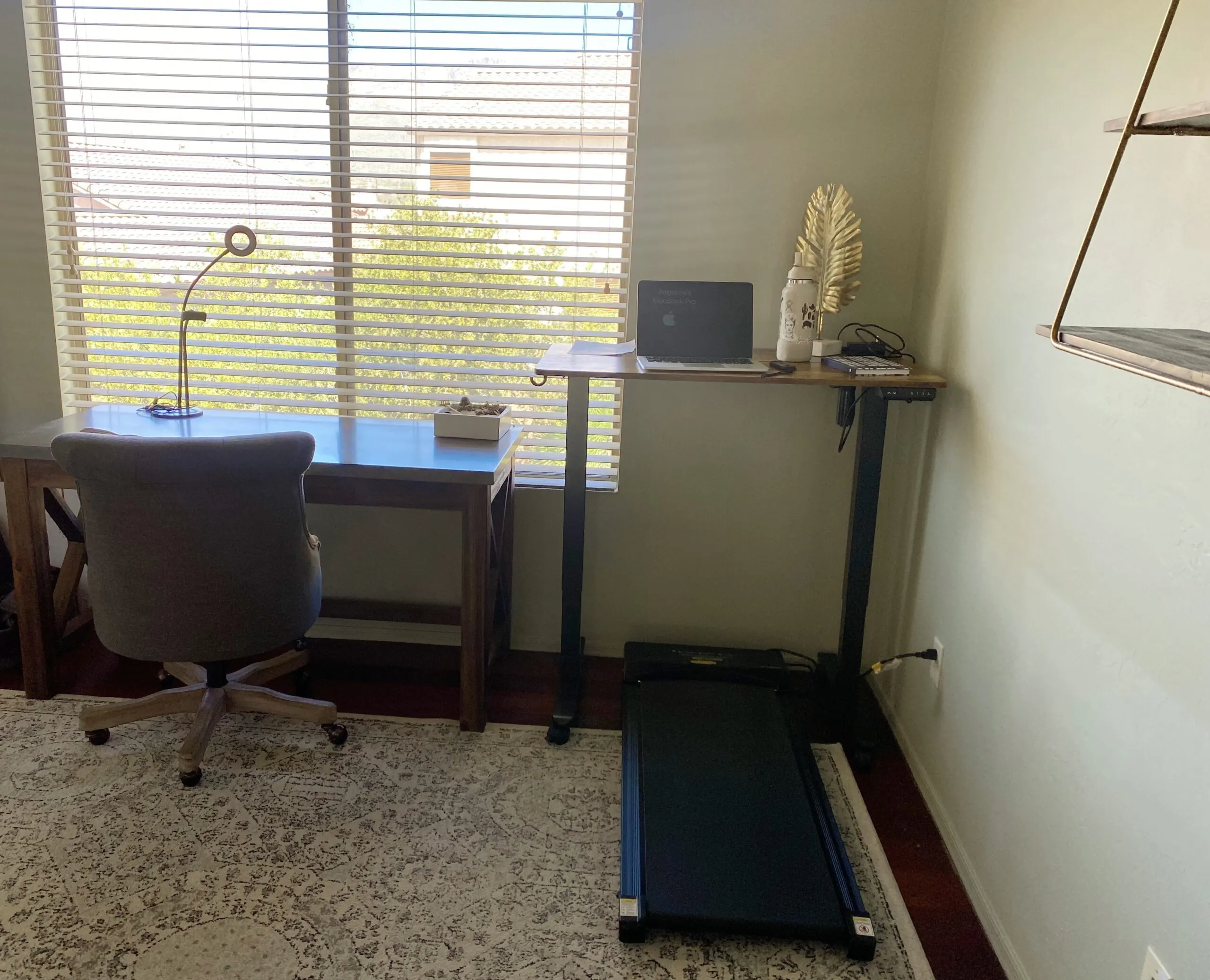 Some tips for using a walking pad with an electric desk:
(and some of the things I've had to learn the hard way)
– Use shoes! This was a learning point for me because I do pretty much everything barefoot. The bottoms of my feet started to hurt a little, so I leave a pair of sneakers next to the walking pad. (I'm loving my Vivobarefoots right now.)
– Add an extender to your Apple watch or your fitness band so you can attach to your ankle if tracking steps is important to you.
– Watch your neck and adjust the position of the desk as needed. Ideally, our screen should be in line with our eyes. This isn't realistic when we're typing, but if you're watching a video, try raising the desk so you don't have to bend your neck as much to view the screen.
– Take breaks. It's important to take screen breaks whether you're walking or seated. Give your eyes a chance to rest, go outside, or simply look away from the screen and in all directions. (Obviously be careful if you're doing this while walking lol.) I also like to wear my blue light blockers when I'm on screens after sunset, and during the day, I have f.lux on my computer (which makes the screen more of a yellow hue so my retinas aren't burning).
– Just like anything else, work up to it! I definitely do NOT walk for hours per day – and it's not my goal because I don't want my body to expect it – but I'm up to the point where I can stroll and type for about an hour. Start with 10-15 minutes and add on a bit each week until you reach your goal time. You can also use it to break up longer seated sessions, like walking for 5-10 minutes every hour.
So there ya go!
What's your work setup like? Do you work at home, or at an office?
I had been exploring some coworking spaces in Tucson to switch things up a bit, but now that I have the walking pad, I've been more excited and motivated to work from home. 🙂 Also, we have pretty good coffee, snacks, and the cutest Sheepadoodle curled up at my feet.
xoxo
Gina