This 4-ingredient lemon dijon dressing made with lemon juice, olive oil, maple syrup, and dijon mustard is the perfect addition to all kinds of salads! Make a batch on the weekend to add to your salads all week long.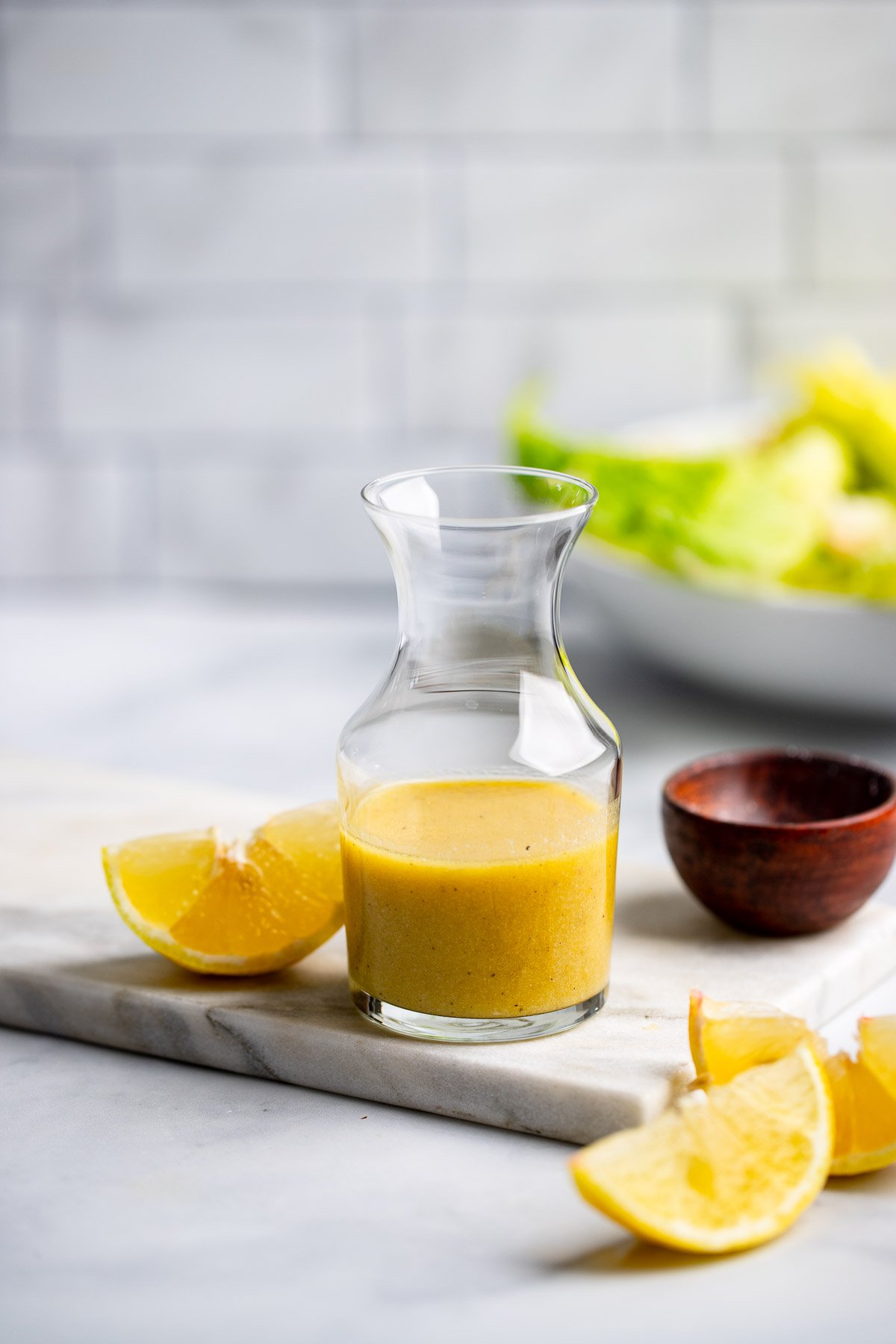 If you are looking for a simple, lemon forward dressing to add to your salad rotation, you are going to love this delicious lemon dijon dressing! If you've never made your own salad dressing, this is a great starter recipe. Store-bought dressings can be handy to have, but homemade salad dressings can taste so much fresher.
Why You'll Love this Recipe
Versatile: this simple lemon dijon salad dressing is one of my favorite salad dressings since it can be used in all kinds of salads that typically use a vinaigrette. It's great on everything from romaine to spinach or arugula.
Simple to Make: with just 4 simple ingredients plus salt and pepper – you can easily whisk up this lemon vinaigrette recipe whenever you are craving a big green salad. 
Diet & Allergen Friendly: this plant-based salad dressing recipe is vegan, gluten free, and dairy free.
Ingredients You'll Need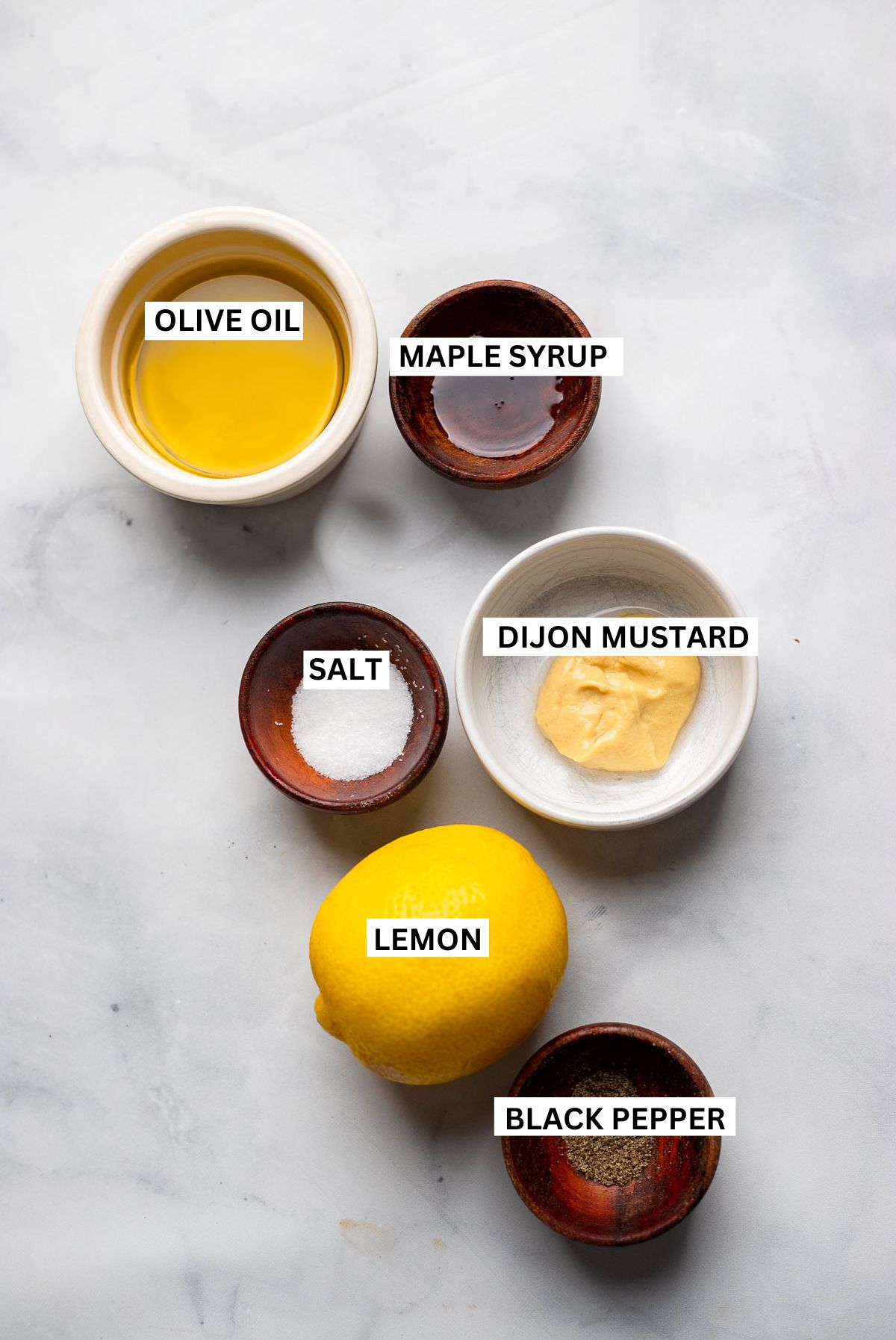 Olive Oil: for best results, use a high quality extra-virgin olive oil if you have it.
Lemon: use fresh squeezed lemon juice for this recipe instead of store bought bottled lemon juice because it has the best flavor. Plus, you also want to use some lemon zest in the dressing so a fresh lemon is the best option.
Dijon Mustard: the mustard in this dressing has 2 purposes: flavor and emulsification. Mustard is a natural emulsifier (or thickening agent) so it helps the lemon juice and olive oil mix.
Maple Syrup: a little maple syrup adds some sweetness and balances out the tartness in the lemon and dijon mustard. If you don't have maple syrup, you can use agave, honey (if not vegan), or granulated sugar.
Salt & Pepper: bring everything together with a little bit of sea salt and black pepper.
Variations
Add garlic: if you love some garlic in your dressing, add 1 clove of minced garlic OR 1/2 teaspoon garlic powder to this recipe.
Add fresh herbs: add some color and fresh flavor with some herbs. Some good fresh options include parsley, basil, or dill.
Add dried herbs: these dried herbs are all great options for this lemon dijon vinaigrette: Italian seasoning, basil, thyme, or rosemary.
How to Make Lemon Dijon Dressing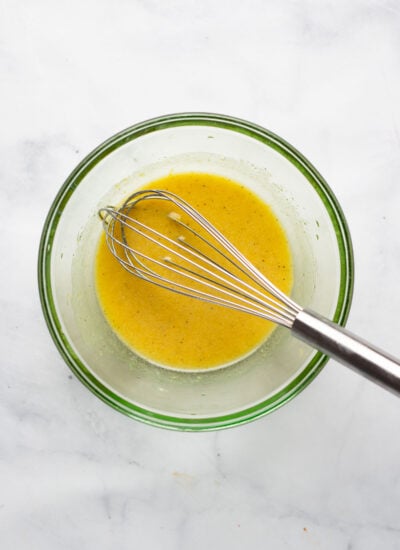 Step One: Add all of your ingredients (mustard, lemon juice, maple syrup, and olive oil) to a small bowl and whisk until emulsified. Season to taste with sea salt and ground black pepper.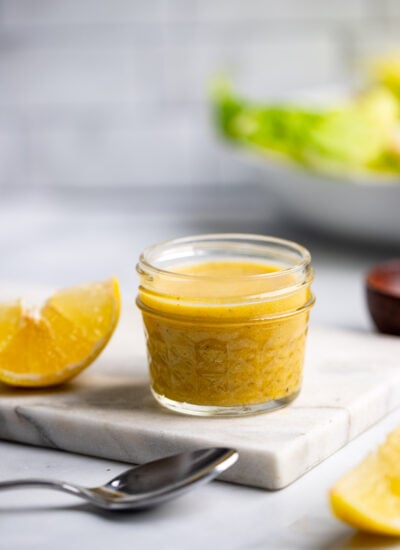 Step Two: Use right away in salad or store in a mason jar or salad dressing shaker bottle in the fridge for up to 2 weeks until ready to use.
Recipe Notes
Use fresh lemon juice: fresh squeezed lemon juice is so much more flavorful than the bottled lemon juice you can buy at the store. Since there are so few ingredients in this delicious dressing, using fresh squeezed lemon makes all the difference.
Make it sweeter: if you prefer a sweeter dressing, feel free to increase the maple syrup in this recipe.
Whisk or blend: if you don't feel like whisking this dressing, you can also add all of the ingredients to a single serving blender cup and pulse a few times until mixed. I hate to dirty the blender, so I usually just whisk this recipe.
How to Serve this Lemon Dijon Dressing
Here are a few of our favorite ways to use this delicious lemon dijon dressing.
Salads: you can use this lemon salad dressing on just about any favorite salad. I really like pairing it with a salad with fruit this strawberry spinach salad with coconut bacon. The lemon also pairs well with greens arugula or kale since it helps tame any bitter flavor. This white bean pesto and arugula salad or this roasted beet salad with quinoa and arugula would work really well with this dressing.
Grilled or Roasted Vegetables: the vibrant lemon flavor of this dressing can be just the pop of flavor you need to brighten up some grilled or roasted veggies. We like to drizzle this on the veggies after cooking. It's delicious on: Brussels sprouts, broccoli, cabbage, and green beans.
Grain Bowls & Pasta Salad: this homemade lemon dijon vinaigrette is also delicious on grain bowls and pasta salads. I've been meaning to try this dressing with my favorite farro salad with roasted veggies.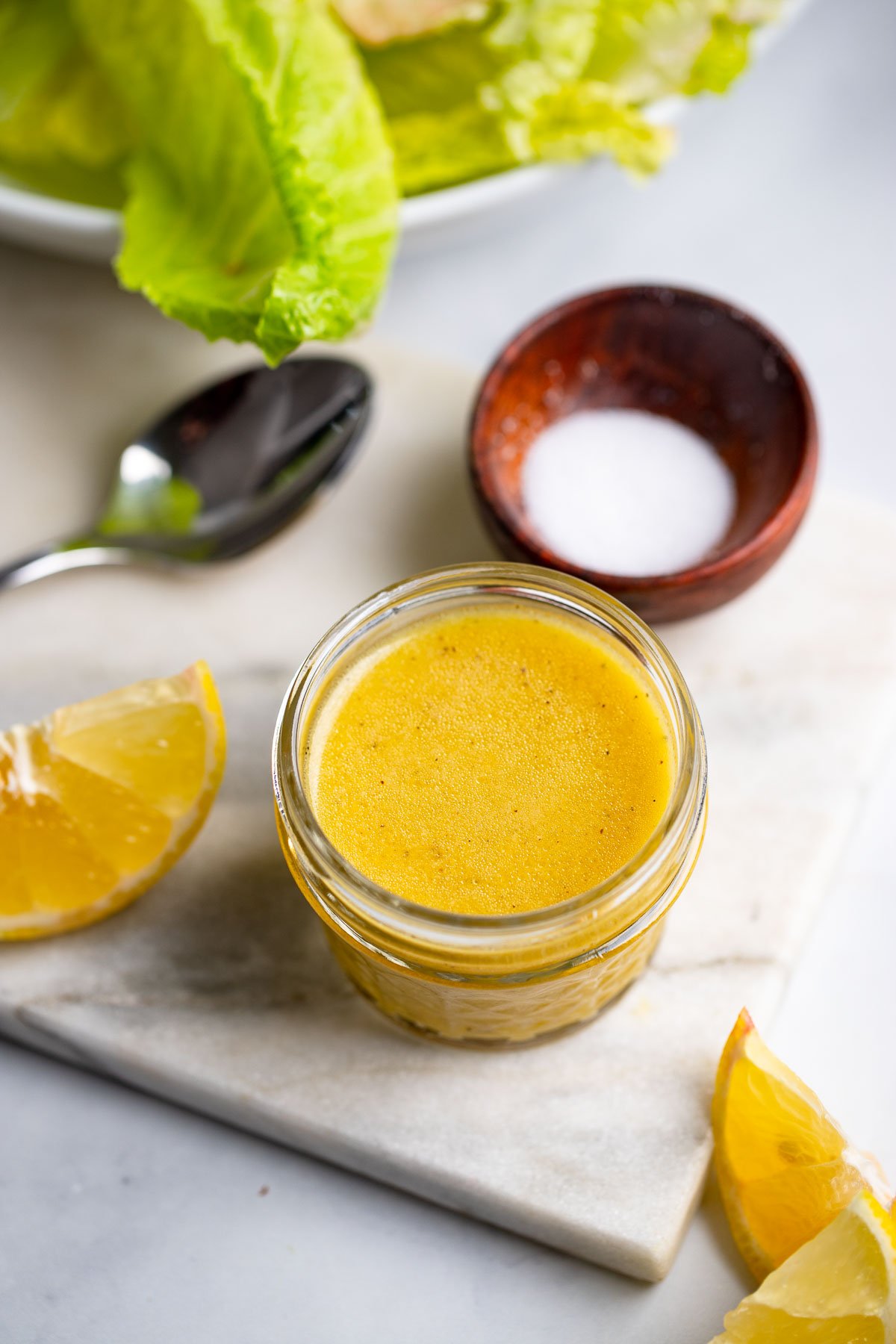 Recipe FAQs
Does lemon olive oil dressing need to be refrigerated?
Yes, it is best to refrigerate your homemade lemon dijon dressing after you've made it. We like to store it in a jar with a tight fitting lid. If your olive oil solidifies in the fridge, just let your salad dressing sit out on the counter for 10 minutes and it will melt; give it a good shake and it should be ready to use. 
What is lemon dressing made of?
This homemade lemon is incredibly simple with just 4 main ingredients: lemon juice, olive oil, dijon mustard, and maple syrup.
More Homemade Dressings & Salads to Try
Did you love this recipe? Make sure to leave a ⭐️ rating and tag #dietitiandebbie on instagram!
Lemon Dijon Dressing
This 4-ingredient lemon dijon dressing made with lemon juice, olive oil, maple syrup, and dijon mustard is the perfect addition to all kinds of salads! Make a batch on the weekend to add to your salads all week long. 
Prevent your screen from going dark
Notes
For best results/flavor, use fresh squeezed lemon juice. 
Recipe makes enough for 2 meal sized salads. Feel free to double/triple the recipe to use on salads all week.
Nutrition
Serving: 1serving | Calories: 258kcal | Carbohydrates: 4g | Protein: 0.4g | Fat: 27g | Saturated Fat: 4g | Polyunsaturated Fat: 3g | Monounsaturated Fat: 20g | Sodium: 374mg | Potassium: 46mg | Fiber: 0.5g | Sugar: 3g | Vitamin A: 8IU | Vitamin C: 9mg | Calcium: 11mg | Iron: 0.3mg
Reader Interactions