Transformation of the Day: Katonya lost 47 pounds. Today, she is celebrating her 57th birthday. Her weight loss journey began after her marriage ended and after she removed several negative people from her life. At the time, she also found out she had diabetes.
What was your motivation? When did you begin your journey?
The picture of me in blue was taken in 2017. In August 2021, I walked away from a cheating/lying husband. Then, I removed negative people/family members from my life. That was truly an eye-opener for me because I would always put everyone else's needs before mine. 
I had a physical and weighed 222 pounds (that was my highest weight ever). I also found out I had Type 2 diabetes. I was shocked because I felt fine (or so I thought). 
How did you change your eating habits?
My doctor put me on Trulicity, and it definitely curbed my appetite. I didn't eat as much and had so much energy. 
What is your height?
I am 5'4″.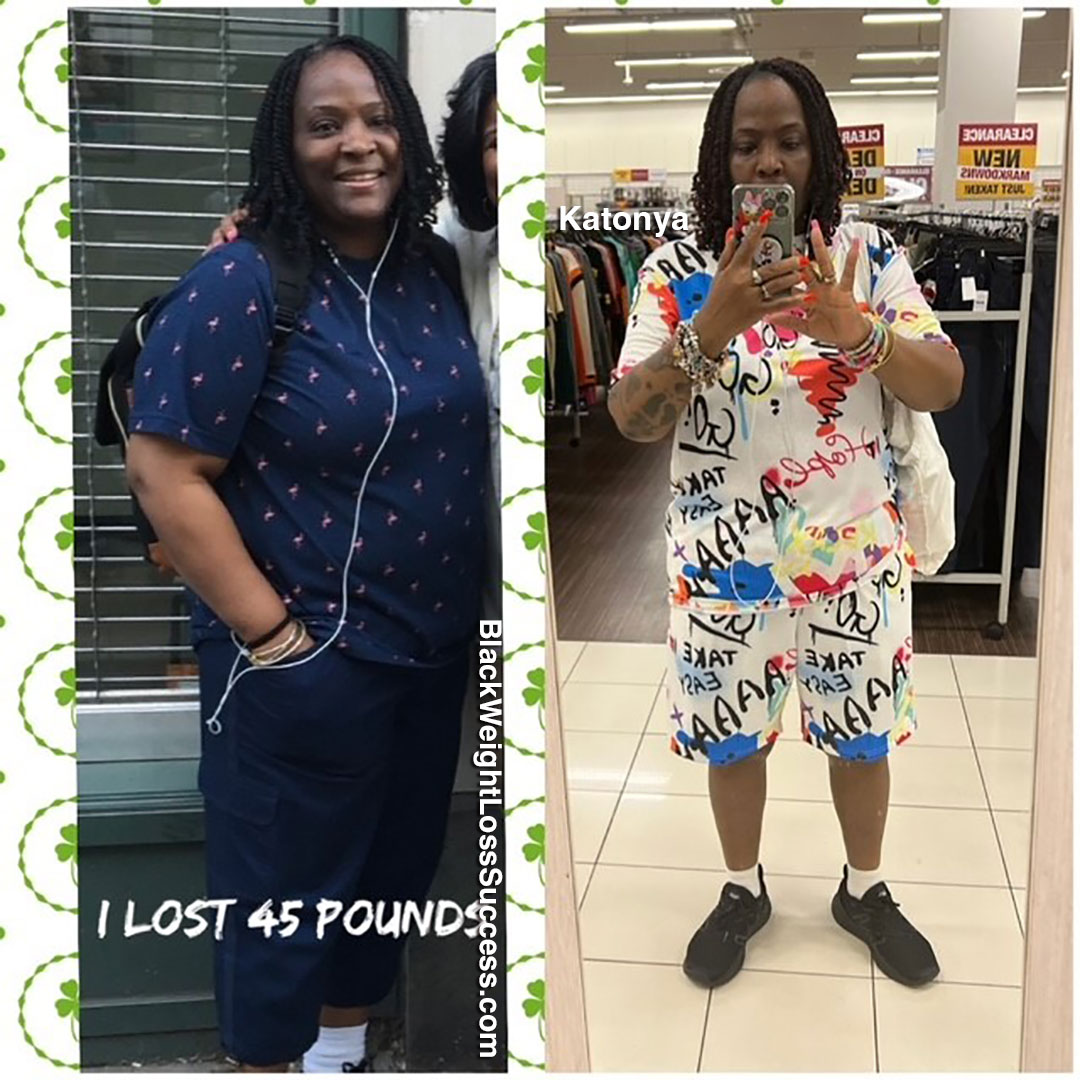 What is your current weight?
I now weigh 175 pounds, and my goal weight is 170. I finally found myself and had to start loving me for me. I have a 17-year-old daughter that I want to be there for. I've been happy ever since. 
What is the biggest lesson you've learned so far?
The biggest lesson I learned is to put yourself first and foremost. Some people may call it selfish, but it's a part of a long and healthy life. 
What is your workout routine?
My workout routine is walking every day. I put music in my ears and keep moving. It's my stress relief.
What advice would you like to share with women who want to lose weight?
My advice for women who want to lose weight…change their eating habits. In the mornings, I eat (oatmeal, fruit, and yogurt). By lunchtime, some days, I'm still full from snacking on items I had for breakfast. By dinnertime, if I'm hungry, I will sometimes eat something light or eat more fruit before 8 p.m. From the words of Rupaul, "How the hell you gonna love somebody if you can't love yourself???"