This healthy egg white frittata is made with sautéed tomatoes, garlic, and spinach folded into fluffy, whisked egg whites. The whole dish is baked to puffy, protein-packed goodness, and it's a great way to start your day.
Easy Egg White Frittata
Ah, the perfect frittata. There's nothing quite like it. This frittata brings together simply seasoned egg whites with blistered cherry tomatoes, wilted spinach, and a hint of garlic. The egg whites are whipped just enough so that, when baked, they puff up perfectly around the veggies making for a wonderfully fluffy bite.
The simple flavors, the protein-packed egg whites, and the nutrient-rich spinach really do make this veggie frittata a great way to kick off your day. It's not just for breakfast, though. Enjoy this egg-cellent dish for lunch, dinner, or even as a snack. Your body (and taste buds) will thank you for it.
Why You'll Love This Egg White Frittata
Not only is this frittata delicious and packed with healthy protein but it's super quick and easy to make and wonderfully adaptable to a variety of taste preferences. Here's why I think you'll love it.
Adaptable. One great thing about this healthy frittata recipe is that you can easily make it your own. Play with different veggies and/or add some cheese or meat. Have a look at the section below titled "Customizing Your Frittata with Veggies and Cheeses" for inspiration.
Easy. All you need to do here is sauté some veggies, whisk some egg whites, put it all together, and pop it in the oven. The simplicity of this recipe makes it perfect even for those very new to cooking.
Very little prep time. You will only need to spend 5 minutes in the kitchen before you let the oven do the rest of the work. Pop it in the oven and go about the rest of your day. Return to a mouthwatering breakfast.
Great for meal prep. I love making this frittata and enjoying one piece fresh out of the oven before storing the rest in the refrigerator to be enjoyed later in the week. Check out the section below titled "How to Store and Reheat Extras" for more information.
Healthy. Egg whites are a great way to get a hefty (yet low-calorie, low-cholesterol, low-fat) dose of protein. Plus, the veggies (particularly the spinach) in this recipe pack a fair number of essential nutrients. So if you're looking for ways to make breakfast a healthier, leaner part of your day, this is the recipe for you.
What is a Frittata?
A frittata is a popular Italian breakfast dish. They are made up of beaten eggs mixed together with whatever assortment of veggies, meats, and/or cheeses the chef chooses. The concoction is then baked until the eggs are cooked through.
Oftentimes the frittata is started on the stovetop and finished in the oven. For simplicity's sake, I just used the oven to bake this one.
Gather Your Ingredients
Here is everything you will need to make this spinach egg white frittata. Scroll on down to the recipe card below for exact measurements.
Olive oil
Cherry tomatoes: I like using multi-colored tomatoes for visual appeal.
Sea salt & Freshly ground black pepper
Garlic
Baby spinach
Egg whites: You can separate eggs yourself or use bottled egg whites.
How to Make an Egg White Frittata
Here's a quick look at how to make the best egg white frittata you've ever had. Please note that this is just a general overview. Be sure to scroll to the recipe card below for more detailed instructions.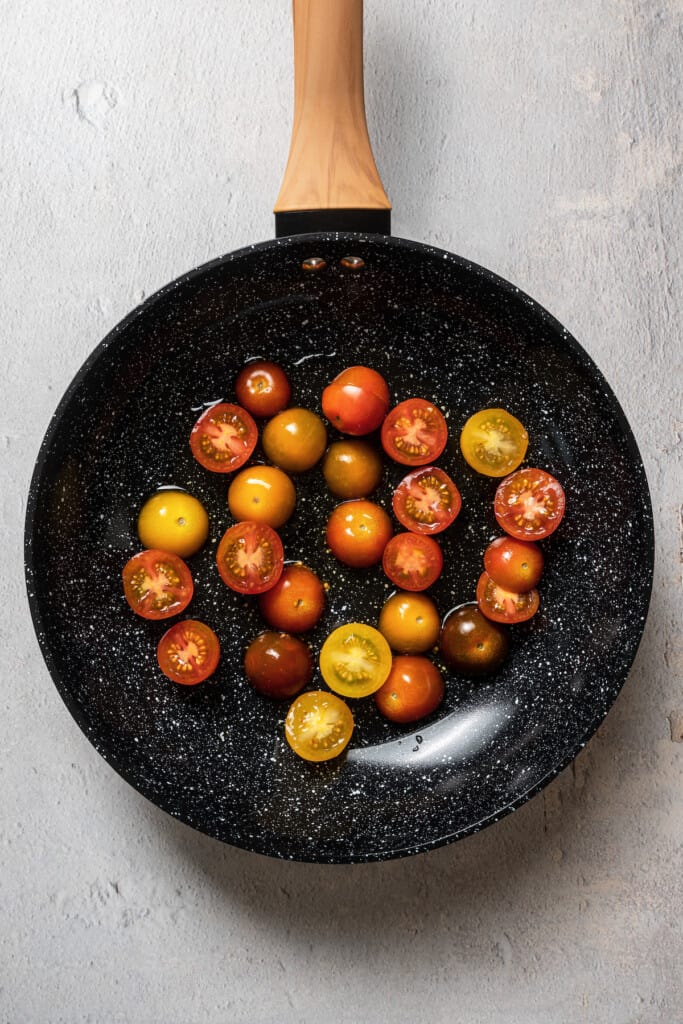 Cook the vegetables. Sauté the tomatoes, garlic, and spinach (in that order) in olive oil. Spread the veggies over the bottom of a very well-greased 9-inch cake pan.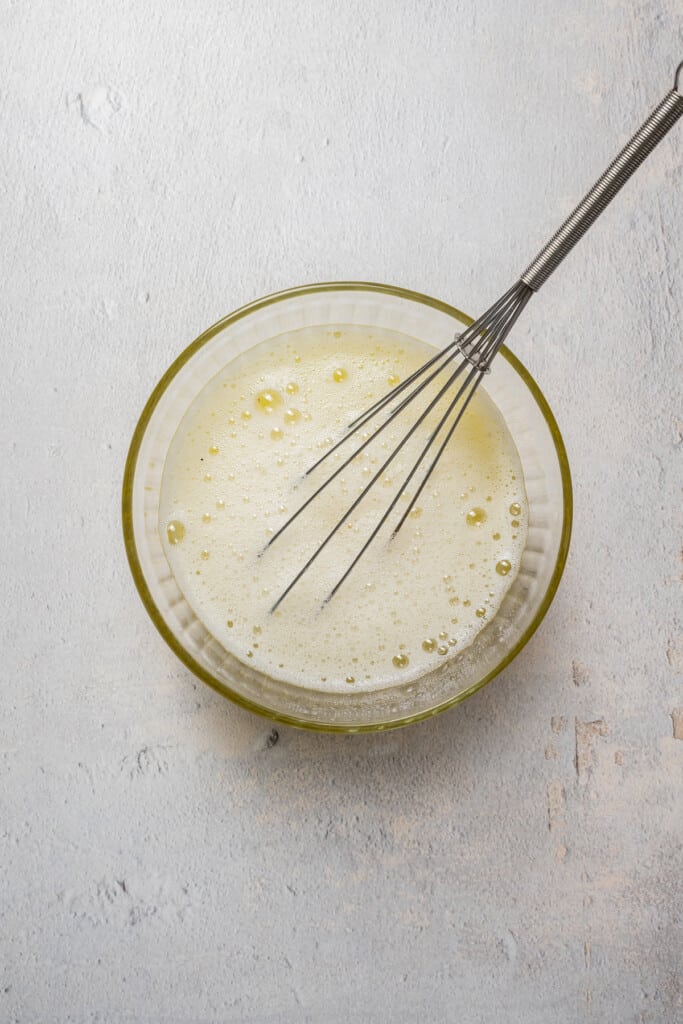 Bake the frittata. Whisk together the egg whites, sea salt, and ground black pepper and pour them evenly over the veggies. Bake for 30 minutes at 400 degrees F.
Customizing Your Frittata with Veggies and Cheeses
This egg white frittata recipe is wonderfully adaptable to a variety of taste preferences. I used tomatoes and spinach but you could easily incorporate different or additional vegetables into the egg whites. I find it best when the veggies are roasted or sautéed first, but the choice is yours. Sliced, sautéed bell peppers, caramelized onions, sautéed mushrooms, and/or even roasted potatoes would work beautifully.
You are also more than welcome to add cheese to this frittata. Simply mix it into the egg whites before baking. I suggest roughly 3/4 cup of a shredded or crumbled cheese of your choosing. Crumbled feta, goat cheese, or shredded cheddar would be my top picks.
Tips for Success
Are you ready to take your frittata game to the next level? Follow these simple tips and tricks and you'll be a pro in no time.
Remove excess moisture. As you sauté the veggies, it is likely that they will release some moisture. I recommend draining that moisture from the pan or using a slotted spoon to transfer the veggies to the baking dish. If baked in with the eggs and veggies, that extra moisture will end you with a watery mess.
Buy bottled egg whites. Want to make your life about 10 times easier? And avoid wasting egg yolks? Use bottled egg whites. The back of the bottle should indicate how much you need to equate to 16 egg whites.
Beat the egg whites just before cooking. If they sit too long, they will become watery.
Preheat the oven. All the way. This will cause the eggs to puff up beautifully. An oven that has not preheated properly or that is not hot enough could leave you with a flat, rubbery frittata.
Consider adding chopped fresh herbs like basil, parsley, or chives to enhance the overall flavor and freshness of the frittata.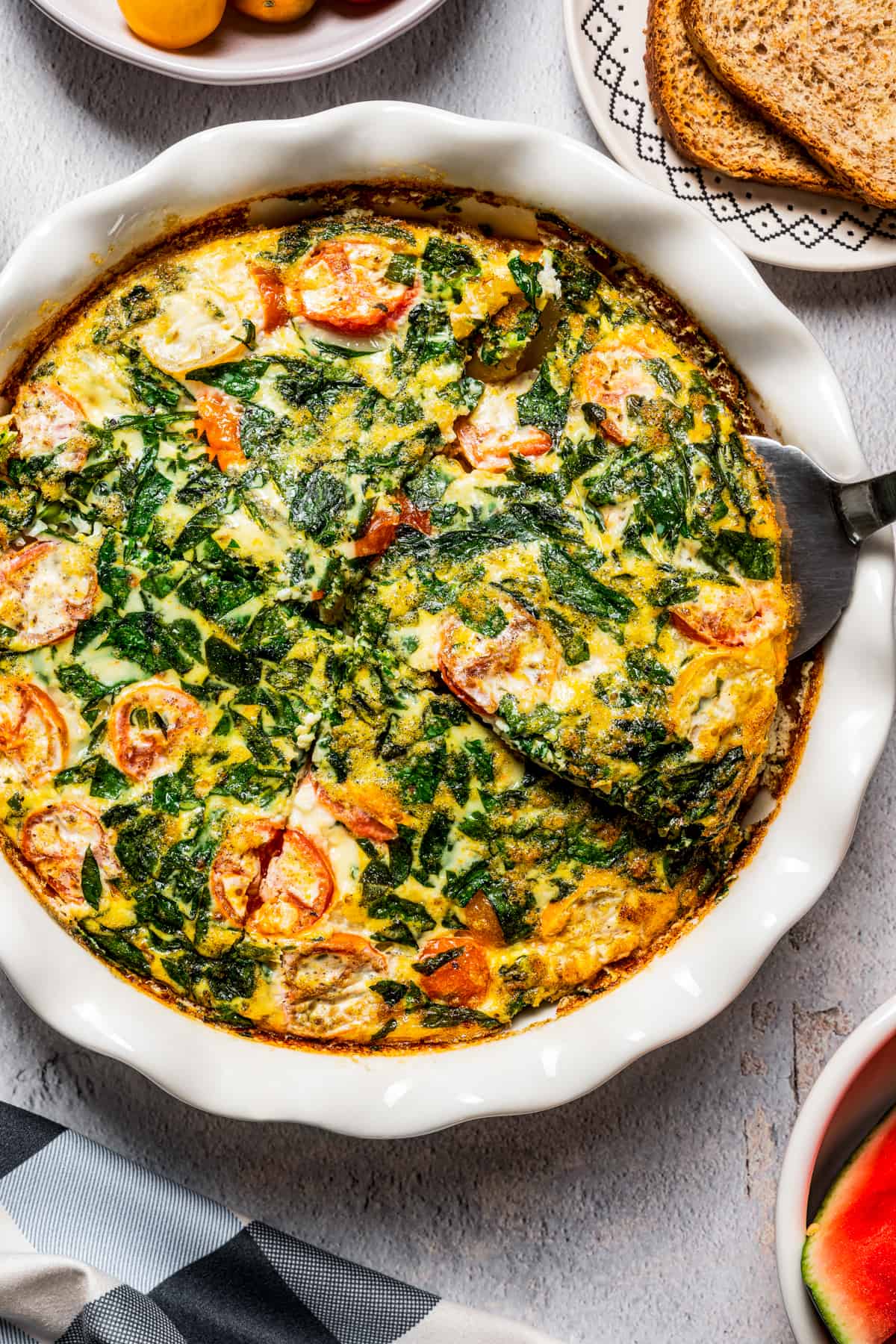 Serving Suggestions
Pour yourself a cup of coffee (or tea) and sit down to a warm, welcoming slice of frittata. This delicious egg white breakfast is great on its own, but whip up one of these breakfast goodies to go alongside.
Smoothie. Pair frittata with a healthy Banana Kiwi and Kale Smoothie, this Immunity Boosting Smoothie, or a filling Rainbow Protein Smoothie Bowl.
Pancakes. Make it a brunch with Buttermilk Pancakes, Fluffy Almond Flour Lemon Poppy Seed Pancakes, 2 Ingredient Crepes, Baked French Toast, or Banana Bread Waffles.
Other sweet breakfast treats. Enjoy your egg white frittata with these Blueberry Lemon Muffins, my Baked Cinnamon Donuts with Vanilla Glaze, these Pumpkin Pie Cinnamon Rolls, and my Whole Wheat Banana Bread with Coconut Oil.
Bacon. Add some sizzle with this Air Fryer Bacon recipe or even my Air Fryer Sausage and Potatoes.
Salad. For lunch or dinner, pair the egg white frittata with my Green Goddess Salad, this Spring Vegetable Potato Salad with Lemon Dijon Vinaigrette, or just toss together some mixed greens with my Homemade Italian Salad Dressing.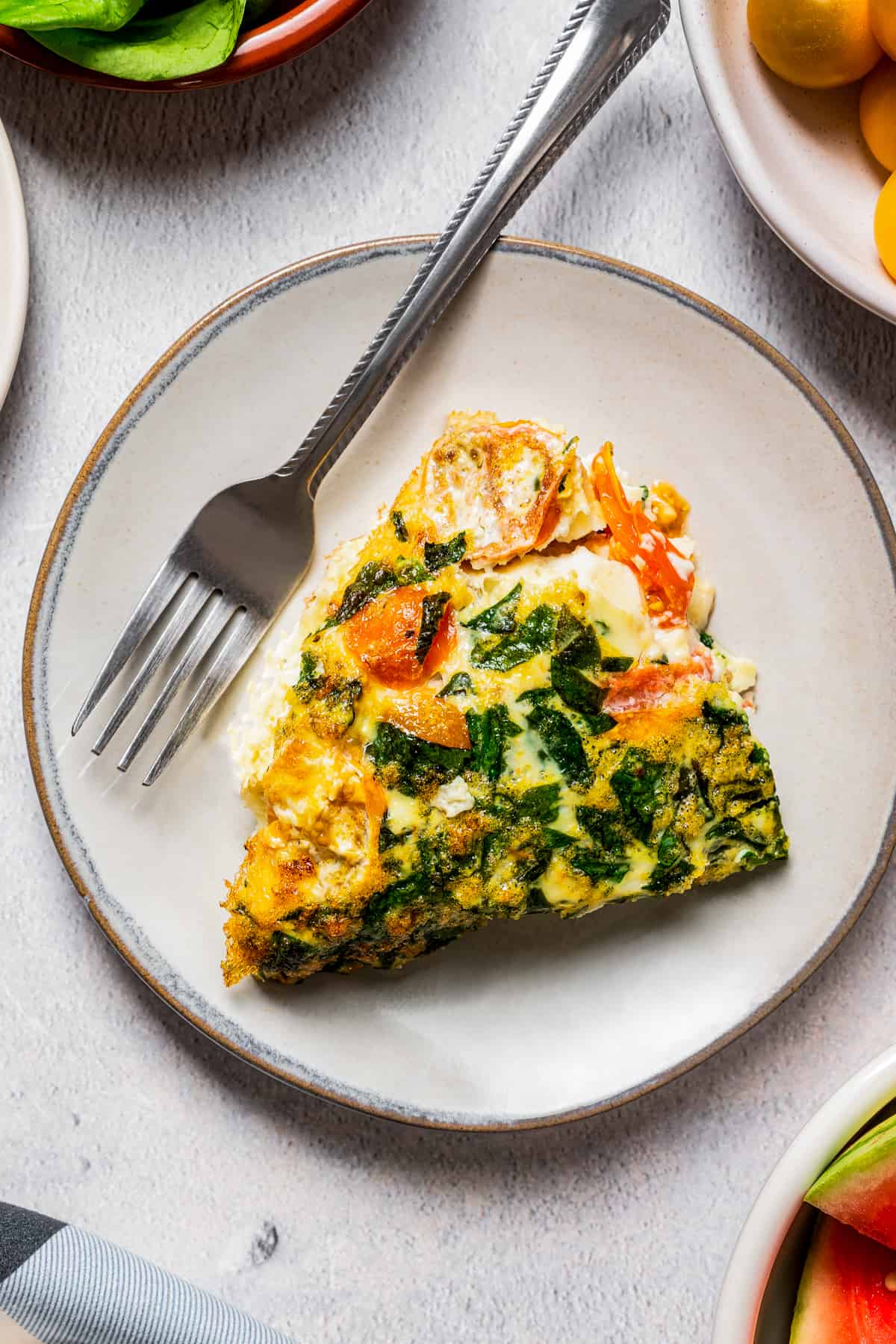 Common Questions
Here are some answers to the more frequently asked questions I encounter when the words "egg white frittata" come up. Feel free to leave a note in the comments section below with any other questions or suggestions you might have.
Are Egg White Frittatas Healthy?
For the most part, yes! Egg whites are packed with protein but are, at the same time, very low in fat, cholesterol, and calories. So long as you don't load your frittata with unhealthy mix-ins, you've picked a very healthy breakfast (or lunch or dinner, for that matter).
Are egg whites high in protein?
There are 3.6 grams of protein in each egg white. This frittata packs about 4 egg whites into each serving. So that's 14.4 grams of protein per serving. Wow!
How to separate egg whites from yolks?
Start with room temperature and 2 bowls. Gently crack an egg open and let the whites spill out into the bowl, keeping the yolk in one side of the broken shell. Gently transfer the egg yolk from one half of the shell to the other, allowing the whites to run out into the bowl between each transfer. Do this until you only half yolk left. Put the yolk in the other bowl to save for another use.
Are egg whites cholesterol-free?
Yes! Egg whites have zero cholesterol.
Do egg whites have any nutritional value?
They do. There are 3.6 grams of protein in each egg white. That's the main selling point. Otherwise, they contain negligible amounts of sodium and dietary sugars and just the tiniest bit of magnesium.
More Egg Recipes to Try
Eggs for days! I love starting my morning with delicious, protein-packed eggs. Here are some of my other favorite eggy breakfast recipes for you to try.
ENJOY!
Preheat the oven to 400˚F, heavily grease a 9-inch baking dish with butter, or line it with parchment paper. Set aside.

Heat the olive oil in a sauté pan set over medium-high heat. Add the tomatoes, season with 1/2-teaspoon salt, and sauté until blistered. Add the garlic and sauté for 20 seconds. Finally, add the spinach and sauté for 1 to 2 minutes or until wilted.

Pour the veggies into the prepared baking dish and spread evenly along the bottom.

In a medium-sized mixing bowl, whisk together the egg whites, remaining salt, and ground black pepper until slightly lightened in color.

Pour the egg whites over the veggies. Tilt the pan to distribute the eggs evenly throughout the pan. Bake uncovered for 30 minutes.

Remove from the oven and let rest for several minutes.

Slice the frittata into 4 equal pieces and serve.
When sautéing veggies, drain any released moisture; excess moisture can result in a watery frittata.
Avoid wasting yolks by using bottled egg whites. Check the bottle for the equivalent amount needed (usually indicated for 16 egg whites).
Beat egg whites just before cooking to prevent watery eggs. 
For added flavor and creaminess, sprinkle some crumbled feta, grated Parmesan, or shredded cheddar cheese over the frittata.
Fresh herbs like basil, parsley, or dill can elevate the taste profile of your frittata. Chop them finely and mix them into the egg whites before cooking.
Ensure your oven is fully preheated for a beautifully puffed frittata.
Refrigerate Leftovers: Once cooled, store leftover frittata in an airtight container in the fridge for up to 3 days. Reheat in the oven at 350°F for 10 mins or microwave in 30-second intervals until heated through.
To freeze, cool completely, and store in an airtight container in the freezer for up to 3 months. Thaw in the fridge, then follow reheating instructions.
Serving: 1 slice | Calories: 141 kcal | Carbohydrates: 4 g | Protein: 14 g | Fat: 7 g | Saturated Fat: 1 g | Polyunsaturated Fat: 1 g | Monounsaturated Fat: 5 g | Sodium: 799 mg | Potassium: 412 mg | Fiber: 1 g | Sugar: 2 g | Vitamin A: 1681 IU | Vitamin C: 18 mg | Calcium: 34 mg | Iron: 1 mg | Net Carbs: 3 g
Nutritional info is an estimate and provided as courtesy. Values may vary according to the ingredients and tools used. Please use your preferred nutritional calculator for more detailed info.