These are the juiciest homemade pork meatballs stuffed with panko and cream cheese and simmered in savory marinara sauce. Eat them alone or pile them over a bed of spaghetti for a full and filling meal.
Why You'll Love These Juicy Pork Meatballs
In Macedonian cuisine, we rarely cook with beef, so these easy Pork Meatballs are a longstanding family favorite. Ultra-flavorful and juicy, my homemade meatball recipe is held together with a savory mixture of cream cheese, panko, garlic, and herbs. Here are more reasons to love it:
Tender and juicy. These pork meatballs are so tasty! All you need are a few herbs and seasonings, plus cream cheese, to make the most flavorful meatballs ever, simmered in rich and tangy marinara sauce.
Easy to make. If you have ground pork on hand, meatballs are the way to go. Pork meatballs are a fast and easy dinner that always hits the spot. These are ready on the stovetop in 30 minutes!
Meal prep-friendly. Meatballs are great to make ahead, and they're perfect for lunches and meal prep. You can refrigerate or freeze leftovers for quick reheating all week long.
Ingredients for Pork Meatballs 
Meatballs are easy to make with a handful of pantry ingredients, outlined below. Be sure to check out the recipe card at the bottom of the post for full measurements and recipe details.
Ground Pork – This recipe can be made with regular ground pork or ground pork sausage.
Cream Cheese – Cream cheese adds flavor. I use whipped cream cheese, but you can also use regular cream cheese. I recommend softening it to room temperature before you start.
Egg and Panko – Our binding ingredients for homemade meatballs. You can use regular or seasoned panko.
Herbs – Finely minced garlic and oregano for aromatics. Dried oregano works perfectly, or you can use Italian seasoning.
Olive Oil
Marinara Sauce – Use your favorite jarred marinara sauce from the store. Or, if you have a homemade recipe, that works, too.
How to Make Pork Meatballs In Sauce
These stovetop pork meatballs are the perfect weeknight dinner when you'd rather not turn on your oven. Here's how easy they are to make:
Combine the ingredients. First, you'll add your ground pork and meatball ingredients to a bowl, and get mixing. I recommend using your hands to ensure that everything is well combined. 
Roll the meatballs. Next, scoop and roll out the meat mixture into even-sized balls, about 1" in size. I find that a small cookie scoop works great here.
Cook the meatballs. Add your meatballs to a large skillet with oil. Cook them for a few minutes or just until they're browned on all sides. 
Add the sauce. Pour in your marinara sauce and bring the contents of the pan to a boil, cover and simmer the meatballs until they're cooked through.
Enjoy! Serve your pork meatballs over pasta, or scroll for more yummy serving suggestions.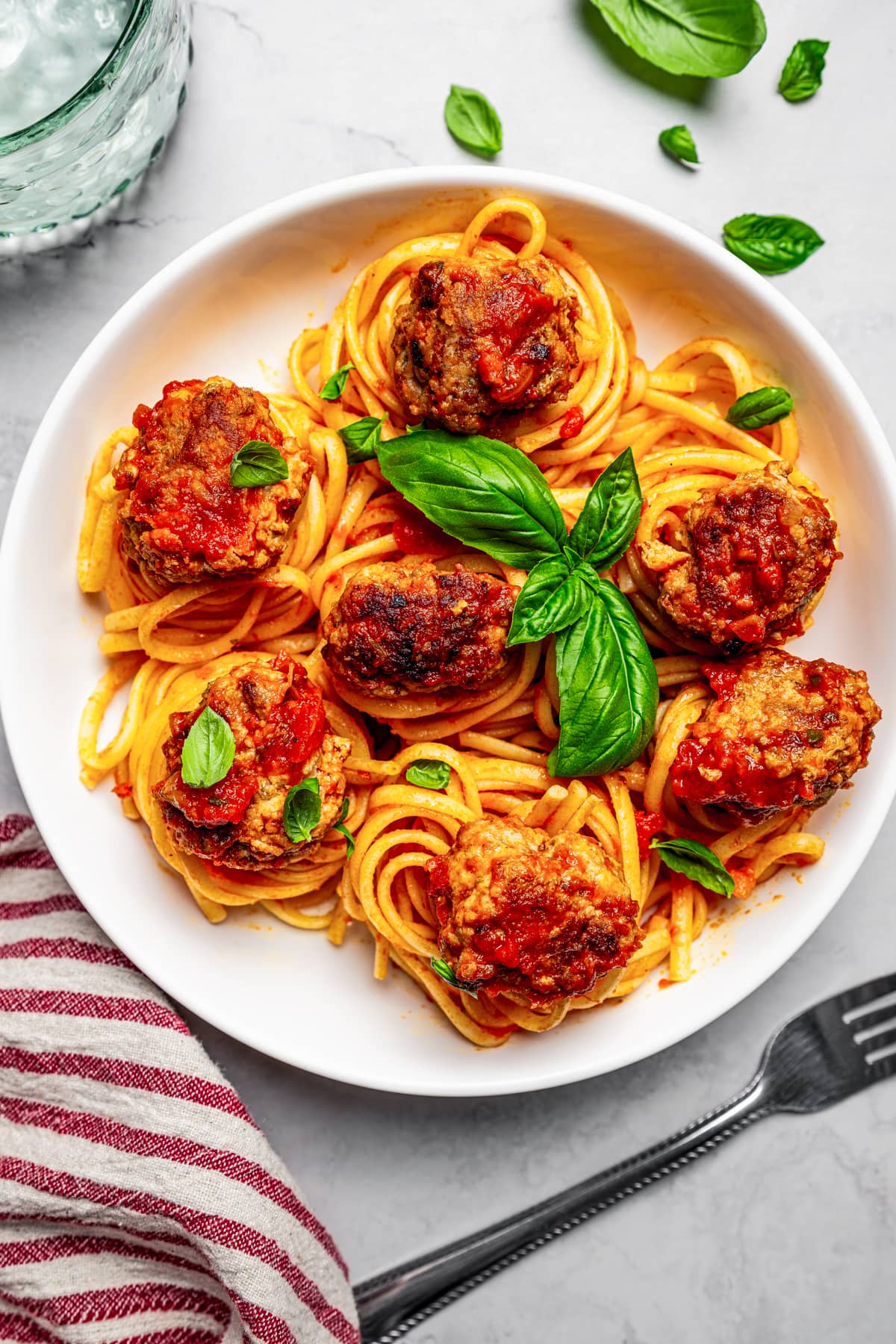 Tips for the Best Homemade Meatballs
The best meatballs are tender and juicy, and hold their shape when cooked. Here are some final tips for perfect pork meatballs that check all these boxes.
Use your hands. Sure, it's a little messy, but mixing the meatball ingredients with your hands ensures that they don't get over-mixed (overmixing = tough meatballs). Wear gloves as an extra precaution.
Brown the meatballs first. This is a must because a) it seals in all that moisture and flavor, and b) searing keeps the meatballs from falling apart in the sauce. Don't skip this step.
Don't overcook the meatballs. If the meatballs are dry, chances are it's because they're overcooked. Be sure to check these pork meatballs for doneness as they simmer in the sauce.
Keep the meatballs warm. If you'd like to make these ahead, transfer the cooked meatballs and sauce to a slow cooker on the keep-warm setting until you're ready to serve them.
Use another protein. If you'd rather make this recipe with a protein other than pork, feel free to swap in ground beef, ground turkey, or even ground chicken. You can also use a combination of different ground meats.
Different sauce. These versatile pork meatballs taste amazing with other sauces, too. Try honey garlic sauce, cream sauce, or borrow the sweet and sour sauce from my crockpot Asian meatballs.
How Can I Tell When Pork Meatballs Are Cooked? 
The best way to check if your meatballs are done is to check the internal temperature using an instant-read thermometer. Meatballs are cooked when they reach an internal temperature of 165ºF and are no longer pink.
Can I Bake These Meatballs Instead?
Yes! To bake the meatballs, prepare them as directed and then bake them at 400ºF for 15-20 minutes or until they're cooked through. I recommend checking out my recipe for oven baked meatballs for more tips and detailed instructions. You can also make this recipe as air fryer meatballs if you'd like.
What to Serve With Meatballs
Pasta. We love spaghetti and meatballs around here, but you can serve them over just about any pasta you'd like. Try my creamy tomato one pot pasta, this easy olive pesto pasta, or spaghetti squash for a low-carb option. 
Meatball Sandwich. Make homemade meatball subs in soft hoagie rolls with melted cheese.
Mashed Potatoes. Spoon meatballs and sauce over fluffy mashed potatoes (or creamy mashed cauliflower) for a stick-to-your-ribs dinner. You can also swap the marinara sauce for brown gravy or mushroom gravy instead.
Pizza Topping. Chop up or break up your meatballs to add as a topping on a grilled pizza or your favorite homemade pizza recipe.
Storing and Reheating Leftovers
Fridge. Let the meatballs cool completely and then store them airtight in the fridge for up to 3 to 4 days.
To Reheat. Reheat the meatballs in a skillet on the stovetop with extra sauce. You can also reheat them in the microwave.
Freezer. Transfer the cooked and cooled meatballs and sauce to an airtight, freezer-safe container and keep them frozen for up to 3 months. Defrost them in the fridge overnight before reheating.
More Meatball Recipes
In a large mixing bowl, combine the ground pork, cream cheese, garlic, onion, egg, panko crumbs, dried oregano, salt, and pepper. Mix with your hands until thoroughly combined, and roll the mixture into 2-tablespoon balls. Grease your hands with a bit of olive oil to prevent the mixture from sticking.

In a large skillet, heat the olive oil over medium-high heat. Add the meatballs to the skillet and cook for 3 to 4 minutes or until the meatballs are browned on all sides.

Add the marinara sauce to the skillet and bring to a boil. Reduce heat to a simmer and cover the skillet; cook for 6 to 8 minutes or until the meatballs are cooked through.

Remove from heat and serve the meatballs with pasta.
Cream Cheese: Whipped Cream Cheese is creamier and works well in this recipe. If you want to use regular cream cheese, bring it up to room temperature before working with it.
Protein Swap: Opt for ground beef, turkey, or chicken, or mix meats as an alternative to pork.
Get Hands-On: Mix meatball ingredients by hand to avoid over-mixing and tough meatballs. Gloves can keep things tidy.
Brown First: Essential for sealing in moisture and flavor and ensuring meatballs hold together in the sauce.
Avoid Overcooking: Keep meatballs juicy by checking for doneness while simmering in the sauce.
Stay Warm: For make-ahead, use a slow cooker's keep-warm setting to maintain meatball temperature and flavor.
Sauce Variety: Experiment with other sauces for a tasty twist.

Storage: Keep leftover meatballs in an airtight container in the fridge for up to 3 days or freeze them for up to 3 months.
Serving: 1 meatball | Calories: 139 kcal | Carbohydrates: 3 g | Protein: 6 g | Fat: 11 g | Saturated Fat: 4 g | Polyunsaturated Fat: 1 g | Monounsaturated Fat: 5 g | Trans Fat: 0.001 g | Cholesterol: 38 mg | Sodium: 129 mg | Potassium: 148 mg | Fiber: 0.4 g | Sugar: 1 g | Vitamin A: 182 IU | Vitamin C: 1 mg | Calcium: 22 mg | Iron: 1 mg | Net Carbs: 3 g
Nutritional info is an estimate and provided as courtesy. Values may vary according to the ingredients and tools used. Please use your preferred nutritional calculator for more detailed info.