These easy baked chicken breasts are tender, juicy, and all-around perfect. This is the only baked chicken recipe you'll ever need!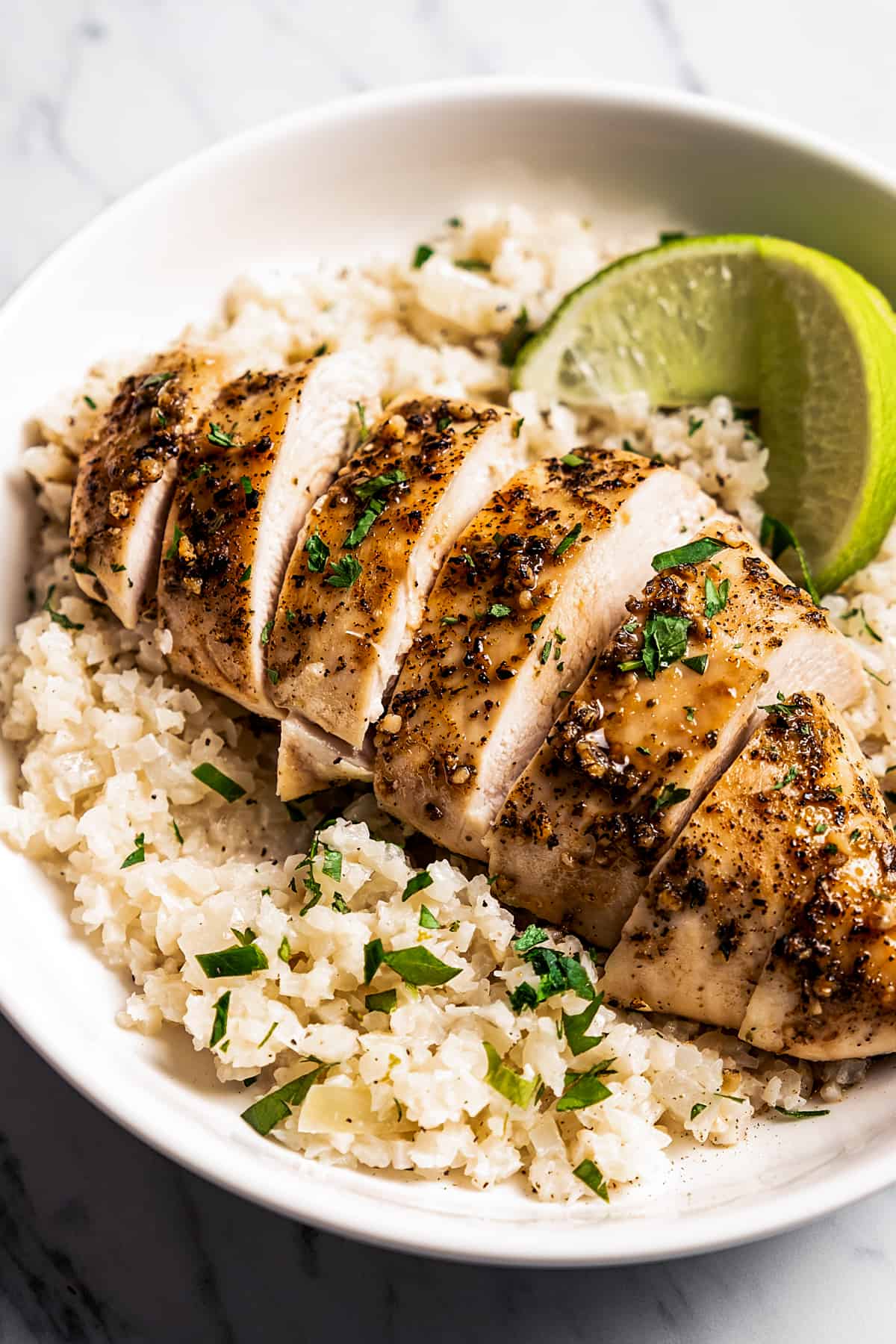 Juicy Oven-Baked Chicken Breasts
You heard that right: The one and only method you will need for baked chicken.
Baking chicken breasts is a simple process that does not require much preparation or active cooking time. Season the chicken and place it in the oven. Right!? But what if I told you that there's simply one extra step that will help with keeping those chicken breasts moist and juicy?
I have used this recipe for perfectly baked chicken time and time again, with all kinds of different seasonings and flavors, and it has yet to disappoint. It's so tender and juicy, and it's also easy—the kind of weeknight dinner recipe that is in constant rotation.
So what's the secret to baked chicken that's wow instead of womp womp?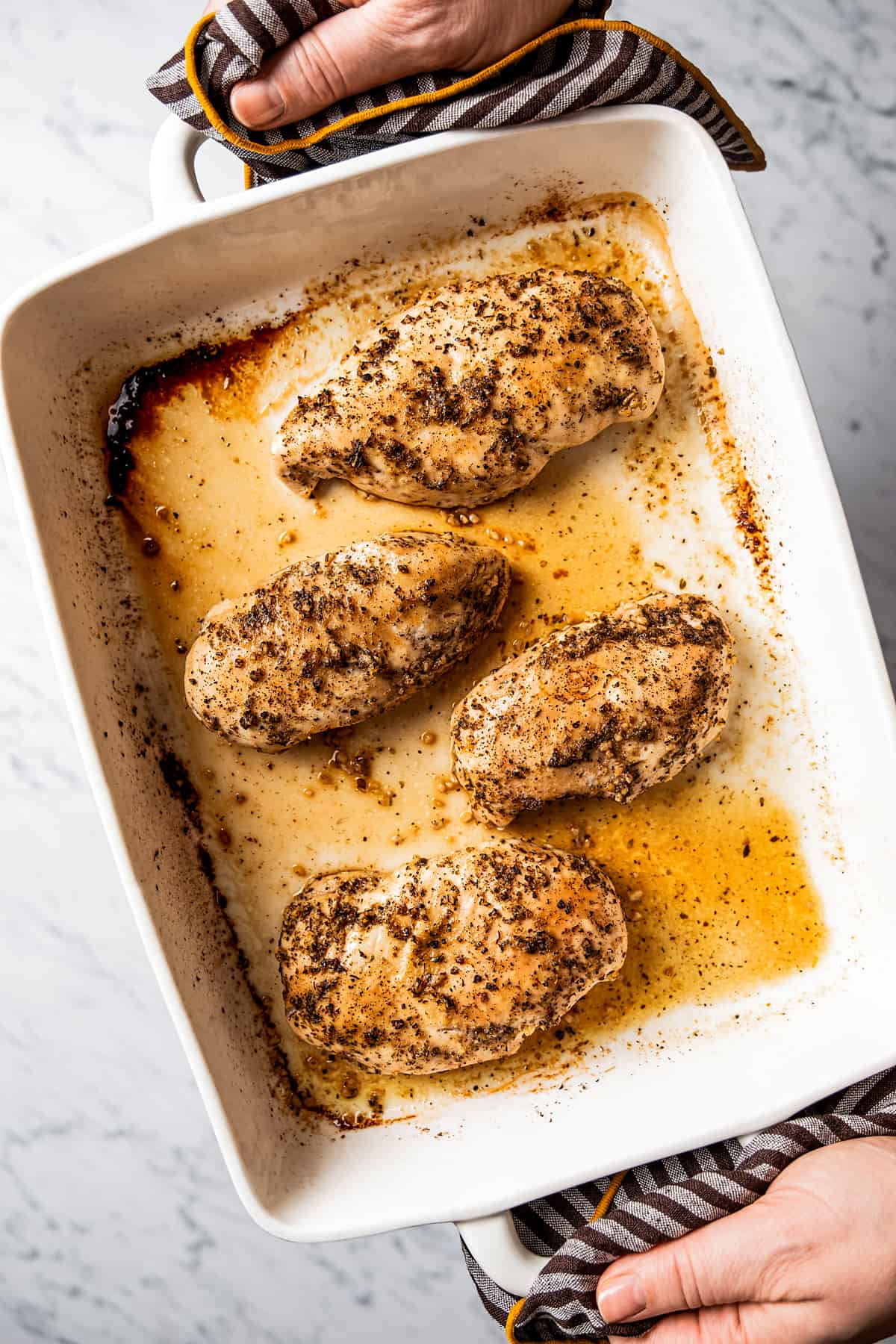 How Do I Bake Chicken Breast Without Drying It Out?
Parchment paper, friends. Parchment paper is the secret to baked chicken breasts that don't dry out in the oven.
The pat of butter on each breast helps with flavor. But the parchment paper does the heavy lifting here. It seals in the juices instead of letting them steam off, so basically, the parchment paper allows your chicken to baste itself as it bakes. 
The result is tender, juicy chicken breasts that you'll actually look forward to eating. 
You can use this method pretty much any time that you need to bake up some chicken breasts. It's a tried and true technique taught in culinary schools, and it works every time with whatever seasonings you wish to use.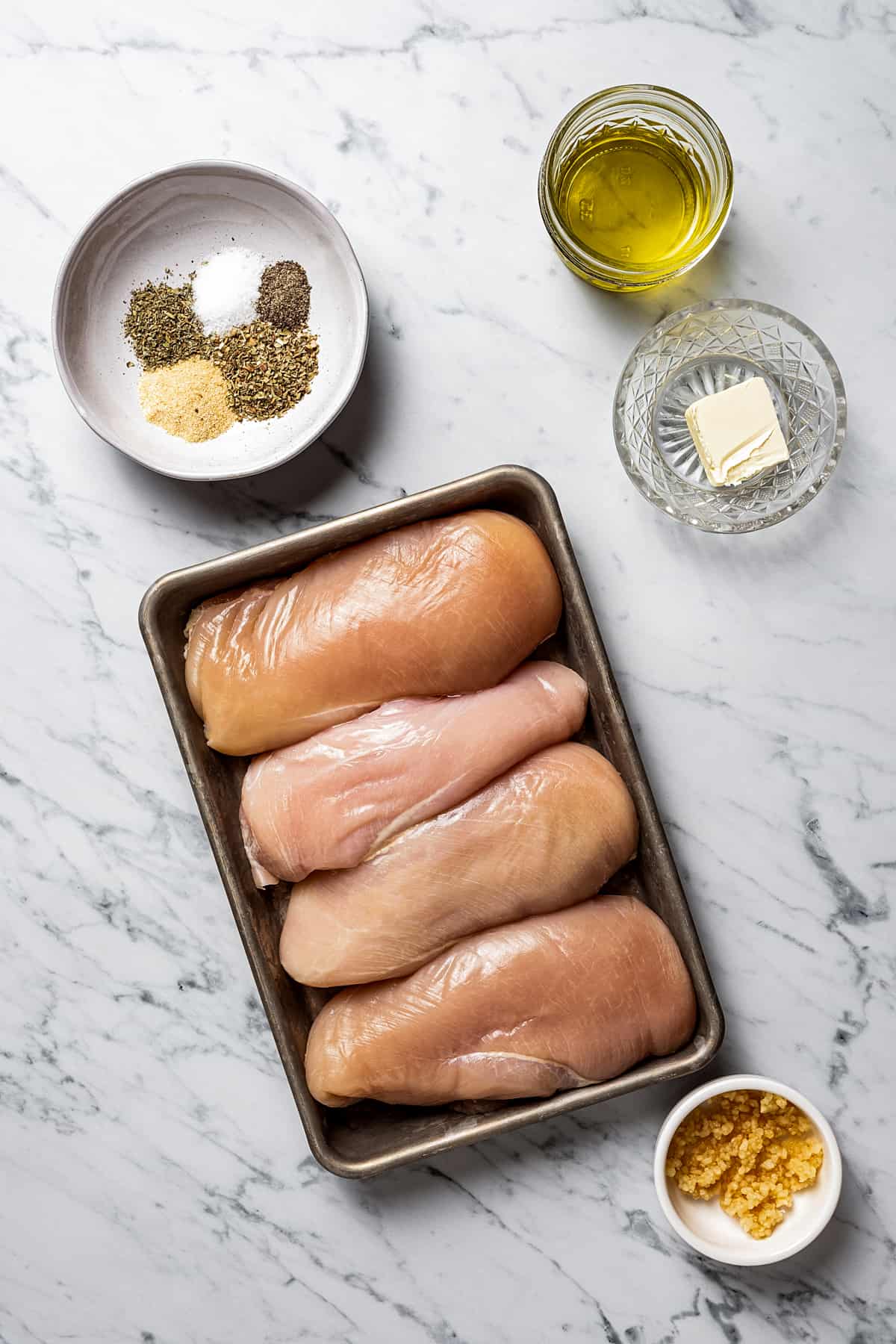 What You'll Need
Baking chicken in the oven helps to retain its moisture, resulting in tender and juicy meat. Here are some additional details about the ingredients you need for these easy, baked chicken breasts.
Olive oil cooking spray
Boneless, skinless chicken breasts – Wash them, pat them dry with a paper towel, and trim them.
Garlic
Salt and fresh ground pepper
Garlic powder – The combination of fresh garlic and garlic powder results in super flavorful baked chicken breasts!
Dried oregano
Italian seasoning
Butter – You can use salted or unsalted; if you use salted butter, go lighter on the salt when you're seasoning the chicken.
Parchment paper – Don't substituted waxed paper; it needs to be parchment.
How to Make Juicy Baked Chicken Breasts
Ready for the best baked chicken you've ever had? I thought so! Here's what you'll need to do.
Prepare. Preheat your oven to 400ºF and lightly grease a 9×13 baking dish with cooking spray.
Season the chicken. Arrange the chicken breasts in the baking dish and rub the minced garlic all over each breast. Add the salt, pepper, garlic powder, oregano, and Italian seasoning to both sides.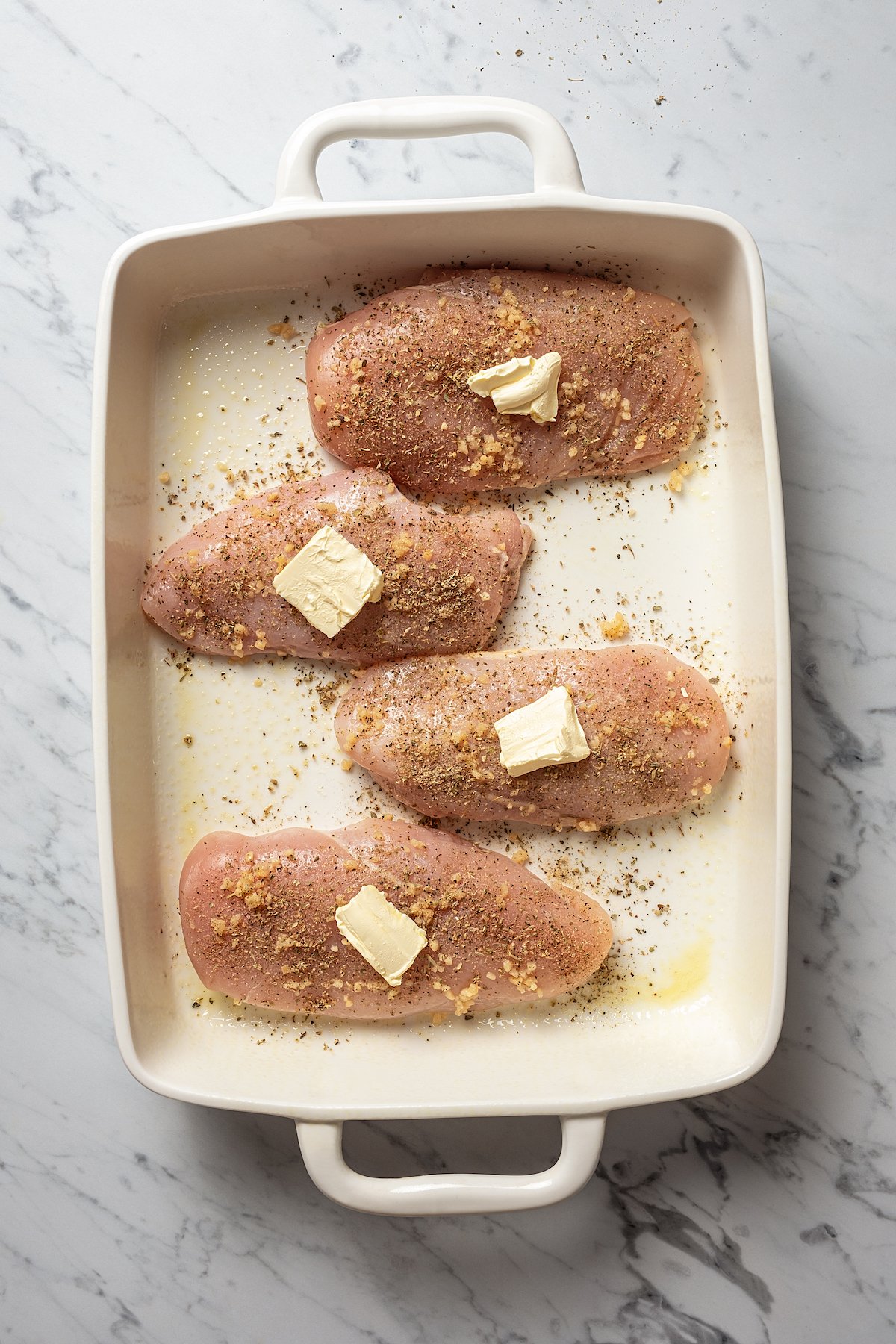 Add the butter and parchment. Set a pat of butter onto the center each chicken breast. Then, place a sheet of parchment paper over the chicken breasts and tuck the edges under the chicken so it's snug; this is what keeps the steam in.
Bake. Place the baking dish in the oven and bake for 30 to 33 minutes, or until chicken's internal temperature reaches 165ºF.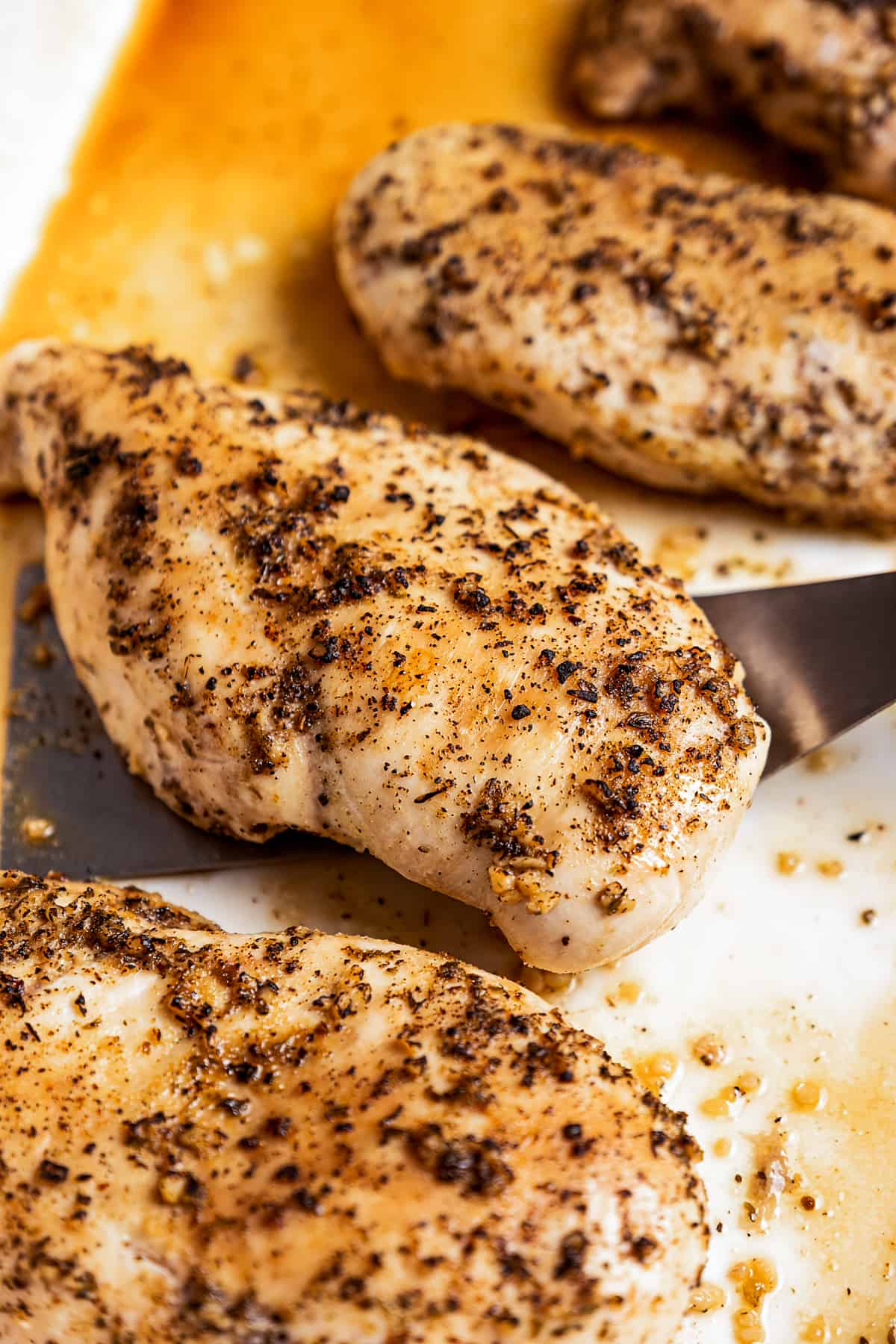 Recipe Tips
Baking chicken breasts is a healthy, easy, and convenient way to prepare a delicious and nutritious meal. When cooking chicken, keep in mind these helpful tips:
Use an instant-read thermometer. It's the only way to know for sure when your chicken is done and safe to eat. You can find inexpensive thermometers on Amazon.
Don't overcook it! The chicken will continue to cook after you take it out of the oven, so pull the chicken from the oven when the thermometer registers 165ºF.
Let it rest. After you take your chicken out of the oven, let it sit for 5 minutes before slicing or serving. That lets all of those juices settle and keeps your chicken juicy!
Serving Suggestions
The beauty of baked chicken breasts is that they can be flavored with a variety of seasonings and served with a number of sides, making it a versatile meal option. Some of my favorite sides for pairing with baked chicken include:
How to Store and Reheat Baked Chicken Breasts
Let the cooked chicken breasts cool completely, then refrigerate them in an airtight container or wrap them tightly with plastic wrap; they will last for 4 to 5 days in the refrigerator.
To reheat, place the chicken on a parchment-lined baking sheet in a 350°F oven for about 10 minutes or until heated through. You can also microwave them, but be careful to avoid overcooking. A few short bursts of heat should do the trick.
Can I Freeze Baked Chicken?
Yes, you can freeze cooked chicken breasts. Wrap the cooked chicken tightly in plastic wrap and add a layer of aluminum foil over the plastic. Please place them in a freezer bag; seal the bag, pressing out as much excess air as possible. Set the bag in the back of the freezer, where it is the coldest, and store it for up to 3 months.
When ready to use, remove from the freezer and set in the fridge overnight to thaw before reheating.
More Perfect Chicken Recipes
These recipes use a similar method for perfectly tender chicken every time!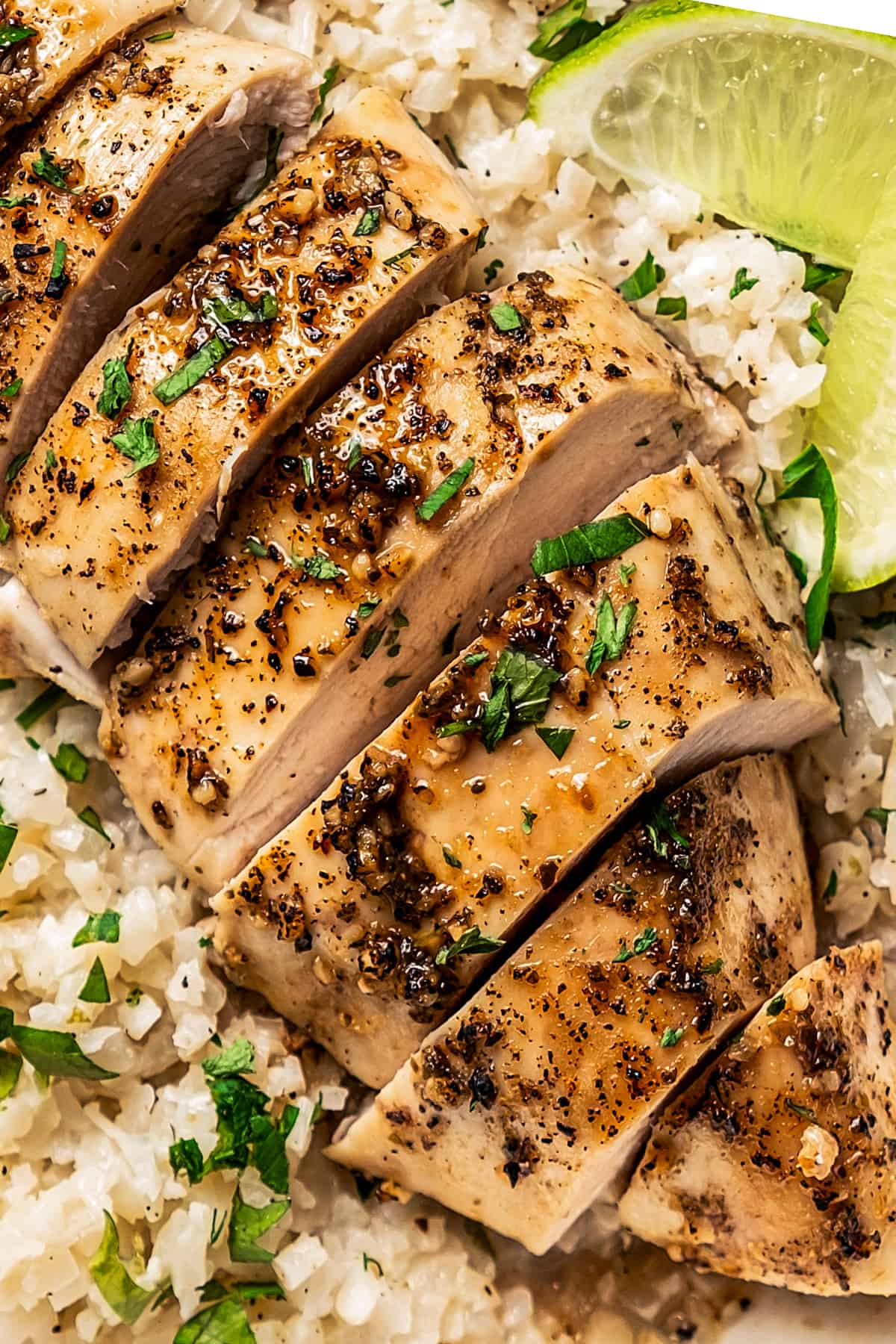 Preheat oven to 400˚F.

Lightly grease a 9×13 baking dish with cooking spray.

Pat dry the chicken breasts with paper towels.

Transfer the chicken breasts to the baking dish and rub a bit of minced garlic over each chicken breast.

Season chicken on both sides with salt, pepper, garlic powder, oregano, and Italian seasoning.

Place a pat of butter over each chicken breast.

Place a sheet of parchment paper over the chicken breasts. Tuck the edges so that the parchment paper is snug around the chicken.

Bake for 30 to 33 minutes or until the chicken's internal temperature registers at 165˚F.

Remove from the oven and transfer the chicken to a serving plate; let rest for 5 minutes before serving and cutting.
Chicken Breasts: This recipe uses boneless and skinless chicken breasts. If you want to use chicken thighs, please take a look at this recipe: Oven Baked Chicken Thighs.
Parchment Paper: This will help retain moisture, resulting in tender and juicy chicken. Aluminum foil can be used in place of parchment paper. 
Seasonings: Chicken can be flavored with various herbs and spices. My go-to's are almost always garlic powder, onion powder, some paprika, dried oregano, dried thyme, or dried rosemary. Feel free to get creative using your favorite seasonings.
Instant Read Meat Thermometer: Please use an Instant Read Meat Thermometer to check the chicken for doneness. Chicken is cooked through when its internal temperature registers at 165˚F. Also, let the chicken rest for 5 minutes after you pull it out of the oven and before slicing and serving.
Serving: 1 chicken breast | Calories: 159 kcal | Carbohydrates: 1 g | Protein: 24 g | Fat: 6 g | Saturated Fat: 2 g | Polyunsaturated Fat: 1 g | Monounsaturated Fat: 2 g | Trans Fat: 0.1 g | Cholesterol: 80 mg | Sodium: 154 mg | Potassium: 436 mg | Fiber: 0.3 g | Sugar: 0.05 g | Vitamin A: 130 IU | Vitamin C: 2 mg | Calcium: 17 mg | Iron: 1 mg | Net Carbs: 1 g
Nutritional info is an estimate and provided as courtesy. Values may vary according to the ingredients and tools used. Please use your preferred nutritional calculator for more detailed info.