This air fryer rotisserie chicken is to die for. Simply seasoned with herbes de Provence, it's juicy, tender, and utterly delicious. Forget the store-bought versions and make this healthier, just-as-tasty rendition at home.
Easy Air Fryer Rotisserie Chicken
Imagine this. You sink your knife into a chicken breast covered in crispy, herb-crusted skin. The savory aroma wafts up and you can't help but anticipate the meal and realize that this is going to be good. My air fryer rotisserie chicken is pretty much chicken at its finest. It's coated in a wet rub of Herbes de Province, salt, pepper, and garlic powder – simple and delicious. The whole, seasoned bird is cooked in the air fryer, rendering it incredibly crispy on the outside and juicy on the inside.
I don't know about you but, when I hear the words "rotisserie chicken," my mouth immediately starts watering. I can practically smell the rich scent of fresh herbs and crispy skin! This convenient air fryer recipe allows you to have all the yum of store-bought versions but with less guilt. I am confident that you will thoroughly enjoy it.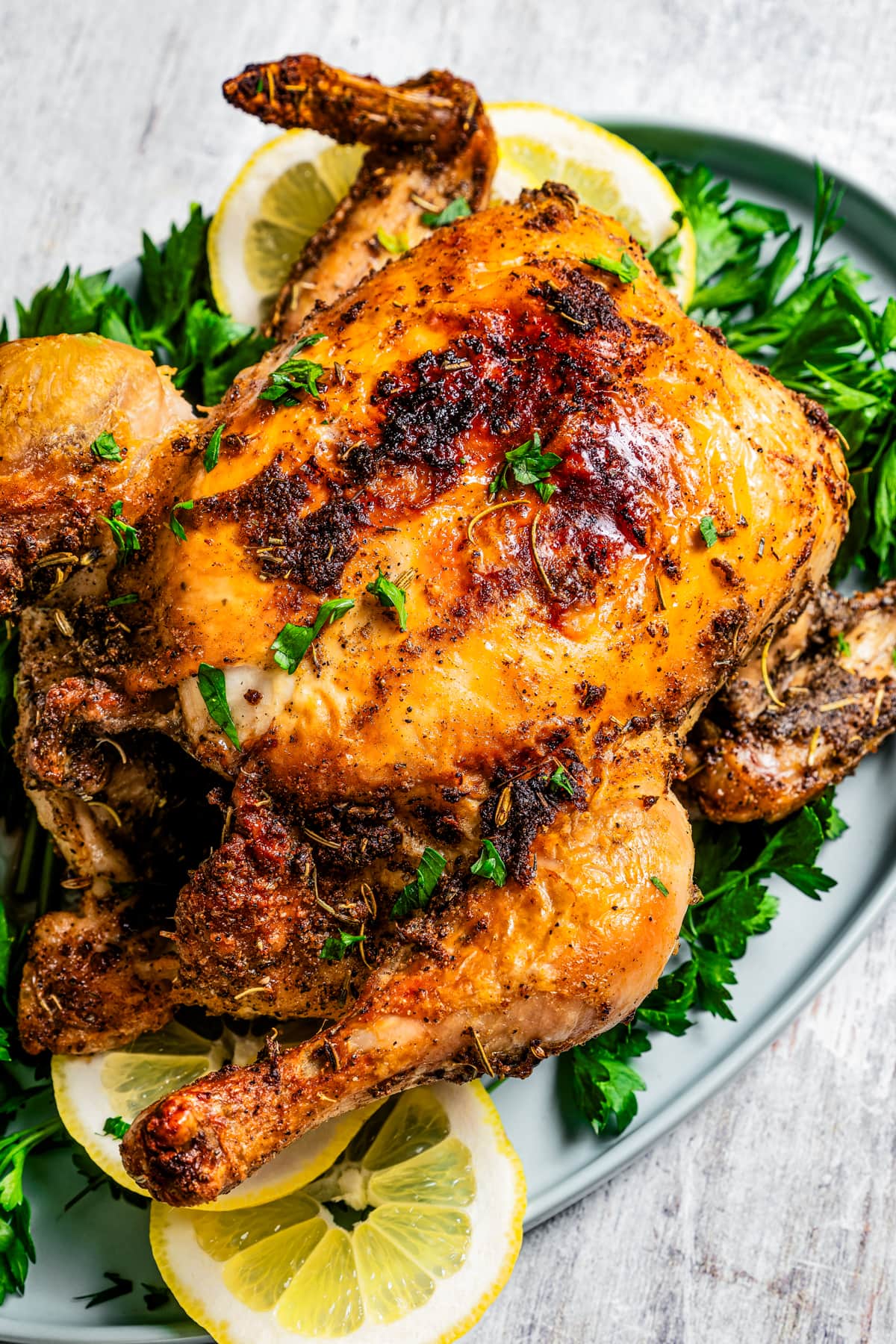 Why You'll Love This Recipe
Better for you than store-bought. Store-bought rotisserie chicken is a lifesaver on busy weeknights but is also loaded with sodium, saturated fat, and cholesterol. This homemade version might take a little extra time but has significantly lower levels of all three elements.
Easy. All you have to do is rub some seasoning on the bird, pop it in the air fryer, and let the machine work its magic. Sure you'll have to flip it halfway through but that's it! Delicious chicken in just 1 hour.
Crispy skin. My oh my, my favorite part. The air fryer does a beautiful job of crisping up the skin of this chicken.
Easily adaptable. In addition to salt and pepper, I suggest a seasoning of garlic powder and herbes de Provence here but you are more than welcome to go in a different direction. You could try cumin and smoked paprika, Italian seasoning, or really any other spice and/or herb combo you'd like. Tailor it to your taste preferences.
So many uses. This chicken is fantastic when sectioned into pieces and enjoyed as is, but one of the best things about it is that you can take the meat off the bone and use it in seemingly endless recipes.
What Is Rotisserie Chicken?
The term "rotisserie chicken" refers to how the bird is cooked. Chicken (usually whole) is roasted (often on a rotating spit) over direct heat. It is generally tender, juicy, and flavorful when cooked right and appropriately seasoned. It has wonderfully crispy skin and is a good, lean source of protein. Rotisserie chicken is widely available as a grab-and-go option at grocery stores such as Costco, Safeway, Walmart, Whole Foods, and more.
Rotisserie Chicken Ingredients
Whole chicken: The chicken must be small enough to fit into the basket of your air fryer. I used a 3-pound bird.
Sea salt & Gound Black Pepper
Garlic powder
Herbes de Provence: This is my favorite but feel free to use Italian seasoning, a combination of rosemary and thyme, oregano, or any other seasoning you'd like.
Olive oil
How to Make Air Fryer Rotisserie Chicken
This rotisserie chicken recipe is wonderfully simple and easy to make. Here's a quick look at how to do it. For more specific instructions, scroll to the recipe card below.
Season the chicken. Pat the chicken dry and let it sit at room temperature for 15 minutes. Whisk together the sea salt, ground black pepper, garlic powder, herbes de Provence, and olive oil. Rub it all over the chicken.
Air fry. Air fry the chicken at 360˚F for 30 minutes on either side or until the internal temperature reaches 165˚F.
Tips for Success
Forget store-bought rotisserie chicken. This homemade version is just as good (if not better) when done right. Here are some simple tips and tricks to help you reach perfection.
Buy a smaller bird. Keep in mind that your air fryer has a limited capacity. If you try to cram a too-large bird into the air fryer, the hot air won't circulate around the chicken well. I recommend a 3 to 4-pound chicken for a 5-quart air fryer.
Remove excess moisture. Before seasoning the chicken, pat it dry with a paper towel, inside and out. Excess moisture will cause the chicken to steam in the air fryer, preventing it from crisping up properly.
Get under the skin. If you can get the wet rub under the skin without tearing it, do it. It will impart extra flavor to the meat.
Preheat the air fryer. If you don't preheat the air fryer, it is likely that the chicken won't have that crispy skin.
Grease the basket of the air fryer. Unless you want your chicken to stick to the basket of the air fryer, grease the basket before adding the chicken to it.
Use a meat thermometer. Air fryers differ in how they cook and chickens vary in size. So be sure to double-check for the doneness of the chicken before serving. A meat thermometer inserted deep into the breast should read 165˚F. Give the bird an extra 5 to 10 minutes in the air fryer if it's not cooked through.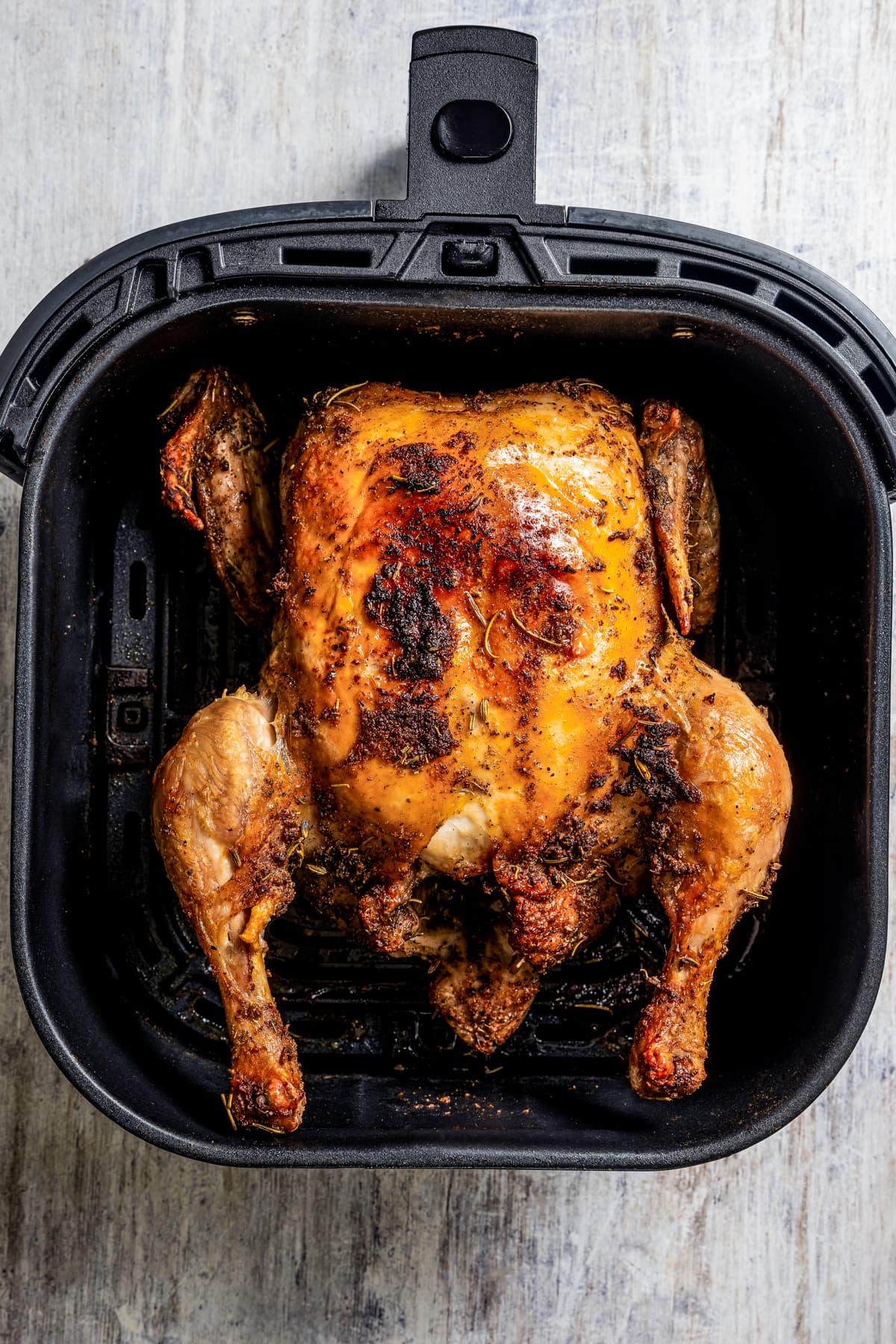 Common Questions
Here come a few of the more frequently asked questions I come across when the subject of rotisserie chicken comes up. I've done my best to answer them for you. If you have any additional questions, please leave them in the comments section below.
How long does rotisserie chicken last in the fridge?
If properly stored in an airtight container, you can keep rotisserie chicken in the refrigerator for 3-4 days.
Is rotisserie chicken healthy?
Yes! Especially if it's homemade. It's a fabulous source of lean protein as well as other essential vitamins and minerals. If you want to cut some calories, stay away from the skin; otherwise, feel free to enjoy guilt-free.
Can you freeze rotisserie chicken?
Yes, you can! Remove the chicken from the bones and shred it. You can save the chicken carcass to make homemade chicken stock. Seal the shredded chicken in an airtight container and store it in the freezer for up to 3 months. Allow it to thaw in the refrigerator before using.
What to Do With Rotisserie Chicken
Cut this chicken into sections and serve it with a tasty side or two. Alternatively (and I love doing this) take the meat off the bone, shred it, and use it as the star protein in your favorite salads, pasta, burritos, and more. Here are some ideas for you:
As a topping (salad or otherwise). Throw some shredded rotisserie chicken on top of these Sheet Pan Lime Chicken Nachos or try it on a salad, My Japanese Kani Salad, this Jennifer Aniston's Bulgur Salad, Lemon Kale Caesar Salad, or my Mediterranean Cobb Salad would be great choices.
As a filling. Shred up some of this juicy chicken and use it as the protein in these Easy Chicken Enchiladas, my Crock Pot Chicken Quinoa Enchiladas Casserole, Creamy Ricotta, Spinach, and Chicken Cannelloni, or these Spinach and Artichoke Dip Quesadillas.
In pasta. Stir some shredded rotisserie chicken into this Chicken Pasta Primavera, Chicken Broccoli Pasta, Mediterranean Baked Feta Pasta, or my Creamy Lemon One-Pot Pasta.
How to Reheat Rotisserie Chicken
To reheat rotisserie chicken, allow it to thaw in the refrigerator (if frozen) before following the instructions below.
In the oven. If the chicken is shredded, spread the desired portion over a sheet pan lined with aluminum foil. Add a tablespoon or two of water or broth, cover with aluminum foil, and bake at 350˚F for 5-8 minutes or until heated through. If you are working with sectioned chicken (whole thighs, breasts, etc.), loosely wrap the chicken pieces in aluminum foil, place them on a sheet pan, and bake at 350˚F for 15-20 minutes or until heated through.
In the air fryer. For shredded chicken, arrange the desired portion in the basket of the air fryer preheated to 350˚F and cook for 4-6 minutes. Shake the basket halfway through. For sectioned chicken, preheat the air fryer to 375˚F, arrange the chicken pieces in the basket, and cook for 5-7 minutes or until heated through.
More Air Fryer Recipes to Try
When air fryers first came out, I wasn't so sure about them. Once I tried a few recipes using one, however, I changed my mind. They are so simple and easy to use, resulting in wonderfully tasty results. Here are a few more air fryer recipes for you to try.
Prep the chicken. Pat the chicken dry, inside and out, with a paper towel and allow it to sit at room temperature for about 15 minutes.

Make the wet rub. Whisk together the salt, black pepper, garlic powder, herbes de Provence, and olive oil in a small mixing bowl.

Season the chicken. Rub the chicken with the wet rub, making sure to get into every nook and cranny. If you can get under the skin without tearing it, try to get some wet rub in there too.

Prep to fry. Preheat the air fryer to 360˚F and spray the basket of the air fryer with cooking spray.

Air fry. Place the chicken, breast side down, in the air fryer basket and fry for 30 minutes. Flip the chicken and fry for an additional 30 minutes.

Check for doneness. Insert an instant-read meat thermometer into the breast of the chicken. If it reads 165 degrees F, you are good to go. If it's not there yet, give the chicken another 5 to 10 minutes in the air fryer before checking again.

Rest. Remove the chicken from the air fryer and let it rest for 5 to 10 minutes before carving it.
Use a smaller chicken, ideally 3 to 4 pounds, to fit well in a 5-quart air fryer.
Dry your chicken with a paper towel to avoid steaming and ensure a crispy skin.
If possible, apply the wet rub under the skin for more flavor. I use the handle of a wooden spoon to carefully separate the skin from the meat.
Preheat the air fryer and grease the air fryer's basket to prevent sticking.
Use a thermometer to confirm the chicken is cooked to 165˚F.
You can serve the chicken in sections or shred it for salads, pasta, burritos, and more.
Serving: 0.25 chicken | Calories: 480 kcal | Carbohydrates: 2 g | Protein: 34 g | Fat: 36 g | Saturated Fat: 9 g | Polyunsaturated Fat: 7 g | Monounsaturated Fat: 17 g | Trans Fat: 0.3 g | Cholesterol: 141 mg | Sodium: 1880 mg | Potassium: 327 mg | Fiber: 0.5 g | Sugar: 0.1 g | Vitamin A: 276 IU | Vitamin C: 1 mg | Calcium: 29 mg | Iron: 2 mg | Net Carbs: 2 g
Nutritional info is an estimate and provided as courtesy. Values may vary according to the ingredients and tools used. Please use your preferred nutritional calculator for more detailed info.