Crisp-tender cauliflower is transformed into a cozy and delicious dinner side dish in this creamy Cheesy Baked Cauliflower recipe. Eating your veggies has never been so indulgent!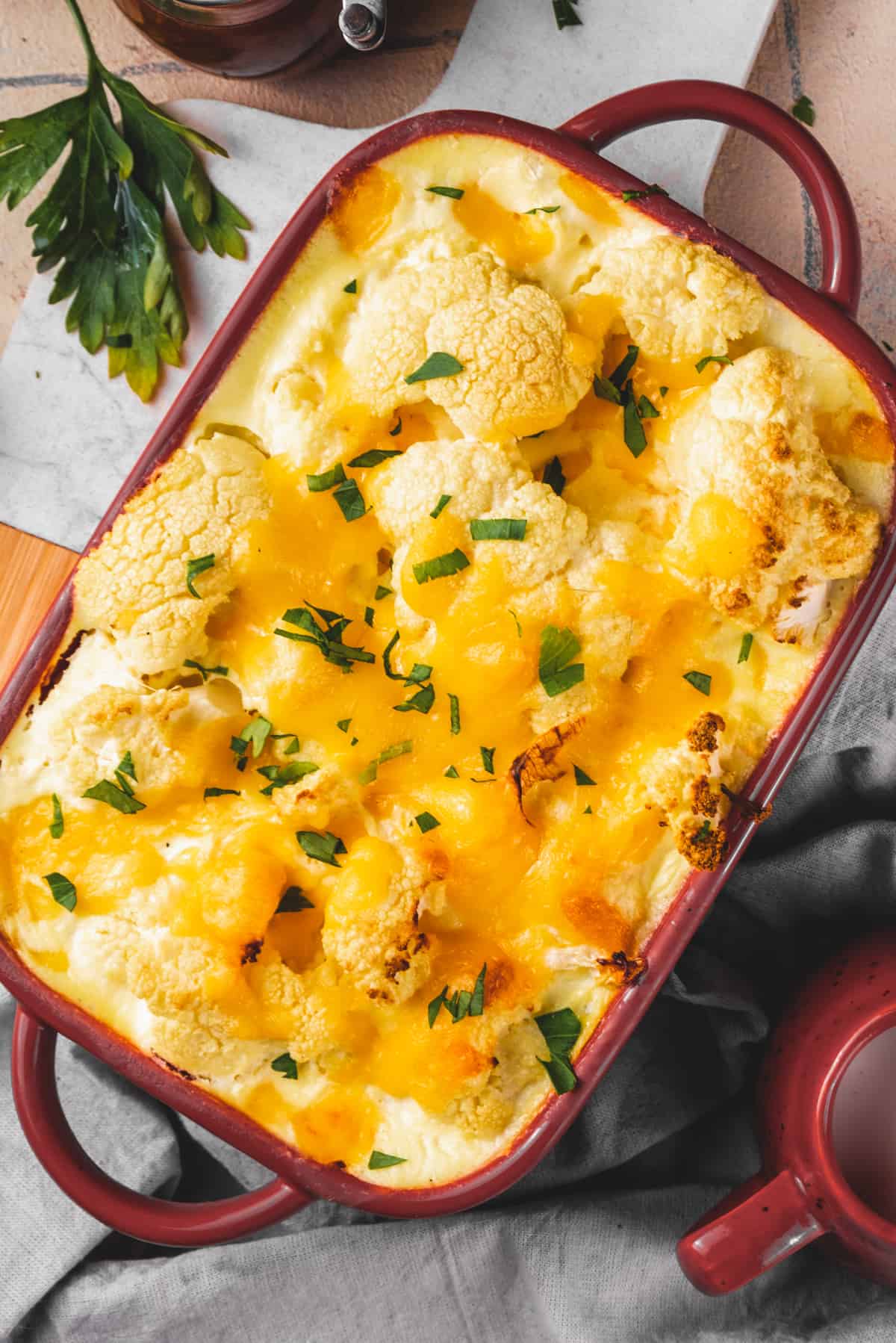 Cheesy Baked Cauliflower with Garlic, Herbs, and Cheese
Nothing says comfort food like smothering something in cheese and throwing it into the oven, amirite? Baked macaroni and cheese is probably the most famous example, but broccoli and cheese is also a beloved cheesy dish. For me, though, cheesy baked cauliflower (or as our British friends call it, "cauliflower cheese") is one of the very best.
You may not think you're a fan of cauliflower, but please try this recipe before you call it quits with the "little white trees!" Cauliflower takes on a whole new dimension when you bake it with cheddar and parm – even die-hard veggie haters will find it hard to resist.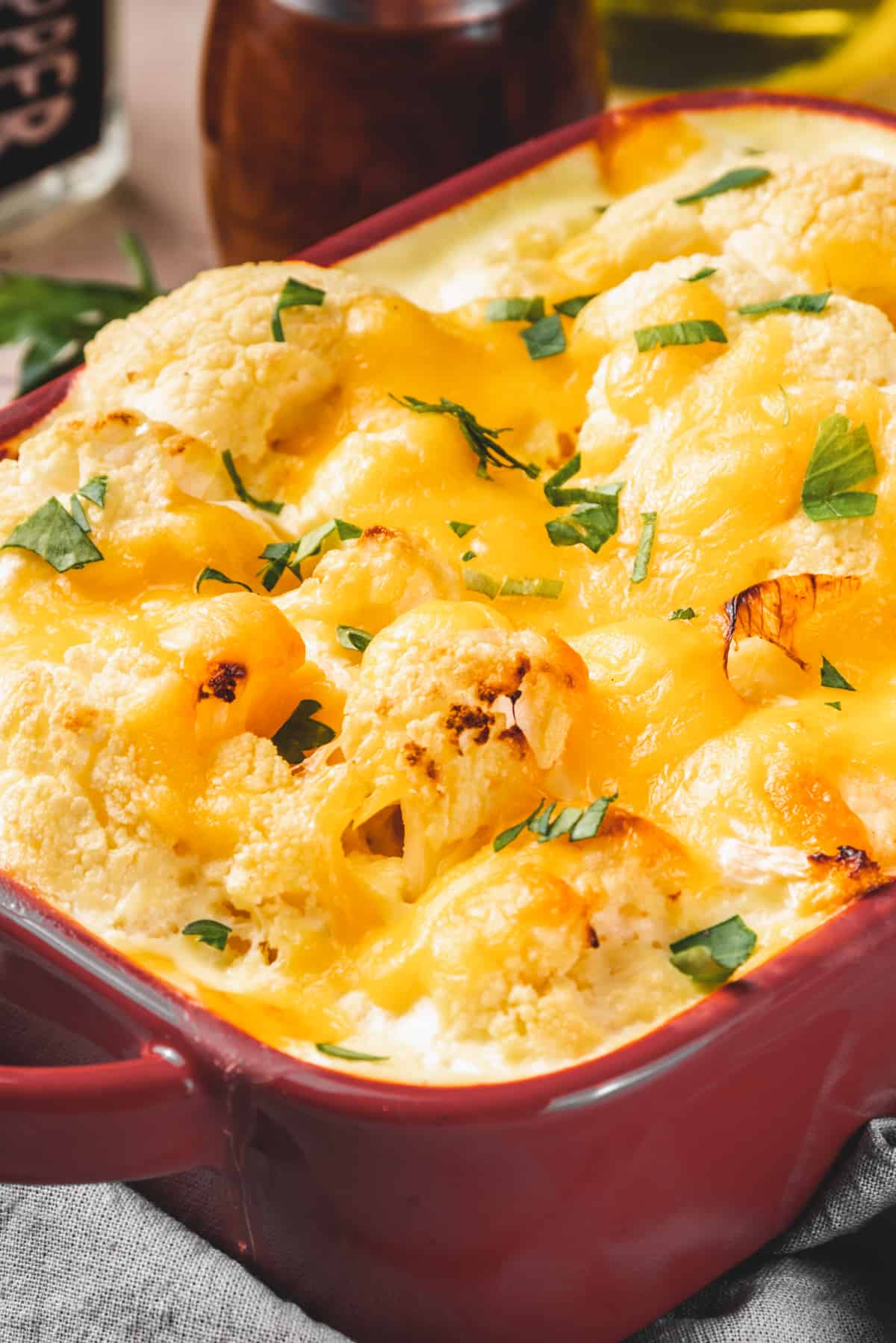 Why Is Cauliflower Good for You?
There are lots of reasons to love this veggie, especially when it comes to health benefits. Cauliflower is naturally high in healthy fiber, which is excellent for digestion. It packs a punch of B vitamins, which keep you energized (among other things), and contains cancer-fighting carotenoids. 
What You'll Need
So what will you need to make this classic comfort food? Not much – just cauliflower, cheese, and other basic ingredients.
Cauliflower: Take a large head of cauliflower, remove the green leaves and the root end, and break it up into florets. 
Butter: Cut the butter into pats.
Cream: Heavy cream makes a rich, creamy sauce without the need for a roux.
Garlic: Minced or pressed.
Cheese: A combination of shredded white cheddar and grated parmesan.
Herbs: Dried thyme and dried rosemary.
Salt and Pepper
Picking a Good Cauliflower
When choosing your cauliflower, make sure to go for a head that's firm with tightly packed florets. A spongy or wilted cauliflower isn't as fresh. Try to pick one that's free from blemishes – a small spot or two can be cut away with a knife, but you don't want one that's been damaged or started to spoil.
Cauliflower should also pass the smell test. All cruciferous veggies have a slightly bitter scent, but overall the cauliflower should smell mild. If there's a strong, offensive odor, it's probably spoiling.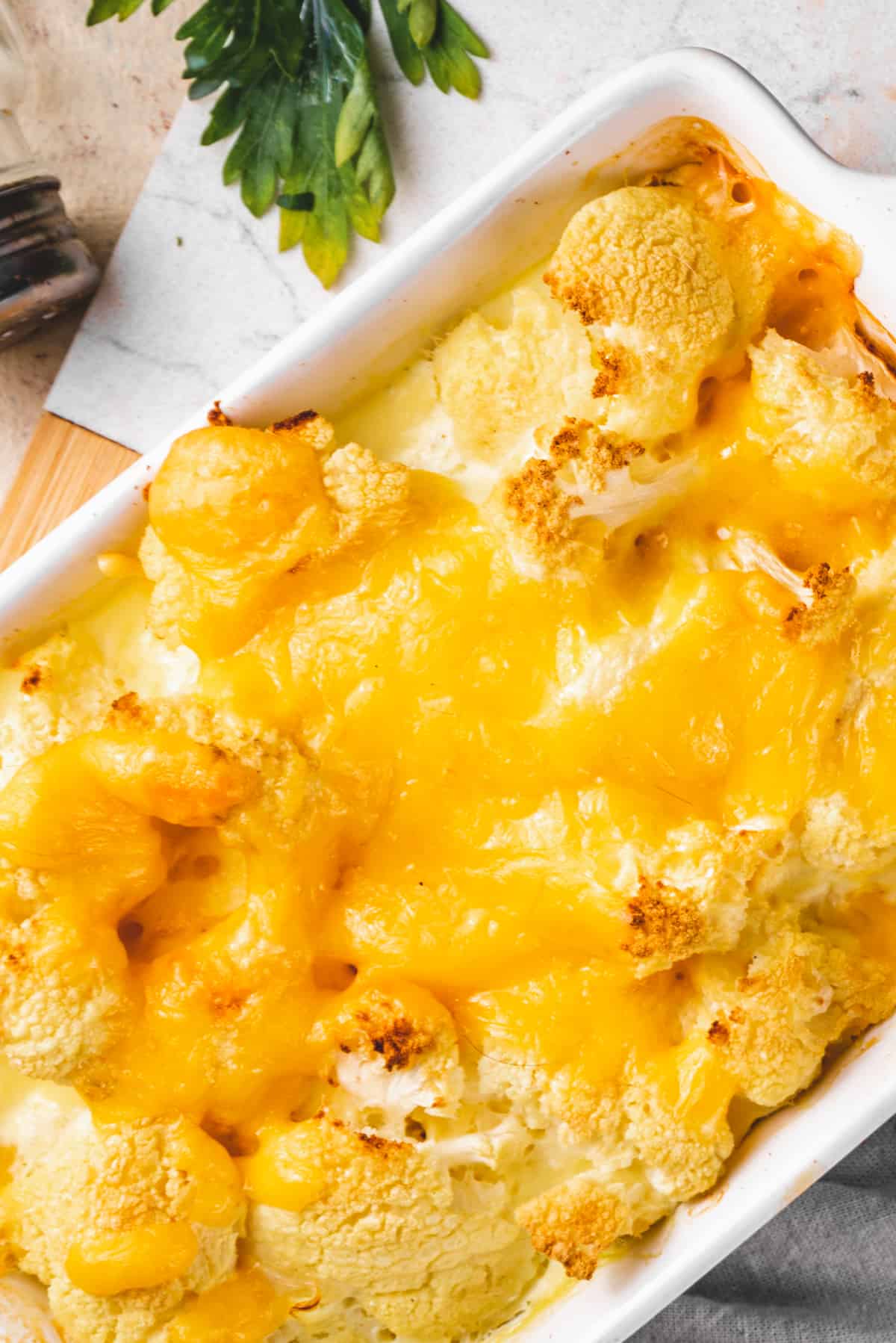 How to Make Cheesy Baked Cauliflower
This is a very simple side dish to make – you won't even need to make a roux to thicken it. The heavy cream does all the heavy lifting.
Prep the Oven, Baking Dish, and Cauliflower. To get started, preheat your oven to 400˚F and grease a baking dish with butter. Next, par-cook the cauliflower florets by bringing them to a boil and then simmering them for 3 to 4 minutes. You want the cauliflower to be fork-tender, but not mushy. Drain it well.
Combine the Cauliflower and Other Ingredients. Get out a large mixing bowl, and place the cauliflower florets, butter, heavy cream, and garlic in it. Add a cup of the shredded white cheddar, half a cup of the parmesan, and the herbs, salt, and pepper. Stir all of these ingredients together. 
Assemble the Casserole. Spoon the cauliflower mixture into your baking dish, and sprinkle the rest of the cheese over the top. 
Bake the Casserole. Slide the dish into the oven, and let it bake for about half an hour, or until the cheese has melted and the top is golden brown.
Enjoy! Let the baked cauliflower stand for about 10 minutes before serving it warm.
Recipe Tips
What else should you know about making baked cauliflower with cheese? These helpful tips will tell you all you need to know. Read on, and bon appetit!
Frozen Cauliflower: You can definitely swap the fresh cauliflower for frozen – just cook it like you would boil the fresh cauliflower and drain it well. You will not need to cook it quite as long – maybe 2 – 3 minutes.
Salt the Cooking Water: Similar to making pasta, you can add salt to the cauliflower cooking water for a boost of extra flavor.
Drain Thoroughly: The most common problem with cheesy cauliflower is having it turn out watery. Make sure you drain the cauliflower really well to avoid a watery result.
Add Panko: For a crunchy topping, try sprinkling Panko on top of the dish about 15 minutes before the end of the cooking time.
Serving Suggestions
Cheesy baked cauliflower is great as a light vegetarian main course or as a side dish with all other main courses. These are just a few ideas for menu inspiration:
Chicken: Creamy cauliflower is the perfect contrast alongside crunchy, crispy Chicken Milanese. These breaded cutlets are loaded with zesty flavor.
Roast Beef: Oven Roasted Tri-Tip is wholesome, nourishing, and an absolute classic, just like this cauliflower bake. So why not serve them together? Now those are the makings of a satisfying meal.
Sausage and Potatoes: Try making Air Fryer Sausage and Potatoes, and you'll never look back! This crispy air fryer meal is quick, bold, and filling. Add some cheesy cauliflower and watch it all disappear!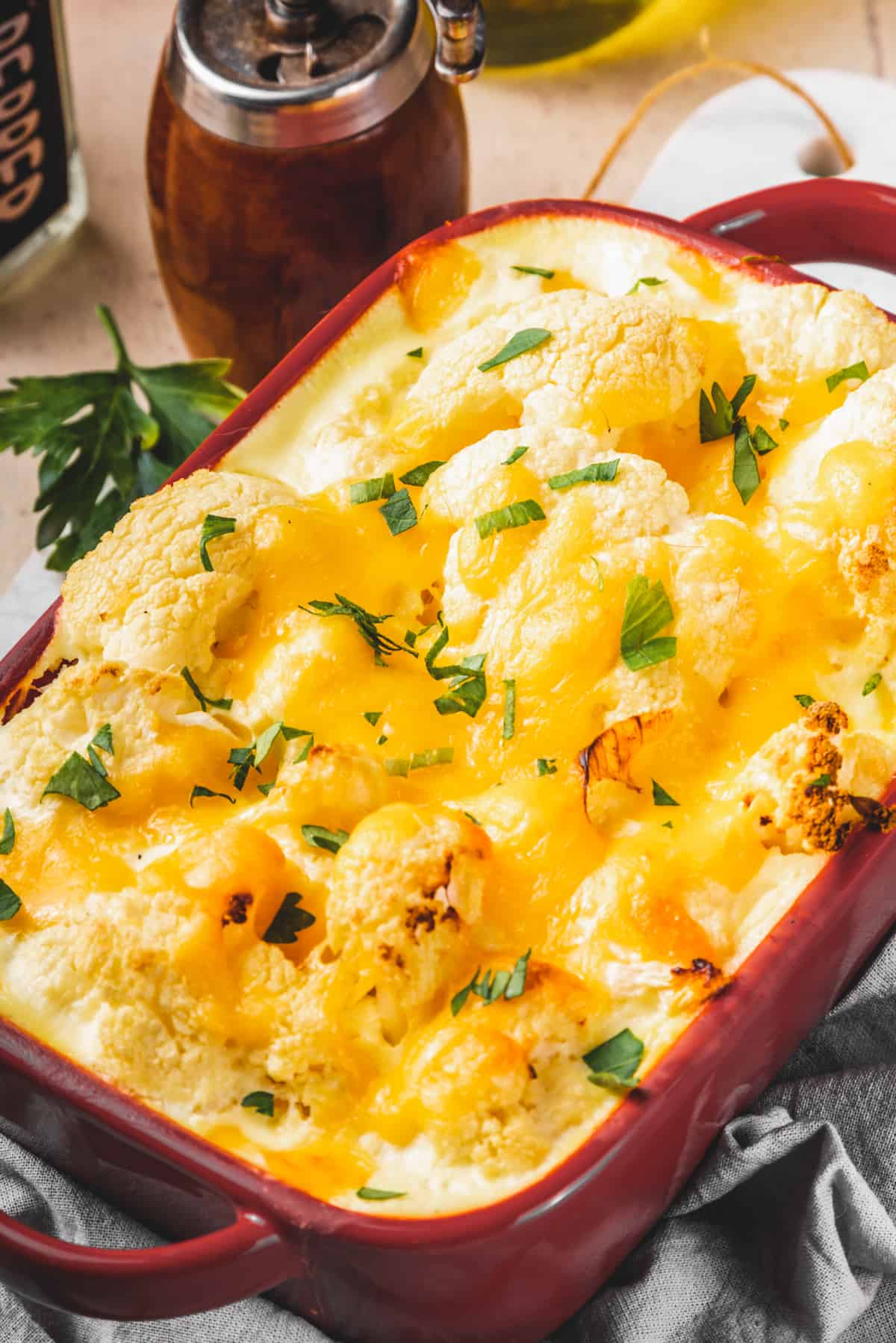 How to Store and Reheat Leftover Baked Cauliflower
Leftover cheesy cauliflower should be covered tightly and stored in the fridge. It will keep for 2 to 3 days.
Reheat in the microwave, or bake in the oven at 350˚F until heated through.
Can I Freeze Baked Cauliflower?
While it is possible, I don't recommend freezing this dish because the creamy cheese sauce can sometimes have a watery texture after freezing and thawing. 
ENJOY!
Preheat oven to 400˚F.

Butter a 2.5 to 3 quart baking dish and set aside.

Place cauliflower florets in a cooking pot and cover with cold water; set over high heat and bring to a boil.

Reduce heat to medium-low; cover the pot and simmer for 3 to 4 minutes, or until cauliflower is fork tender, but not mushy. Drain well.

In a large mixing bowl, combine cauliflower florets, butter, heavy cream, garlic, ½ cup shredded white cheddar cheese, ½ cup shredded sharp cheddar cheese, ½ cup parmesan cheese, thyme, rosemary, salt, and pepper. Stir until completely combined.

Transfer the cauliflower mixture to the previously prepared baking dish.

Sprinkle the remaining cheeses over the top.

Bake for 30 to 32 minutes, or until cheese is melted and top is golden brown.

Remove from oven and let stand 8 to 10 minutes.

Serve.
Cauliflower: I use a large head of cauliflower and break it up into smaller florets. If you want to buy a bag of cauliflower florets, you will need about 5 to 6 cups. 
Cheeses: You can use any combination of shredded cheeses, but I think cheddar is best for this cheesy cauliflower recipe.
Drain: The most common issue with baked cauliflower is when it turns out watery. To avoid this problem, drain the cauliflower well and don't overcook it.
To make ahead: Assemble the casserole up to one day in advance, cover it, and keep it refrigerated. Bake before serving.
Calories: 302 kcal | Carbohydrates: 7 g | Protein: 12 g | Fat: 26 g | Saturated Fat: 15 g | Polyunsaturated Fat: 1 g | Monounsaturated Fat: 6 g | Trans Fat: 0.3 g | Cholesterol: 75 mg | Sodium: 486 mg | Potassium: 282 mg | Fiber: 1 g | Sugar: 2 g | Vitamin A: 831 IU | Vitamin C: 35 mg | Calcium: 342 mg | Iron: 1 mg | Net Carbs: 6 g
Nutritional info is an estimate and provided as courtesy. Values may vary according to the ingredients and tools used. Please use your preferred nutritional calculator for more detailed info.
More Easy Cauliflower Recipes