Overnight oats are a convenient, healthy, no-cook breakfast option that can be prepped in advance in less than 5 minutes and taken on-the-go. In this post, you'll find a basic vegan overnight oats recipe as well as tips for adding toppings and flavorings.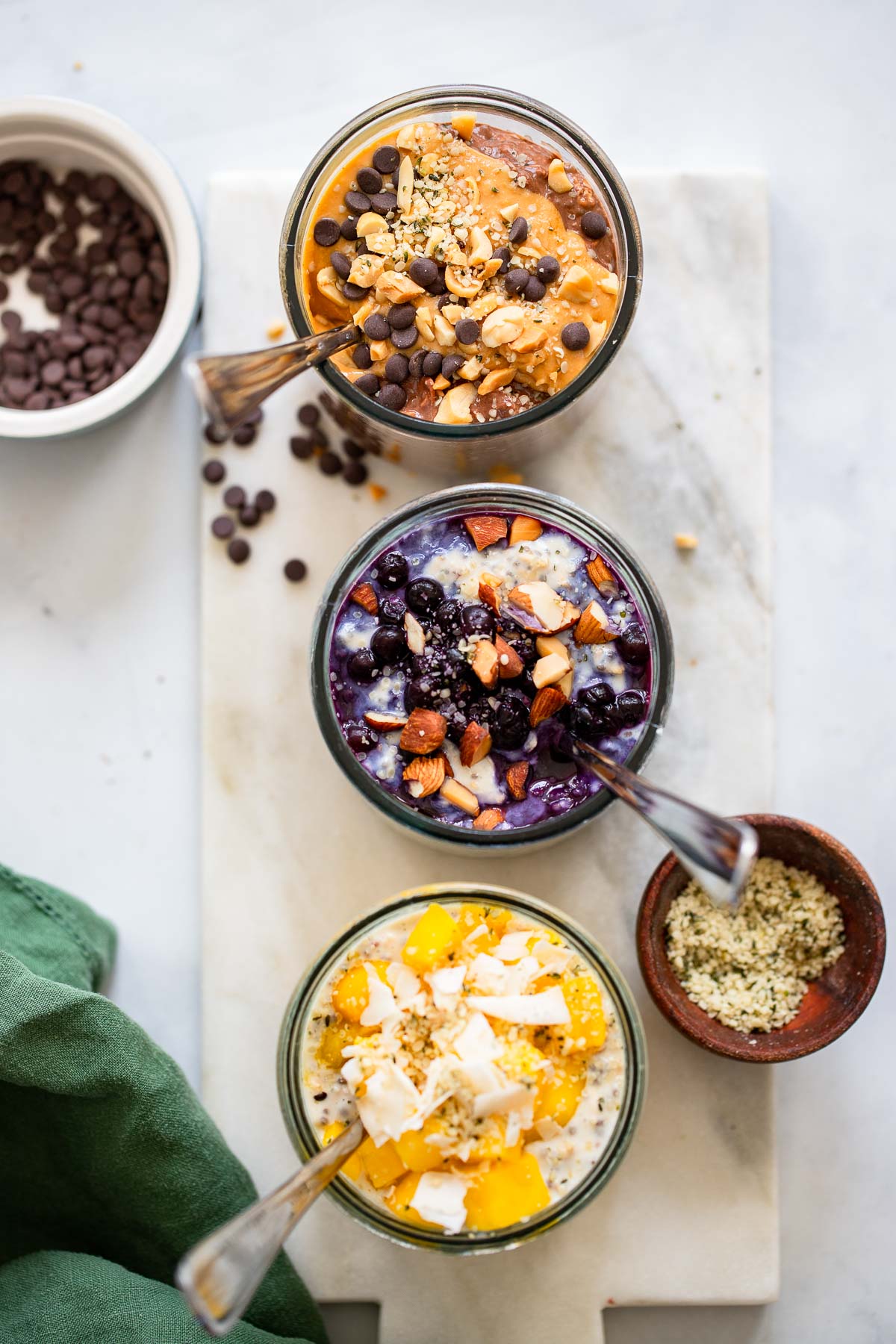 This post was originally published August 2016; updated April 2023.
Overnight oats are the epitome of an easy breakfast meal prep option. Not only are they super easy to whip up in large batches and taste better over time, but the options for different flavors and toppings is basically endless! Plus, as a plant-based dietitian, I love all of the health benefits that an oatmeal breakfast provides.
Oats are a great budget-friendly pantry staple so all the more reason to learn how to make a good batch of overnight oats. I've had my fair share of boring and bland batches of overnight oats, but I'm here to save you from that. In this post, I'll provide you with everything you need to know about making a better batch of vegan overnight oats.
What are Overnight Oats?
Overnight oats are the no-cook cousin of a bowl of hot oatmeal. They are super simple to make, all it takes is some patience as the oats need time to soak. To make overnight oats, you combine uncooked old fashioned oats with milk (or water) and allow them to soak for at least 4 hours to overnight.
As the oats sit, they absorb all the milk and soften so there's no need to cook them! Just add your favorite toppings or stir in some flavorings like cinnamon or vanilla and your overnight oats are ready to eat.
Why You'll Love this Recipe
No-Cook: unlike your traditional bowl of oatmeal, overnight oats need no cooking! As the oats sit in the milk, they soak it up and soften so you can eat it without ever heating it up. Great for a healthy dorm friendly breakfast or even a mid-afternoon snack.
Scalable: the base recipe below is for one serving, but it can easily be scaled to meal prep several servings of overnight oats at the same time. Perfect for a grab-and-go breakfast for busy parents and teens.
Endlessly Customizable: use this base overnight oats recipe to create a wide variety of different flavor options. In this post, I provide some of my favorite toppings and flavorings.
Diet & Allergen Friendly: this recipe is vegan, dairy free, egg free, and gluten free (when using gluten free certified oats).
Ingredients You'll Need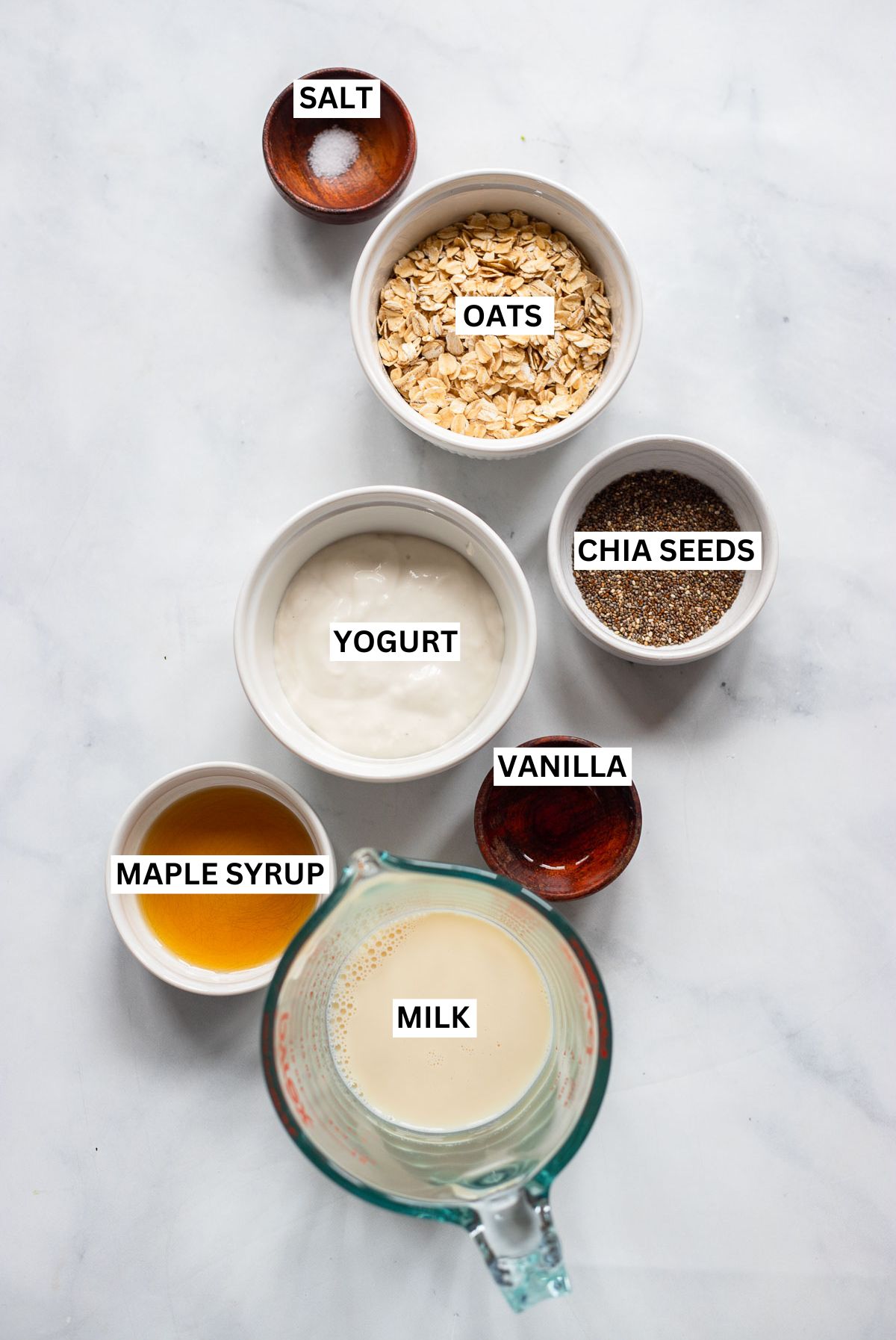 Old Fashioned Oats: Choose regular old fashioned rolled oats for overnight oatmeal. Since your oats are going to be sitting in liquid for several hours, you want to achieve the perfect balance between too mushy and too chewy. Quick cooking oats are too mush-y for my taste and steel cut oats are too chewy. 
Milk: To make these vegan, I use plant-based milk for my overnight oats. I typically use soy milk because it is higher in protein than other non-dairy milks, but you can use any plant-based milk you prefer like almond, hemp, oat, rice, or cashew.
Yogurt: To make your overnight oats extra creamy, add some yogurt. Any type of yogurt will do, but I like to use a plant-based yogurt, especially one that has at least 7 grams of protein per serving.
Chia seeds: Using chia seeds takes your overnight oats to another level by making them more pudding-like. They are technically optional, but I feel like this base overnight oats recipe is so much better with them.
Maple Syrup: Add a touch of sweetness to your overnight oats with some maple syrup. You can easily skip the maple syrup if you want to make the recipe sugar free. If you don't like maple syrup, you can also use brown sugar, coconut sugar, or agave.
Salt: It may seem counterintuitive to add a pinch of salt to your overnight oats, but I promise you that a dash of salt takes your overnights oats from meh to Y-U-M!
Nutrition Boosters
Flax seeds: instead of chia seeds, you can add 1 tablespoon of ground flaxseed to your oats. It has many health benefits such as heart healthy fats and fiber.
Protein powder: add 1/2 scoop of your favorite plant-based protein powder to your overnight oat mixture before chilling to boost the protein content.
Why This Recipe is the Best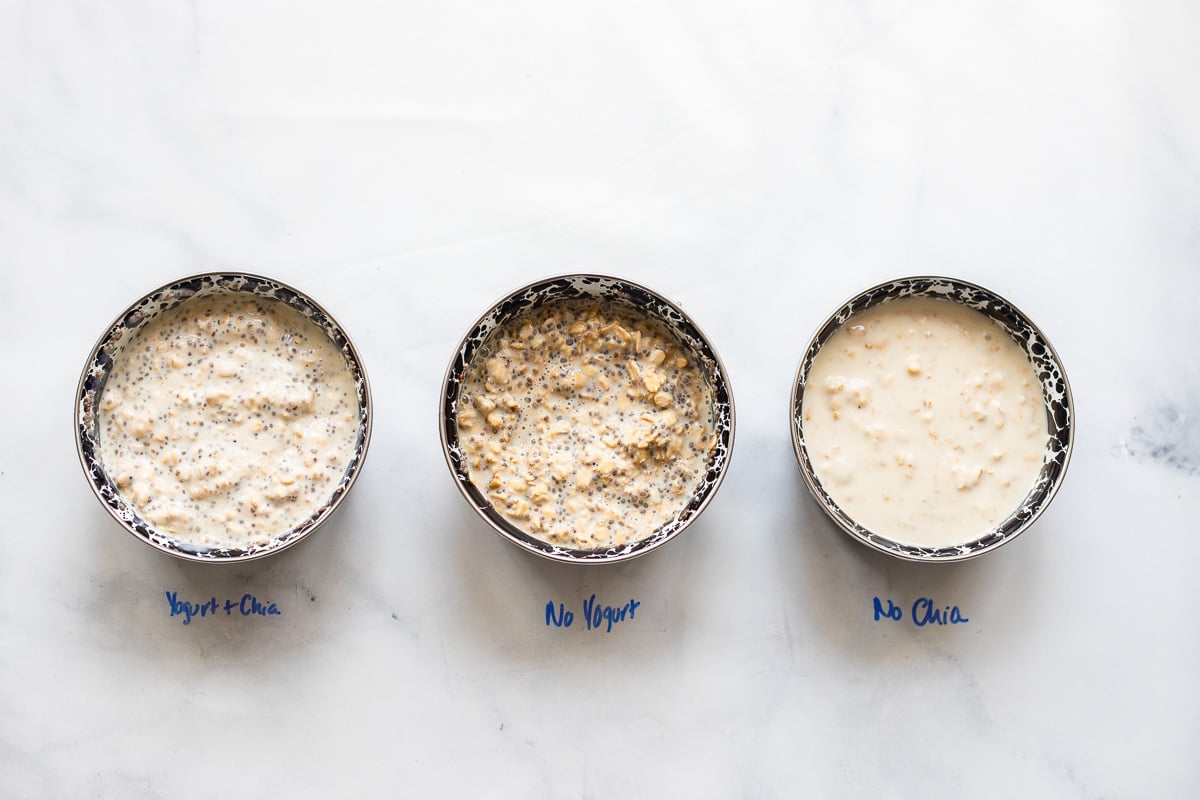 I have tried so many different recipes for overnight oats before I perfected this one. I thought I would make three batches at once for a side-by-side comparison. Swapping out just one ingredient can make a big difference!
Base Recipe w/Yogurt and Chia Seeds: as you can see in the photo above, this version is the creamiest version of the three which is why I love it so much! The combination of milk, chia seeds, and vegan yogurt make this version so delicious.
Base Recipe w/No Yogurt: as you can see, this version still looks pretty thick, but not quite as creamy as the one with yogurt. If you don't like yogurt, this is a great option. Use soy milk or another higher protein plant-based milk for more creamy oats. (Using almond milk can make it too watery.)
Base Recipe w/No Chia Seeds: this version still has tons of creaminess, but the overall mixture is thinner since you don't have the chia seeds to soak up some of the milk. If you don't have chia seeds, reduce the milk in the base recipe to 1/2 cup for thicker oats.
How to Make Overnight Oats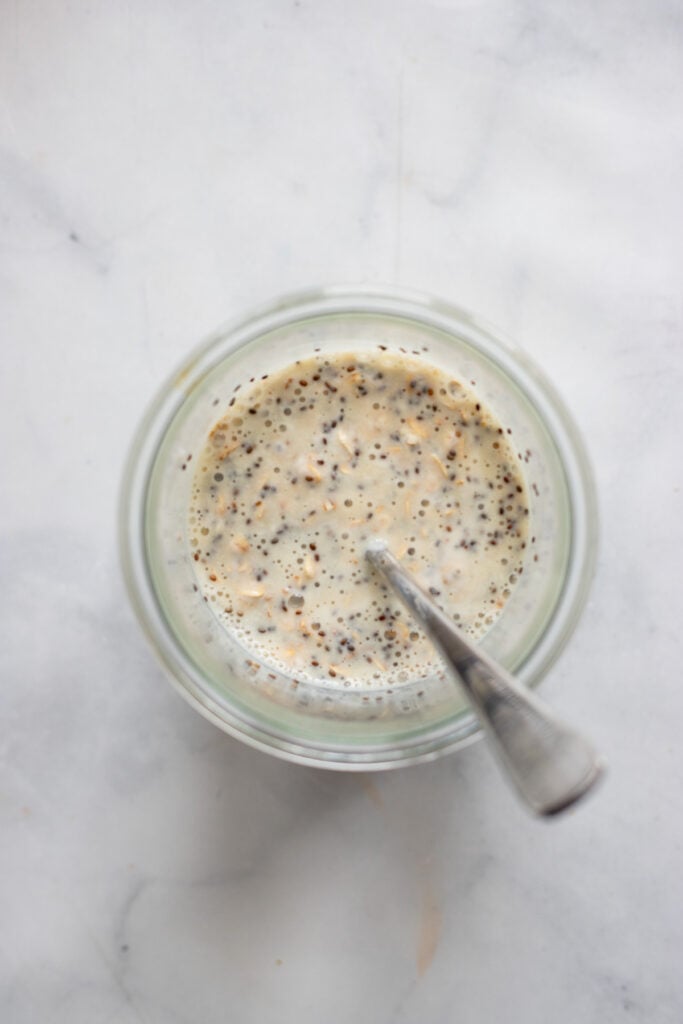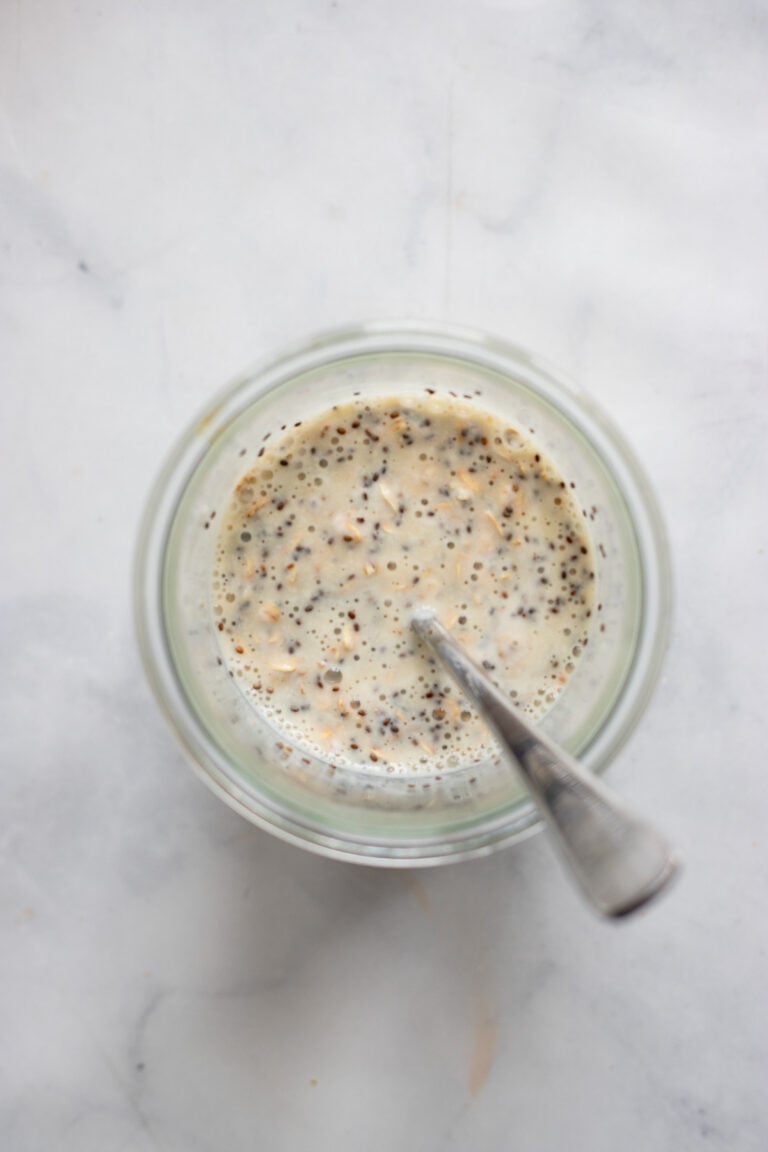 Step One: Add all of your ingredients to a bowl or single serving container and stir well to combine. If using frozen fruit, add them now so they can thaw as the oats soak overnight. Cover and store in the fridge until ready to serve.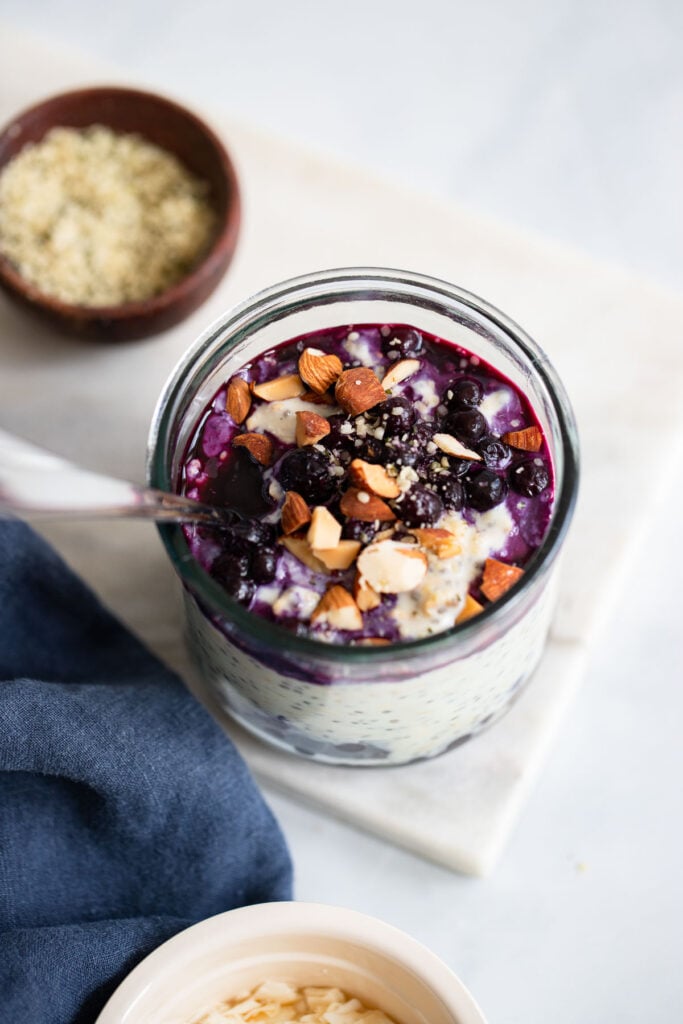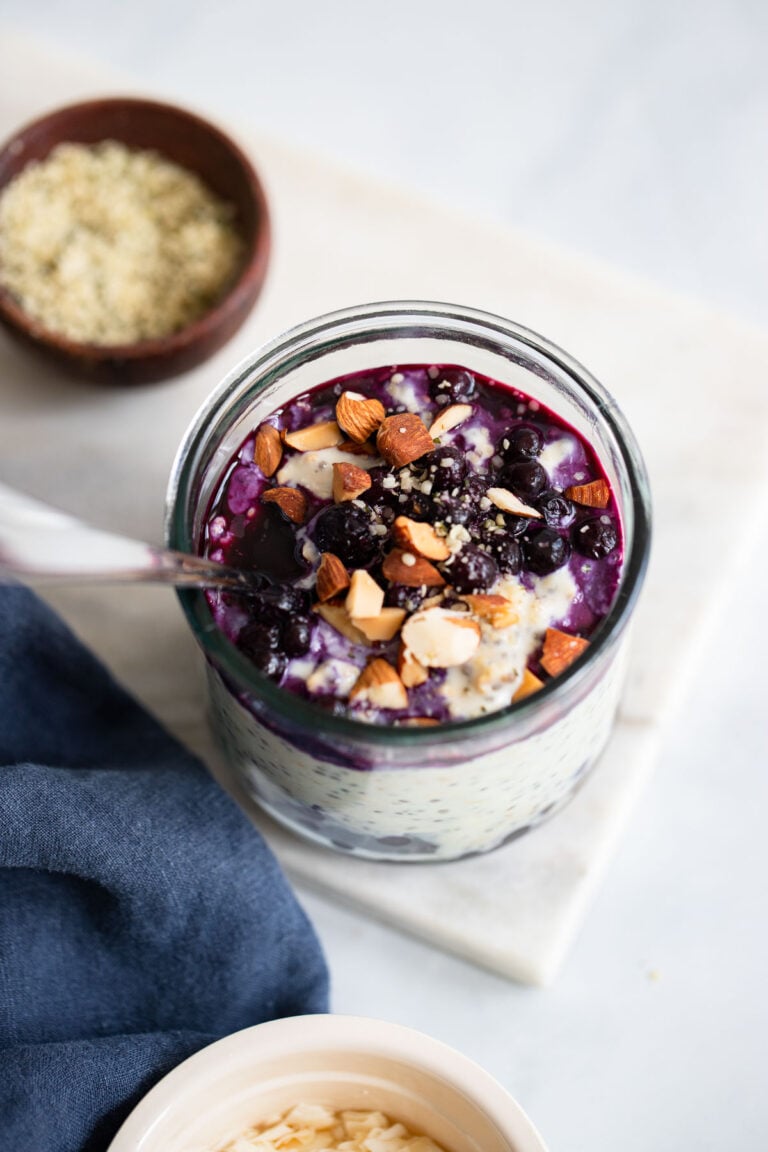 Step Two: Before serving, add desired toppings (see the list below for suggestions) and enjoy!
Add-ins and Topping Suggestions
The options feel endless as far as how to add flavor to your overnight oats. Since the base recipe is pretty simple, you'll want to add some other ingredients to make it more exciting. Here are a few of my favorite add-ins and topping suggestions.
Fresh or frozen fruit: both work well in overnight oats. When using frozen fruit, I add it to the jar/container first and put the overnights over top. The fruit thaws in the fridge overnight and then I just give everything a good stir in the morning.
Cooked fruit: when there is lots of great seasonal fruit in the spring and summer I like to make a fruit compote to add to my oats (it's super simple!). Here are my favorites: strawberry rhubarb compote and simple peach compote.
Spices: some of my favorite spices for using in overnight oats are cinnamon, nutmeg, ginger, and pumpkin pie spice.
Vanilla extract: add a hint of vanilla by stirring in some vanilla extract or paste into your oats before chilling.
Cocoa powder: a tablespoon or two of cocoa powder mixed into the oats adds a rich chocolatey flavor. Chocolate chips or cacao nibs are also great ways to add some chocolate!
Nut butter: add some healthy fats and a bit of protein by topping your oats with 1-2 tablespoons of nut butter like peanut butter, almond butter, or cashew butter.
Nuts and seeds: add some crunch as well as healthy fats with nuts or seeds on top of your oats. Some of my favorites include: hemp hearts, pumpkin seeds, almonds, walnuts, peanuts, and pecans.
Coconut: sprinkle your oats with unsweetened shredded coconut or coconut flakes before serving for a hint of coconut. Goes great when paired with a tropical fruit like mango or papaya.
Dried fruit: add your dried fruit like cranberries or raisins to the oat mixture before chilling and they will plump up and soften with the oats (it's so good!). If you don't like your raisins soft, just add them to the top of your oats when ready to serve.
Granola: since overnight oats are soft and chewy, I like to break things up with a crunchy topping like some nuts or granola. Here is my favorite vegan granola recipe.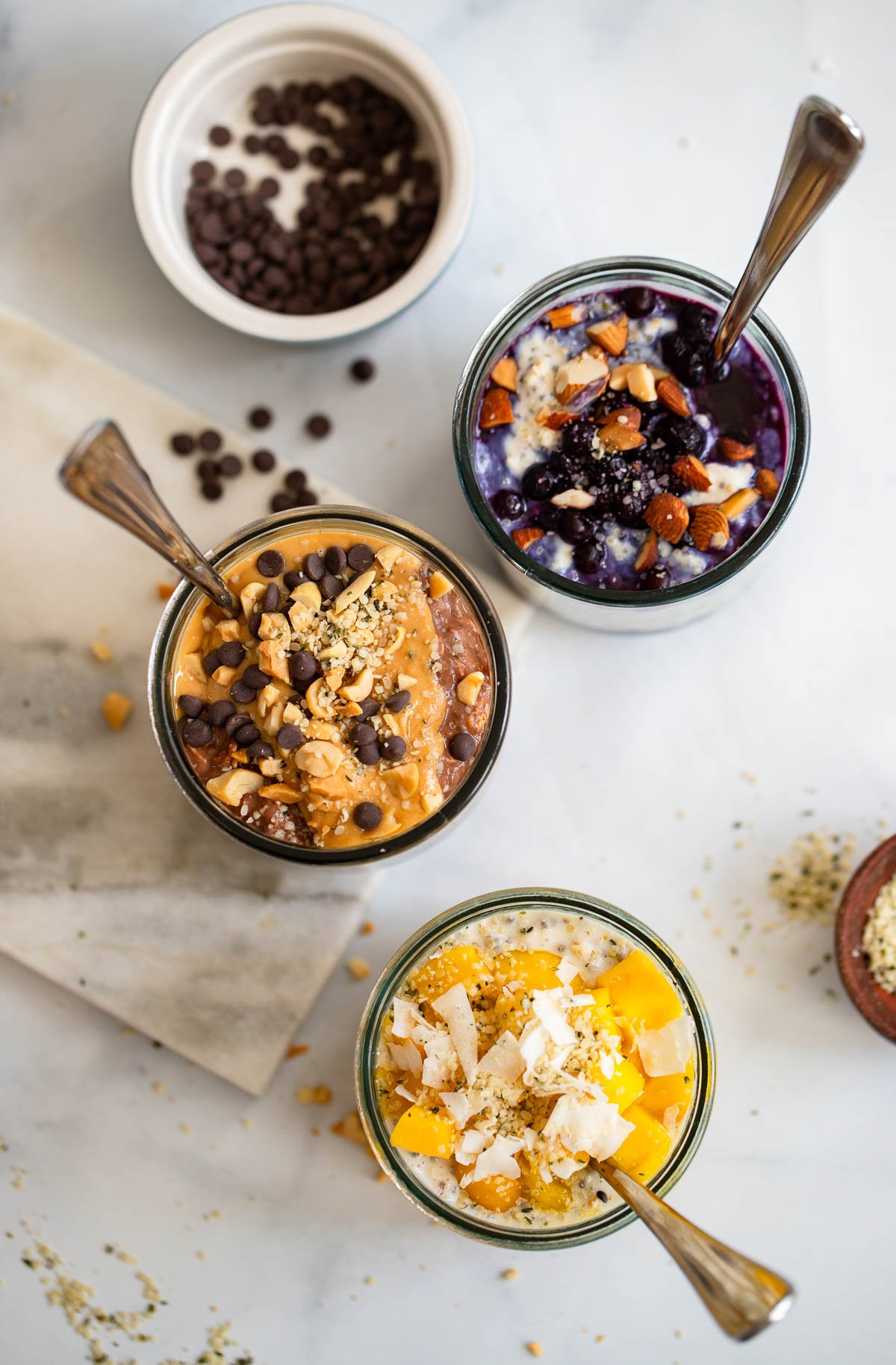 Flavor Variations
Since the base recipe in this post is so simple, it creates a great canvas for adding a variety of other flavor combinations! Here are some of my favorite ways to add flavor:
Tropical: use coconut milk for soaking your oats, add fresh or frozen mango pieces to the oats, and top with coconut flakes for a beach-y version.
Pumpkin spice: infuse your overnight oats will tons of fall flavor by mixing some pumpkin puree and pumpkin pie spice into your oats before chilling. I love to serve this one with some chopped walnuts or pecans on top.
Lemon blueberry: for a fresh lemon-y zing, add some lemon zest to the oat mixture before chilling. It pairs well with a handful of fresh or frozen blueberries (or strawberries).
Apple cinnamon: add cinnamon and chopped apples to your oats before chilling for this flavor variation. Sometimes, I will cook my apples in a bit of cinnamon and maple syrup in a skillet to soften them before adding to my oats. So good!
Chocolate peanut butter: add some cocoa powder to your oats and then top them with a tablespoon or two of peanut butter when ready to serve for this classic flavor combination.
Carrot cake: before chilling your oats, stir in some finely shredded carrot, nutmeg, and cinnamon. When ready to serve, top with some coconut, raisins, and chopped walnuts.
Peanut butter and jelly: stir 1-2 tablespoons each of your favorite jam and some peanut butter to flavor your oats.
FAQs
Do you have to soak overnight oats overnight?
For the best results, you should try to let your oats soak for at least 4 hours but preferably overnight for the best texture/consistency. Since you aren't cooking the oats, you want to give them enough time to soak up the milk and soften.
Do you eat overnight oats hot or cold?
Either way! I like to eat them cold and just simply grab a jar and spoon as I am heading out the door to work. You can heat them up if you prefer warm oats. Just pop it into the microwave for about 60 seconds, stir, and eat.
Are overnight oats healthy?
Yes! Whole grains, like oats, have been noted to lower the risk of chronic diseases like heart disease, type 2 diabetes and colorectal cancer. In addition, many studies have noted that a diet higher in whole grains (at least 3 servings/day) is associated with a lower BMI.
Can I use instant oats for overnight oatmeal?
Yes, you can use instant or quick oats for overnight oatmeal, but it will have a softer/mushier texture than if you use old fashioned rolled oats.
When should I add the fruit or other toppings for overnight oats?
That is totally up to you! I usually add fresh or frozen fruit when I am filling my jars to chill overnight, but you can also add everything in the morning. If you have any crunchy toppings like coconut flakes or granola, add those right before serving so they don't get soggy.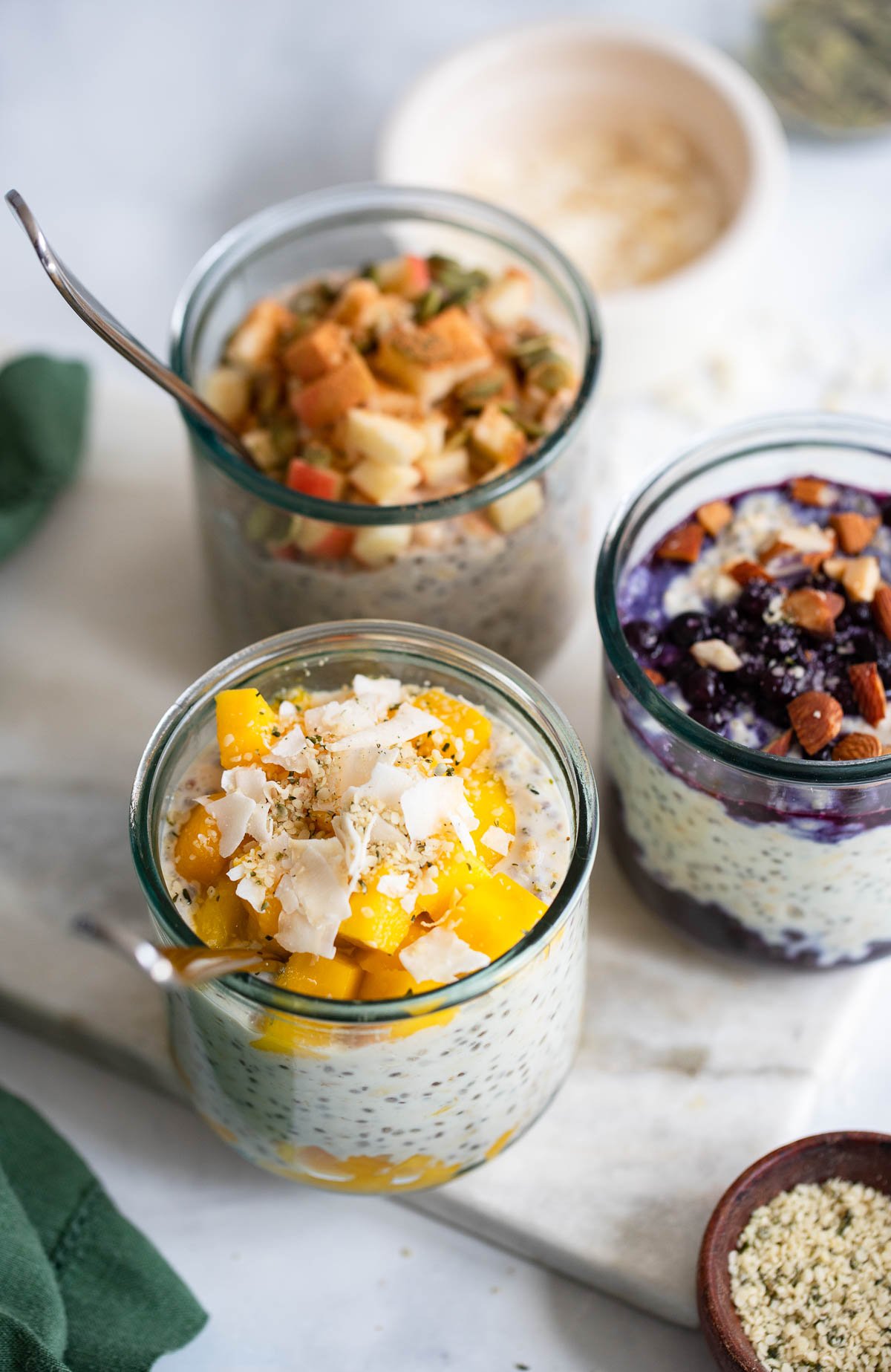 Expert Tips
Batch Prep: Rather than make one serving of overnight oats at a time, you can batch prep at least 5 servings at once at the beginning of the week. They store well in the fridge for up to a week so just adjust the portions of the recipe below to batch prep as many servings as you need.
Use Old Fashioned Rolled Oats: quick cooking oats will work for this recipe, but they become mushy when chilled. However, if you like a softer, more pudding-like texture that might work for you! You just want to avoid steel cut oats as they will not soften enough overnight to be edible by morning.
Oats too thick?: If you meal prepped your oats, you may find them to be thicker after 2-3 days so just stir in a splash of milk to thin them out again.
What jars do you use for overnight oats?
You can make these recipes in any jar that can hold at least 2 cups of liquid. However, if you want to step up your overnight oat game, I liked these Weck 1/2 liter jars since they have a wide top which makes it easier to add toppings and eat out of with a spoon. I also like these wide mouth Ball jars. Rather than the metal lid and ring, we bought a set of these reusable plastic lids for our jars.
Storage
Refrigerator: store overnight oats in an airtight container or mason jar in the refrigerator for up to 4-5 days.
Freezer: you can freeze this overnight oats recipe in an airtight container for up to 3 months. Allow to thaw in the fridge overnight before serving.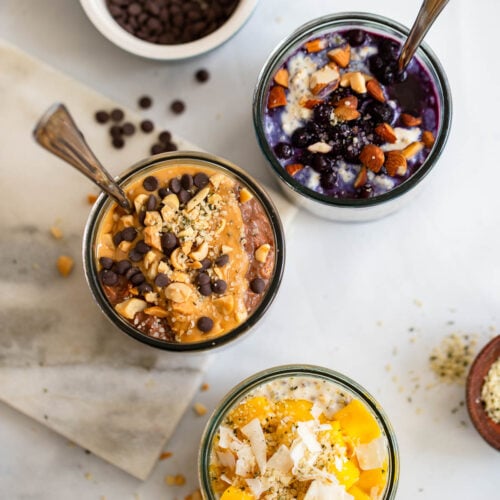 Vegan Overnight Oats
Overnight oats are a convenient, healthy, no-cook breakfast option that can be prepped in advance and taken on-the-go. In this post, you'll find a basic vegan overnight oats recipe as well as tips for adding toppings and flavorings.
Prevent your screen from going dark
Instructions
Add all of your ingredients to a bowl or large mason jar. Stir well to combine, cover, and store in the fridge for 4 hours to overnight until thickened.

To serve, no need to cook – just add your favorite toppings and eat them chilled.
Notes
Chia seeds: if you don't have chia seeds, you can use 1 tablespoon ground flaxseed instead. If you don't have flax or chia, just reduce the milk from 3/4 cup to 1/2 cup. 
Storage: overnight oats can be stored in the fridge for up to 4-5 days. You can also freeze them for up to 3 months. Allow to thaw in the fridge overnight before serving.
Nutrition
Serving: 1serving | Calories: 382kcal | Carbohydrates: 57g | Protein: 15g | Fat: 11g | Saturated Fat: 1g | Polyunsaturated Fat: 6g | Monounsaturated Fat: 2g | Trans Fat: 0.02g | Sodium: 122mg | Potassium: 462mg | Fiber: 9g | Sugar: 17g | Vitamin A: 384IU | Vitamin C: 10mg | Calcium: 445mg | Iron: 4mg
Reader Interactions