Make easy Macedonian Ajvar, a homemade roasted red pepper relish that tastes great on just about everything! Use this traditional jam-like condiment on your favorite grilled meats, bread, and more.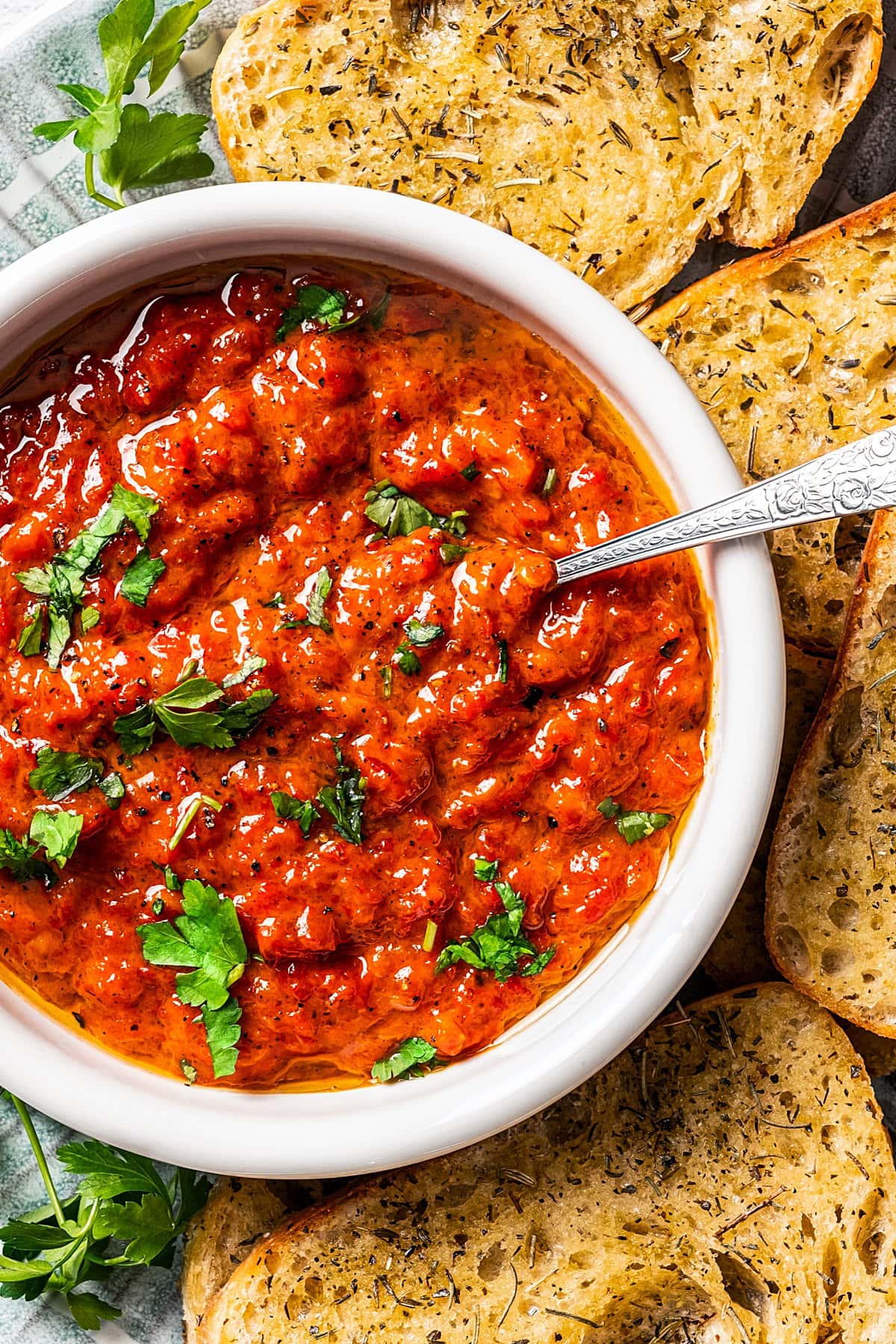 Easy to Make Ajvar Recipe
If there were ever a food that I could not be without, it would have to be Ajvar (eye-vahr). This slightly tangy, slightly sweet, and holy delicious roasted red pepper relish recipe is a staple Macedonian and Balkan food. 
Growing up in Macedonia, I remember the late summer and early fall as the prime Ajvar season, when red peppers were at their peak. The creation of Ajvar was more of a communal event. Villagers would unite, roasting and preparing peppers over an open flame. In urban areas, this ritual was done with neighborhood gatherings. I fondly recall weekends dedicated to Ajvar-making. All of us kids would come together to peel the peppers that our moms and grandmas were roasting, and dreaming of our first bite of Ajvar spread on a slice of bread and topped with crumbled cheese. Regrettably, modern industrial production has overshadowed these traditions, offering a diluted version of the original recipe, so for a true Ajvar experience, crafting it from scratch remains essential.
Why You'll Love This Recipe
I always knew winter was coming when Ajvar was cookin'. Our Ajvar rarely made it to the pantry, though. We always devoured it way before the snow appeared. Here's why you'll love this traditional relish recipe just as much as we do:
Simple ingredients. Make this delicious Macedonian-style red pepper relish with just 4 ingredients. Minimal ingredients, major flavor!
Flavorful. Roasting the peppers at peak ripeness gives the relish a deep, smoky flavor while simmering afterward adds sweetness. 
Versatile. I'm not kidding when I say that you can spread this relish on anything. Meats, bread, pizza, you name it. The sweet smokiness of the roasted red peppers compliments so many dishes. We go through jars of this stuff year-round.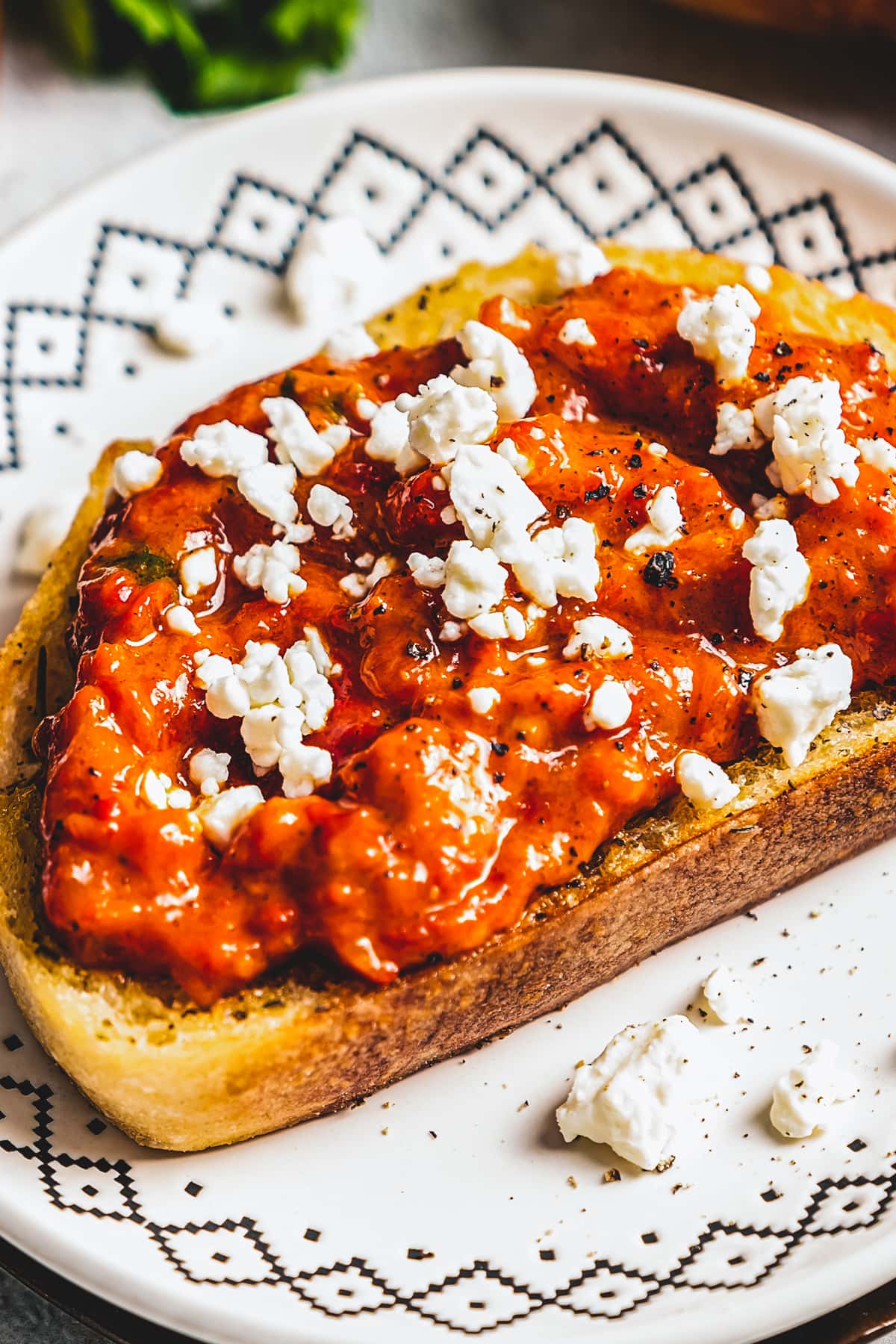 What Is Ajvar?
Ajvar is a bright red pepper relish that's traditionally from Macedonia, though loads of variations exist throughout the Balkans. Ajvar translates to "caviar" – or as I like to call it, the poor man's caviar – and it's commonly used as a topping for bread with a sweet, tangy, slightly smoked flavor that's totally irresistible.
Every grandma and mama has their own recipe and way of making it, though one ingredient is certain: roasted red peppers. Other Ajvar recipes may include eggplant, garlic, green peppers, etc. But I love the Macedonian version the most. It's very simple because all you need is red bell peppers, salt, pepper, and sunflower oil.
How to Make Ajvar
I'll warn you now: your house is about to smell amazing! Roasted red peppers bring back so many fond memories for me. Below, I go over the steps for making your own Ajvar. Be sure to scroll down to the recipe card for a full ingredient list and detailed instructions.
Prep the ingredients. While the oven gets nice and hot, give your peppers a rinse. Once dried, prick them all over with a fork. This allows the steam to escape while they roast.
Roast the peppers. Roast the peppers, turning them every so often so that they blacken evenly. It's important to note that while they roast, the heat also caramelizes some of the natural sugars bringing out the sweetness in the pepper. Afterward, seal the roasted peppers in a plastic bag, and leave them to soften in the steam. The skins should come off easily. Once you've peeled and deseeded the peppers, add them to a mesh bag, and let them drain overnight. Then transfer them to a food processor and pulse until they reach a consistency similar to chutney.
Cook. Next, you'll add the pureed red peppers to a pot, along with olive oil, salt, and pepper. Slowly cook the relish for 2 to 3 hours, stirring often. Once it's ready, season your Ajvar to taste, and then take it off the heat to cool for a bit.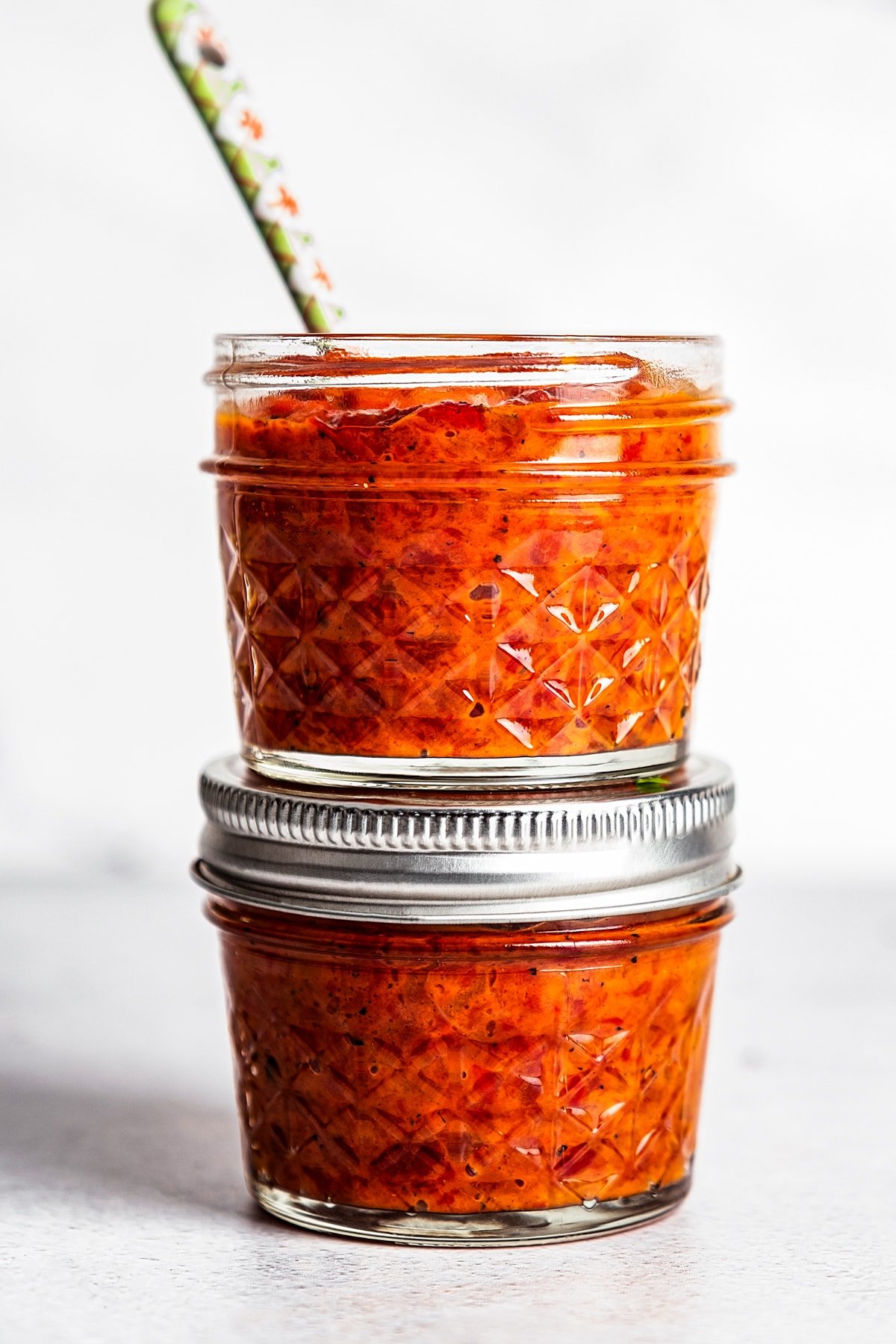 Canning Ajvar At Home
While your Ajvar is cooking, you'll prepare your jars for canning. Below we'll walk through a basic at-home canning process. You can use this method for all sorts of canning, from Ajvar to homemade strawberry jam, plum cardamom jam, and more.
Sterilize the jars. First, wash the jars thoroughly, and then heat them in the oven at 180ºF for 30 minutes. Meanwhile, add the lids to a bowl and cover them with boiling water. Wipe the rims of the jars before closing them with the lids.
Pasteurize. Next, you'll need to pasteurize the Ajvar to prevent bacteria from entering the jars. It's easy to do. Divide the Ajvar evenly between your sterilized jars, and arrange the filled jars on a baking sheet. Afterward, place the jars in a 350ºF oven until you see a thin crust begin to form on top of the relish. Meanwhile, heat a bit of oil on the stove. As soon as you see a crust, pour a little hot oil over each jar, just enough to cover the top of the relish.
Close and seal the jars. Seal the jar lids right away. Or, keep one open and dig in with warm, homemade crusty bread and a side of belo sirenje, aka white cheese, aka feta cheese.
Tips for Success
We have a lot of practice when it comes to making Ajvar in our family. Here are some helpful tips that I've picked up along the way:
Choose the best peppers. Traditional Macedonian Ajvar is made from red bull horn peppers, also called Ajvarka. Since they can be tricky to find stateside, the next best choice is your common red bell pepper. Choose ripe peppers that are on the meatier side so that they won't release tons of liquid while they roast.
Don't skip the steaming. Pop those roasted peppers into a plastic bag, or at least a pot with a lid as soon as they come out of the oven. Steaming is important for softening the peppers, making them easier to peel.
No blender? No problem. If you don't have a blender or food processor, you can mash up your roasted red peppers the old-fashioned way and use a grinder. Or you can dice them up finely with a knife or use a potato masher.
Stir the Ajvar often while it cooks so that it doesn't burn to the bottom of the pot. Also, use a wooden spoon when stirring. Wooden spoons handle heat better and have antibacterial properties that help keep germs out of your cooking.
Season a little at the start, and add more at the end. Don't go too heavy with the salt while you're cooking your Ajvar so that it doesn't turn out too salty after hours of simmering. Wait and do a final seasoning to taste at the very end.
Sterilizing is key to long-term storage. Both your jars and lids need to be sterilized before they're used; otherwise, the Ajvar will go off. As an extra precaution against germs, you can also use gloves when canning your relish.
Recipe Variations
This Ajvar recipe tastes amazing with just peppers and seasonings. But you can always change it up a little. If you'd like to adapt this recipe to suit, try these ideas: 
Eggplant. Eggplant is a popular addition to many Ajvar recipes. You can chop eggplant and roast it at the same time as your peppers, then remove the skins and blend it into the peppers as directed.
Garlic. Love garlic? Go ahead and toss some whole cloves into the roasting pan. You can blend them into the relish afterward.
Vinegar. If you find that your cooked Ajvar lacks some oomph, stir in a spoonful of vinegar at the very end. You can also add a little sugar to sweeten it as needed.
Chili. If you're craving something spicy, roast a chili pepper or two along with your red peppers. Or, add a sprinkle of red chili flakes to the Ajvar toward the end of cooking. Many Macedonian Ajvar recipes call for HOT peppers.
Herbs. Give your jarred Ajvar a sprinkle of fresh herbs like parsley when serving.
Ways to Use Ajvar
What do you eat ajvar with? If you ask anyone in this family, the answer is everything. Serve it in winter, summer, any season. 
Grilling. Ajvar tastes great served with grilled vegetables, and meats like roast lamb, grilled chicken, and sausage. 
Spread. Jam-like Ajvar is also a delicious vegetable spread. Smear it over bread and crackers. Or, you can always eat it with a spoon straight from the jar. No judgment.
Breakfast. Red pepper relish is a tasty addition to Macedonian shakshuka. And we'll even put it on our scrambled eggs in the morning.
Appetizer. As an appetizer, serve Ajvar with mezze like grilled Macedonian kebapi (kebabs), prosciutto, cheese, and flatbread pizza. We also love to serve our red pepper relish with a side of yogurt for a creamy dip served with air fryer zucchini chips.
How to Store Ajvar
Storing: Store unopened, jarred Ajvar in a dry, dark location, like a pantry. You only need to refrigerate your Ajvar after opening, and it will keep in the fridge for up to 1 week.
Freezing: It's possible to freeze Ajvar; however, you must freeze it before it's canned. If you know you'll want to freeze the cooked red pepper relish, separate out the portion you'd like to freeze and allow it to cool completely. Store the relish in an airtight container or freezer bag, leaving a bit of room for expansion. It can be kept frozen for up to 6 months. Defrost the Ajvar in the fridge, then give it a good stir before using.
More Macedonian Recipes to Try
Preheat the oven to 450˚F.

Wash and dry the peppers, and prick the peppers in several places with a fork.

Place them on a baking sheet and roast the peppers for 30 to 40 minutes or until charred and tender, turning occasionally. Ensure even roasting by rotating them periodically. Due to space, you'll need to roast the peppers in batches.

Transfer the peppers to a plastic bag and close the bag. Let stand for 10 to 15 minutes. This traps the steam and makes it easier to peel the peppers.

Remove the peppers from the bag, peel off, and discard the skin.

Cut the peppers open and discard the seeds. Place them in a mesh bag and let them drain overnight by suspending the bag over a container.

The next day, roughly chop the peppers, place them in a food processor, and pulse a few times to a chutney consistency.

Put the pepper puree in a pot, add salt, pepper, and 3/4 cup of sunflower oil, and bring to a boil. Reduce to a simmer and cook for 2 to 3 hours, stirring frequently to prevent it from burning on the bottom of the pot. Ajvar is done once it has thickened and almost all the liquid has evaporated.

When done, taste for salt and pepper and adjust accordingly.

In the meantime, sterilize the jars by preheating the oven to 180˚F. Wash the jars, place them on a baking sheet, and then put them in the oven for 30 minutes.

Sterilize the lids by placing them in a bowl and pouring boiling water over them.

When the Ajvar is done, remove it from the stove and let it cool for a few minutes.

Preheat the oven to 350˚F.

Pack the Ajvar into the jars and place the jars back on the baking sheet.

Put the jars in the oven for 15 minutes or until a thin crust forms on top of the Ajvar.

Meanwhile, heat a cup of cooking oil on the stovetop.

Once you see the crust on the Ajvar, remove the jars from the oven, and pour some of the heated oil into each jar over the Ajvar, just enough to cover the surface. Wipe the rims of the jars clean before applying the lids.

Seal the jars with the lids. Arrange the jars in a crate or box and cover them with kitchen towels. Leave them to cool down like that for the next 24 to 48 hours or until completely cooled.

Store Ajvar jars in a dry, dark place. Refrigerate only after opening.
Choosing Peppers: Traditional Macedonian Ajvar is made with a pepper called Ajvarka, known as red bull horn peppers. Since they can be tricky to find stateside, the next best choice is red bell pepper. Choose ripe peppers that are on the meatier side. Add hot chili peppers to taste if you want to make spicy ajvar.
Cooking Oil: We usually use sunflower oil or vegetable oil to make Ajvar, but olive oil is also a good choice.
Don't forget to stir the Ajvar often while it cooks so it doesn't burn. Also, use a wooden spoon when stirring because wooden spoons handle heat better. Add more oil if needed. 
Season a little at the start, and add more at the end. Please don't go too heavy with the salt while cooking your Ajvar so it doesn't turn out too salty.
Making Ajvar is a process; sometimes, it takes several times to perfect it. I advise cooking until it is at its thickest because Ajvar is a spread, not a dip, though you can use it as both. And don't forget to stir, stir, stir. Long simmer is how all the flavors come together, so try not to cut corners.
If you'd like to skip the jarring process, you can let the Ajvar rest for a day and let it cool to room temperature, pack it into jars, seal it, and refrigerate for 1 to 2 weeks, or freeze it for up to 6 months.
Serving: 1 cup | Calories: 270 kcal | Carbohydrates: 14 g | Protein: 2 g | Fat: 25 g | Saturated Fat: 2 g | Polyunsaturated Fat: 1 g | Monounsaturated Fat: 20 g | Sodium: 445 mg | Potassium: 480 mg | Fiber: 5 g | Sugar: 10 g | Vitamin A: 7102 IU | Vitamin C: 290 mg | Calcium: 17 mg | Iron: 1 mg | Net Carbs: 9 g
Nutritional info is an estimate and provided as courtesy. Values may vary according to the ingredients and tools used. Please use your preferred nutritional calculator for more detailed info.